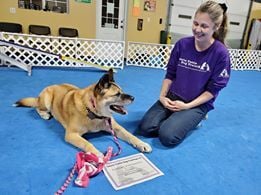 When was the last time you had a heart-to-heart talk with your dog?
While a dog's language skills are pretty much limited to "bark," "woof" and the occasional whine or snarl, that doesn't mean they aren't speaking in ways humans could understand if they are willing to learn dog.
"Most people get dogs without knowing how to read the dog's body language," Laurie Tuttle, a certified professional trainer specializing in fear and aggressiveness, said. "It's like a person moving to a foreign country without knowing the language. You need to learn to speak dog."
While dogs can learn to respond to human words, they communicate back with their body, ears, eyes and tail. But be careful of that tail, Tuttle said.
"A wagging tail does not necessarily imply a happy dog," she said. "You have to read the whole dog and the whole situation to know the meaning. Some people think a dog is nice, when they are really nervous or scared.
"They have the emotional mindset of a 2-year-old. They can be smarter than a 2-year-old but not emotionally so. That's where people make a mistake. Dogs will do whatever it takes to get what they want. Even if what they do is negative because that negative attention is still attention. They are like a 2-year-old."
Tuttle said she's been working with dogs professionally for 24 years, but "I've been doing stuff with dogs since childhood. and they are very misunderstood." Take the command "no." Tuttle said dogs don't understand that the way people do but need to be shown what they can do instead of told what they can't.
"And never get upset when they growl," she said. "That is their early warning sign that they are unhappy with what you are doing. Don't punish them. Assess why the dog is growling so you can address it properly. They used body language prior to the growl, so you need to look back at the signs of why they were uncomfortable.
"Fear, frustration and overexcitement can cause the dog to growl. It's kind of like algebra: There are a lot of variables and you have to do detective work. See what the triggers were that pushed them over the threshold to growl. About 99% of bites can be avoided if you understand their body language."
Dog owners might think Tuttle has a magic wand to correct behavioral problems with their pet, and she said, "Some things I can correct in a few minutes, but other things might take a few months."
Actually, in most cases she doesn't so much train the dog as train the owners so they know what triggers cause the behavioral issues and retrain the owners to recognize the clues the dog is giving them.
"Most people have good intentions, but they are uneducated or misinformed. Some owners want to convince me how smart their dog is. I already know how smart the dog is, but a lot of people overthink it. They want to put complicated emotions on the dog. It just wants what it wants, and often, if you yell at the dog when it's misbehaving, it will only reinforce the activity because it got the attention.
"Some dogs want to be in the middle of everything while others want to be alone. What might look like guilt is really fear they are going to get yelled at. They can show fear of something up to two football fields away."
Tuttle said classes are available to learn how to read a dog's body language but don't refer to her or other dog trainers as "dog whisperers."
"We don't like the term. We don't whisper. We read and assess body language and speak for them. Anybody can learn to do it if they work at it. There are no bad dogs. They are just misunderstood. There are no simple solutions. It takes work and dedication to understand a dog. It took a while for the dog to get the way it is, and it takes a while to correct it.
"I tell people to do their research," she said. "There is a lot of misinformation and inhumane methods, like shock collars and pinch collars, which are outlawed in many countries but not the U.S. They create more problems down the line. Training should not be punishment-based."