It still brings tears to 91 year-old Fred Klooster's eyes when he recalls his time serving in WWII.
That emotion also resurfaces every time he remembers participating in an Honor Flight Chicago experience on June 7, 2011.
On the flight he met a "friend of a lifetime."
"A young lady came up to me and said 'My name is Erin [Flanagan-Kopenec] and I will be your chaperone,'" said Klooster. "I thought I'm a grown man and don't need a chaperone, but that's fine by me."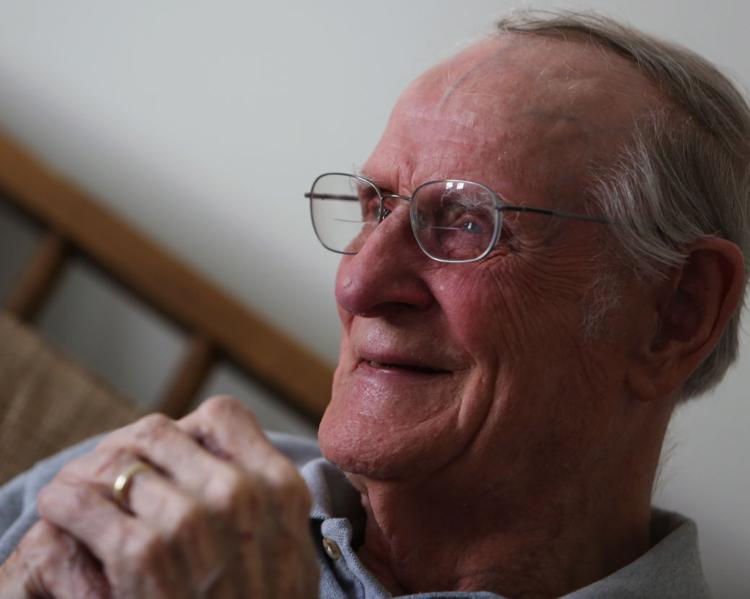 Not only would Erin serve as a chaperone, but as Klooster's personal journalist as she documented the entire day with photos, notes and a collection of souvenirs, which she ultimately would present to Klooster in a scrapbook.
"I received this package in the mail and was so touched," said Klooster. "It was one of the best gifts I have ever received."
As time went by, Erin would send cards for Veterans Day and Memorial Day as well as birthdays and other holidays. She also updated him on her life events like her engagement, wedding, new home purchase and just recently-her baby. Klooster and his Guelda, consider Erin "a special person in our life and we are grateful to have her."
Recently, Klooster would learn that Erin wanted to pay him a visit and introduce her 10-month-old baby, Clara, to him and his wife. He immediately informed the staff at Hartsfield Village, in Dyer, where they now reside, and asked permission to host a reunion dinner.
Flanagan-Kopenec was surprised when she walked in and found Fred clad in his Army uniform with welcome signs decorating the dining area.
Keep reading for FREE!
Enjoy more articles by signing up or logging in. No credit card required.
"It was such an emotional visit," said Flanagan-Kopenec. "He really surprised me, and the folks at Hartsfield made this a wonderful and unforgettable experience for me and my family."
The visit helped the two recall details of their first meeting as they looked through Fred's scrapbook.
"I will never forget meeting Fred and John [Marias] because it was my first volunteer experience," said Erin. "I was so nervous because I just wanted to make their experience special and honorable and it turned into a very special bond."
Flanagan-Kopenec's grandfather served in WWII but passed prior to the monument being built.
"Fred and John filled a void for me that I missed with my grandfather," said Flanagan-Kopenec."I was grateful to have that."
"A lot of good men and women served and continue to serve our country," said Klooster. "It seems like we are always defending our freedom."
Klooster recalls his days in France and the first visit with his wife.
"They treated me like I was a King," said Klooster. "They were in tears and couldn't thank me enough because they kept telling me 'You saved us from the Nazis.'"
Klooster also recalled the not-so great memories decades earlier when he had to pour water down his gun tube through "barrage after barrage of gun fire" just to cool down his weapon.
"War is never pretty," said Klooster. "It can play on your mind. But when I came home and saw the thousands of folks giving thanks after our Honor Flight, I knew it was for all of them and for the generations to follow so that we can all live freely in this wonderful country."