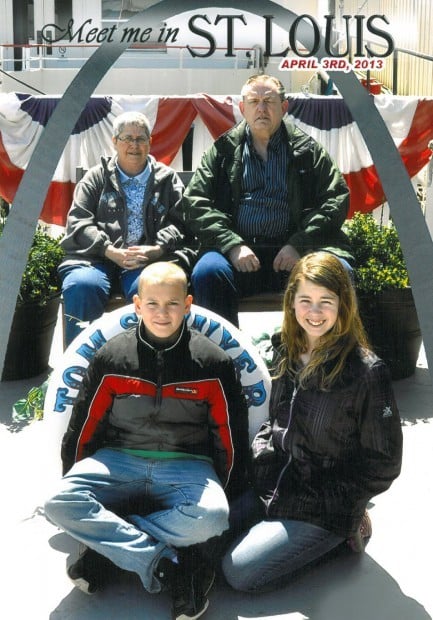 Summer is a time when travel is taken to places near and far to take a break from the everyday grind and experience new things. In addition to the couples heading off for romantic trips to the tropics or parents heading out on road trips with their kids are many multigenerational groups taking advantage of spending quality time together. Traveling with adult children or with grandchildren gives an opportunity to enjoy nature and leisurely activities together, to get to know one another better and to develop a better appreciation for each other.
Don and Lorna Williams of Valparaiso took a recent trip to Williamsburg, Virginia with their daughter and two grandsons, which included several day trips, an outing on a sailing ship, a theme park visit and a day in Colonial Williamsburg. Don Williams said grandsons, Max, 12, and Owen, 8, enjoyed the interactive history lessons at the living museum, especially one where they played the part of patriot spies, bridging the gap between the past and today's technology as they used cell phones to help find clues.
This was the second long family vacation the three generations have taken together to Williamsburg, the place where the Williams' grew up and met in high school and now have a time share. The five of them spent a week together in addition to a couple days of traveling to and from their destination, which took about 12 hours by car. The boys' uncle also joined them for part of the trip.
Having an opportunity to see so much of nature and learn so much about history was an experience all parties were happy to have. Being in such close quarters for the ride gave Williams a better understanding of some of the benefits of technology. "We had the good fortune of having a DVD player in the car, which helps the adults keep their sanity," he said. "When I was a kid you watched license plates and counted cows, but it's just not like that now."
The grandkids, likewise, realized a better understanding about their grandparents and where they came from as they visited places that were significant in their lives when they lived in the area at a young age.
Williams was pleased that the trip allowed for some education blended in to the vacation and that the kids prepped with online activities in advance.
Sue and Tom Richards of Highland visit Florida annually and their grandchildren, Madison, 10 and Aaron, 8, were companions on a trip there this year. They have also taken them on other summer vacations and on day trips around Midwest. Not only are her grandkids getting the gift of the travel experiences, but she said she gets so much out of their vacations by being able to revisit places and see them through their grandchildren's eyes.
"I'm just more relaxed now as a grandparent than I was as a parent," said Sue Richards. "They're seeing the ocean for the first time. I see the ocean all the time, so I don't have that same appreciation. It's nice to see it through their eyes and say 'Wow!' again. You have a new perspective."
Her grandkids were able to join her and her husband for two weeks in Florida as they visited her sister. "I do like to travel with them. I enjoy their company. They are good kids," said Richards. "And my sister enjoyed them because she doesn't have any grandkids yet."
Linda and Robert Boyd of Highland have traveled the country with their grandkids, ages 14 and 11. Several of their trips have been work related for their parents, who are both educators. The three generations have traveled together with the Boyds spending time with their grandkids during the day while their parents attended conferences. The Boyds have also taken a number of solo trips with the grandkids as well.
"I like to fill the days with lots of activities and do things they're going to remember and learn something from," said Linda Boyd. "We usually research the place before we go, like we did with Washington D.C. and Mt. Rushmore."
The most recent trip was over spring break to St. Louis and to Hannibal, Missouri. "They're really good kids and we enjoy taking them with us because it makes us feel young," said Boyd. "We're already close, but I do think it strengthens the bond to travel together."