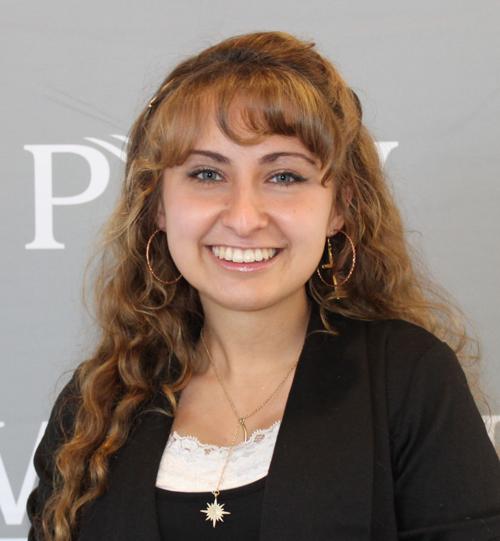 Maggie Evans, a 16-year-old Kouts High School junior, was the first student to submit her poem as part of a new Indiana initiative.
The initiative, called the Indiana Pandemic Poetry Project, was created by Crown Point resident Kayla Vasilko and Indiana's Poet Laureate, Matthew Graham.
Evans wrote her poem in March 2020 and submitted it last month to the Indiana Pandemic Poetry Project.
"Right before COVID hit, I journaled and attempted to write poems. None were as good as this one. I was writing what I felt for the moment," Evans said.
Evans said she received encouragement from her high school guidance counselor and English teacher who read it and told her to submit it.
"It's something I came up with. I just wrote down my thoughts," Evans said.
In addition to her high school classes, Evans is taking vocational classes at the Porter County Career Center centered around journalism. Her career plans include cinematic art, theater or the performing arts.
Submissions for the project opened on Aug. 16 and will continue to be open through Nov. 16.
"We want to hear from all Indiana students. The responses have been phenomenal," Vasilko said.
Indiana students in 4th through 12th grade and at the undergraduate, graduate or doctorate levels are all welcome to submit an original poem.
COVID-19 has created a time in history like no other; students, specifically, have faced many unique challenges because of this, Vasilko said.
"With this poetry project, we hope to assemble a collective reflection in response to the trials at home we have faced, as we work towards the end of the pandemic together," Vasilko said.
Poems can be about positive or negative things students have learned during this time, effects of this time on their work, school or home life, ways that they have coped with these experiences, or new initiatives they have creatively embarked on due to this pause.
Applicants are permitted one submission per author.
In addition, donations for the Storyteller Scholarship, a fund that will benefit Indiana college students of English writing, literature, teaching, communications, and history (the "storyteller majors") will be collected.
More information about the Storyteller Scholarship, including a call for applications to receive the scholarship, will be released after the poetry submission window closes on Nov. 16, Vasilko said.
Once it is determined the number of submissions and how much money has been donated, then applicants will be advised of how much scholarship money there is to give away, Vasilko said.
Vasilko, who recently graduated from Purdue University Northwest with a degree in English writing, said she was inducted into the English honor society, Sigma Tau Delta.
She reached out to Graham about his career and he was incredible, she said. The two collaborated and came up with the idea for the poetry project. Graham has agreed to be one of the judges who determines who receives the scholarship money.
"The idea came together with how the community and young leaders have a lot to say about the past pandemic," Vasilko said.