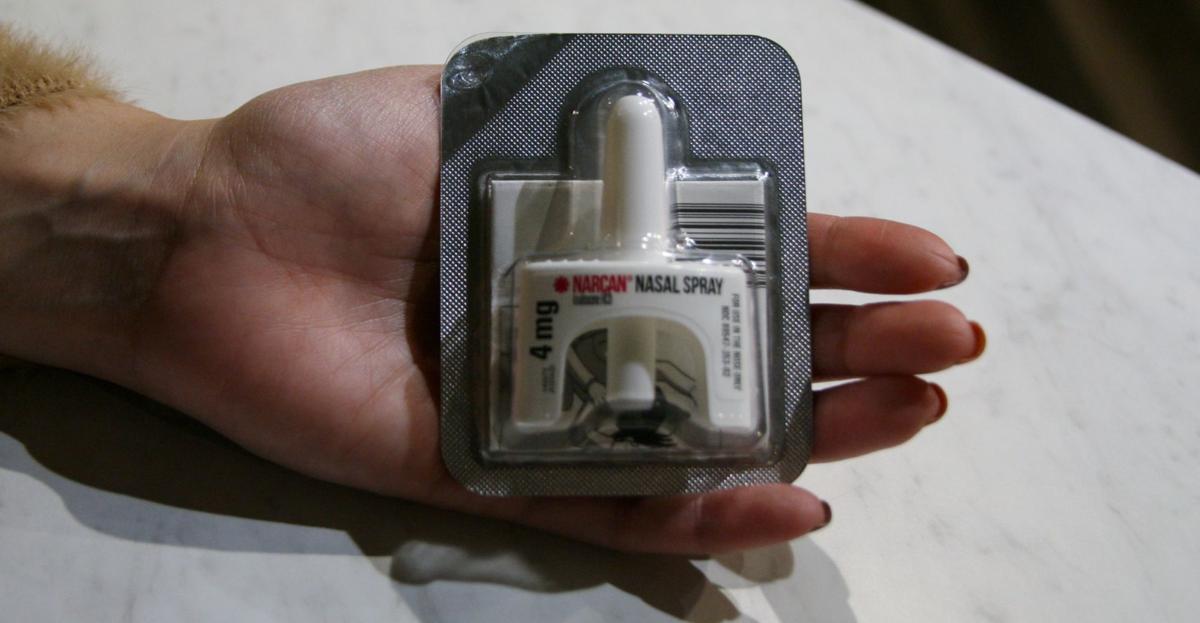 GRIFFITH — Every 12 minutes, someone overdoses on opioids. Under Indiana law, the public can intervene and possibly save a life.
North Township, Griffith Police Department and Geminus Corp. co-sponsored a training exercise on Naloxone Tuesday at First Christian Church. As a nasal spray under the brand name Narcan, Naloxone can treat an opioid emergency or possible opioid overdose.
Opioids range from prescription painkillers, such as morphine, codeine, fentanyl and oxycodone, to such street drugs as heroin.
Narcan is to be administered right away, but it does not take the place of emergency medical care. As participants were instructed Tuesday, one of the first things to do in addressing a possible opioid overdose is calling 911.
Training came three weeks after a Griffith couple was found dead in their home Oct. 21 from a suspected drug overdose. Toxicology reports have not been received, but as Griffith Police Chief Greg Mance noted, "One overdose death is too many. That's what we're trying to prevent."
In 2017, Griffith Police started PAARI, Police Assisted Addiction and Recovery Institute. Under this program, someone suffering from any addiction may go to the Griffith police station at any time and authorities will assist that person in being admitted to a rehabilitation-detoxification center without facing criminal charges.
Following the death of the Griffith couple, North Township Trustee Frank Mrvan said, "Our objective is to talk about and communicate that addiction does not have the same stigma as it used to do."
Noting a fine line between hopelessness and enabling, Mrvan added, "Helplessness paralyzes [drug users]. You're not alone, and there are ways to get to the other side, but it's a long road."
According to narcan.com, it is not uncommon for opioid overdoses to occur accidentally at home. People taking opioids to manage their pain may be unaware of the potential adverse reactions of these painkillers. Side effects include slowed breathing, vomiting, unresponsiveness, confusion, drowsiness, and feeling "high."
Under previous Indiana law, only emergency personnel could carry Naloxone. That changed with Senate Enrolled Act 406-2015, or Aaron's Law, which allows Hoosiers to obtain a prescription of Naloxone if they believe someone they know is at risk of an opioid overdose.
As stated at the training, Naloxone has minimal side effects and it wears off in 30 minutes to two hours. Naloxone only works on opioids, so it will not affect someone not taking opioids nor will it help someone taking another type of drug.
Those attending training had their reasons for coming out on a frigid night.
Leah Dumezich of Portage, director of special education and federal grants for Griffith Public Schools, noted, "Heroin is an epidemic in Lake and Porter counties, and we've lost a lot of former students to heroin overdoses and suicides due to heroin. I'm hoping that in an emergency situation I can save a life. I'm also hoping to talk to parents and students to get more training in our schools."
George Suprenant of Griffith said, "For myself, I'm worried about the impact of fentanyl. It's the new scare thing."
Suprenant's wife Heather had personal reasons.
"My cousin is addicted to opium," she said emotionally. "If she's at my house, I could possibly help her and get her the help she needs."
Another Griffith resident, Ann Coglianese does volunteer work in the community and operates a Tae Kwon Do school in Highland.
"I see the need for this education and I do work with a lot of kids and teens and families," Coglianese said. "Education is the best form of prevention, to get people more information."