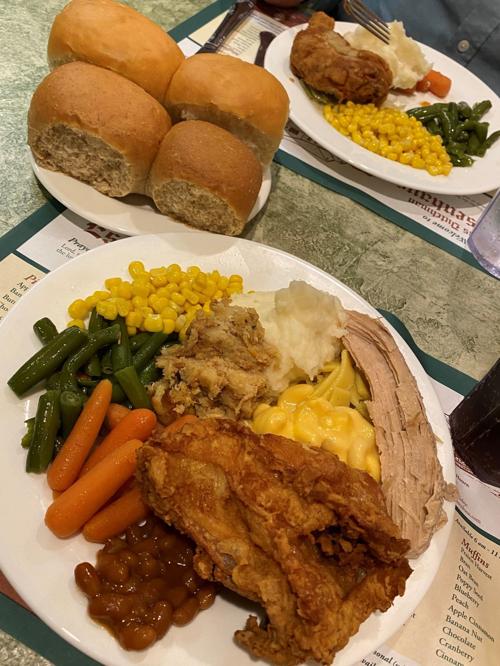 Just after Christmas my husband and I took a trip to Shipshewana for the annual Shipshewana Ice Festival. We worked a lot of other stuff into our trip through Northern Indiana and on the itinerary was a hearty Amish dinner.
When in Amish Country you've got to enjoy a meal they way they do.
Simple, but filling, Amish cuisine is nostalgic, basic and like a big, warm hug from a sturdy grandmother in an apron. You won't find processed, preservative-laden dishes on an Amish table. Food is made from scratch with natural, local ingredients.
It can be heavy on meats and starches, but is balanced out with seasonal, home-grown vegetables. And then there are the baked items. You haven't lived until you've eaten a slice of fresh, warm Amish bread with apple butter spread on top, or a slice of Amish made-from-scratch pie.
On our previous visit to Shipshewana we visited the Blue Gate Restaurant in downtown Shipshewana for a family-style Amish feast with our kids. Everything there was delicious. It's a wonderful place to slow down and have a leisurely, satisfying meal with family.
This time I was interested in trying a new place and had heard a bit about Das Dutchman Essenhaus in Middlebury, which is located about seven miles away from where we were staying in Shipshewana at the Blue Gate Garden Inn. Das Dutchman Essenhaus restaurant is part of a large campus that also has an inn and conference center, theater and a village of shops.
Das Dutchman Essenhaus is Indiana's largest restaurant with a seating capacity of 1,100. As large as the restaurant is, we were there on a Saturday evening right after Christmas and there was a wait for a table. We went up to the second floor during our wait, where there was a miniature train set running that we watched, some comfortable sofa seating and some checkers games.
A sign hung near an entrance notes some fun facts about the place:
• On a busy day the restaurant will serve over 7,000 guests and use 5,225 pounds of ice.
• In one week the restaurant and bakery uses up to 2,100 dozen eggs, 2,700 pounds of white sugar, 60 gallons of apple butter, 3.5 tons of potatoes, 2,990 heads of lettuce, 2,600 chickens and 3,090 pounds of roast beef.
• The bakery produced a record number of 2,103 pies in one day.
• The village shops purchase merchandise from more than 650 vendors each year and decorate between 35 and 45 Christmas trees to enhance the campus.
• Essenhaus Foods makes up to 21 tons of noodles in one week (they can be purchased at Wal-Mart, Kroger, Meijer and many other major supermarket chains).
Once we were notified (via text) that our table was ready, we sat down and pondered what option to go with — family style, buffet or off the menu. Since everything we wanted to eat was available on the buffet, we decided to go that route. It was $14.99 per person and had five entrees (including the broasted chicken I was looking forward to), a soup and salad bar and about a dozen sides (including their famous noodles).
A slice of pie was $1 off with the buffet and even though I was beyond full I couldn't pass it up. I ordered it to go and enjoyed it later — chocolate peanut butter cream pie for me and banana cream pie for my husband. The pie menu is mind blowing, with more than 30 flavors, from common classics like Dutch apple, cherry and pumpkin to some harder to find flavors, like shoofly, raisin, custard, mincemeat, strawberry rhubarb and butterscotch.
Other desserts include apple dumplings, date pudding, angel food cake and cheesecake.
Dinner can be combined with tickets for a show at the Essenaus Heritage Hall for $37 for adults and $32 for kids age 12 and under, including a family-style or buffet dinner. A dinner, theater and overnight lodging package for two is $196.
For more information on dinner, shows or lodging, go to essenhaus.com.