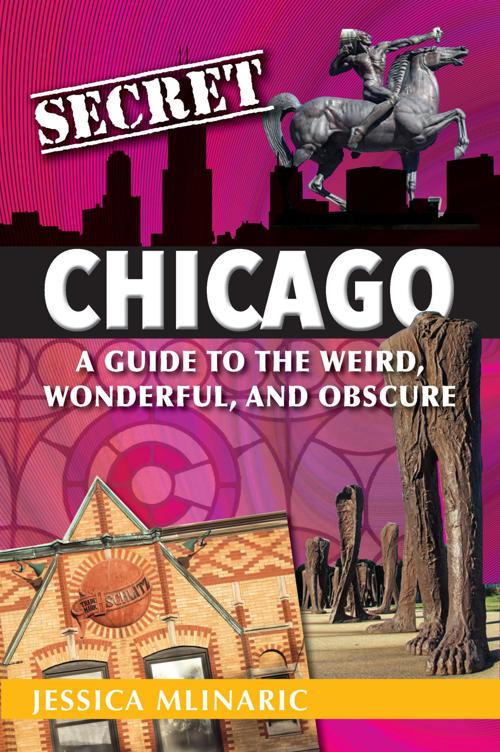 Think you know Chicago? The author of a 2018 book hopes to introduce you to some new pieces of its history — and new places to visit — in the book and during an online event scheduled coming next month.
Jessica Milinaric's "Secret Chicago: A Guide to the Weird, Wonderful, and Obscure" is full of interesting bits of Chicago history that you may not have heard about before or would not have learned in history class.
"I've always believed that you don't need to travel far to find interesting stories. They are all around us — if you know where to look," Mlinaric said. "When I moved to Chicago many years ago, I was so excited to explore a new city that I started asking questions about the things I saw, researching and blogging about them. Eventually this turned into a book."
A lot of what she learned and included in the book came from reading other books and articles and collecting those stories. "I did a lot of reading, but I got some of the most unique ideas just by asking anyone that I met. I'd strike up conversations with strangers at an art gallery or music festival to hear about their favorite secret places," she explained. "For neighborhoods I was less familiar with, I contacted historical societies and community leaders. When all else failed, I would go have a drink and talk to the bartender — the true secret-keeper of any neighborhood."
There are many unusual stories and tidbits in the book, but Mlinaric has a few favorites, one being that a veteran of the Battle of Waterloo is buried in a defunct scrapyard on the city's southeast side — technically the city's smallest cemetery. "The story of how the land became industrial, but his grave was preserved, is fascinating and totally unique. Although the scrapyard is now closed, you can catch a glimpse of the concrete barriers surrounding the grave from the Ewing Avenue bridge over the Calumet River," Mlinaric said.
Her most surprising find was learning that gospel music was invented in Chicago.
"A blues pianist named Thomas A. Dorsey applied that musical style to music of faith after experiencing a personal tragedy. He organized the first gospel choir at Ebenezer Missionary Baptist Church, and its congregation still shares praise through music today," she said.
Another surprising story stems back to the days when much of what is now Chicago was rural farmland.
"It's hard to imagine that the Loop was once farmland, but farmers took their cows to pasture here long ago," said Mlinaric. "When a farmer sold his land in the 1840s, he reserved the right to use a path for that purpose. The city grew around the cattle path, but it still exists. There aren't many cows passing through the corridor, which is mostly used for storage, but visitors can access it through a service door on Monroe Street."
One fun aspect of this book is that while it is full of unusual stories, you'll also find that you can visit many of the places mentioned. You'll learn of alleys you can visit that still exist with wood paving, including one in the Gold Coast.
According to Mlinaric, the neighborhood association paid $400,000 to restore it so that visitors can now walk on this amazing piece of Chicago history. You can also make your way to the Cook County Forest Preserves, where you'll find two nuclear burial sites from the 1950s.
Mlinaric also mentions some fun and funky ways to have fun in the city, like at Aloft Circus Arts, housed in a former Logan Square church, where classes have been offered in trapeze, aerial skills and trampoline. You can currently take a few classes online — like clown cardio and handstands.
Although the book focuses primarily on the city of Chicago, it also includes an unusual Northwest Indiana community — the neighborhood of Marktown in East Chicago, which was built as a factory town for steel workers, is surrounded by factories on three sides and was designed to resemble an English village.
"This book will appeal to anyone with an interest in Chicago or offbeat history. Whether or not you plan to visit, I hope that it inspires readers to be curious about their surroundings and check out a place that's new to them," said Mlinaric, a Cleveland native who has resided in Chicago for the past 11 years. She just started work on another book that will serve as a scavenger hunt to explore Chicago's neighborhoods.
"Secret Chicago" can be found at local bookstores, Barnes & Noble or Amazon or purchased directly from the author at secretchicagobook.com. You can also follow her blog, urbnexplorer.com to learn more about unusual, odd and little-known Chicago spots and read about her other travels.