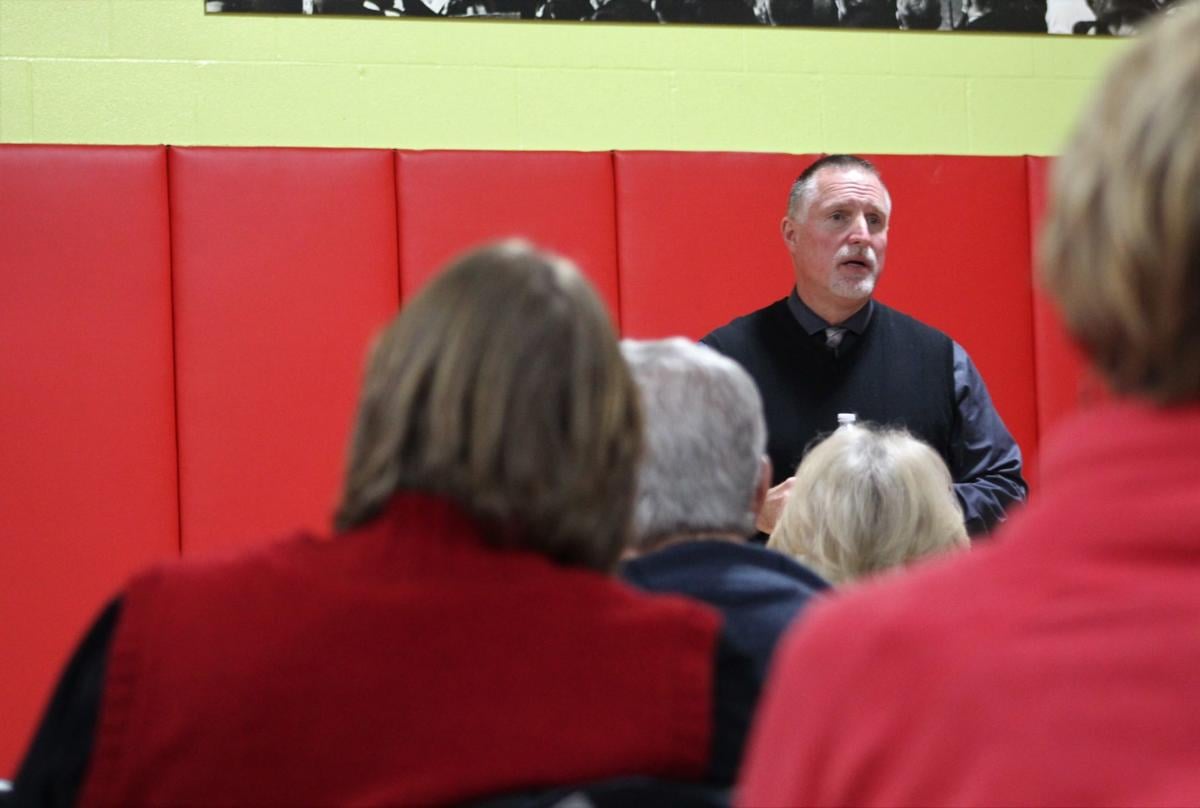 CROWN POINT — Improvements to 109th Avenue, programs at Bulldog Park and parking on the square were the highlights of the final Tuesday Talks with the Mayor of 2019.
Mayor David Uran told community members they can expect work to begin on 109th Avenue in spring 2020, with various changes coming to the popular road over the next year and a half.
Those changes include the addition of roundabouts, traffic lights and improved underground utilities.
The first phase of the project will focus on underground utilities east of Interstate 65 and Iowa Street, Uran said. Bids for the first phase of the project open at 11 a.m. Monday.
"Come spring, when we hit (the) season for road construction again, we'll hit the ground running," he said. "Our goal is to have that corridor from the east to Iowa Street, a majority of that's all done next year."
When asked if 109th will be turned into a four-lane road east all the way to Iowa Street, Uran said no. Rather, a roundabout will be installed at Mississippi and Iowa streets.
"We are not trying to add traffic," he said. "We're trying to control traffic (and) make sure it moves."
However, the business district will have a four- or five-lane road at Interstate 65 and Broadway, Uran said.
When asked about a new senior center in the city, Uran said senior citizens in Crown Point have a bigger senior citizen center than ever with Bulldog Park.
"Bulldog park is replacing the Civic Center that was currently downtown, which has all our senior programs," Uran said. "It's double the size you had before."
Uran reminded those present that the venue was constructed without taxpayers having to pay a dime because the project was funded through the Redevelopment Commission and donations from the Dean and Barbara White Foundation.
With the creation of Bulldog Park, Uran pointed out the square no longer has to be shut down for festivals or events such as the Corn Roast, which gives parking back to downtown businesses.
However, a resident asked what can be done about parking at the library, which has dwindled since new restaurants and businesses have opened on the square.
Not having enough parking is "a great problem to have," since it indicates the downtown is lively.
"Parking is an issue, but darn it, I'm glad of the fact that we're so vibrant in our downtown," he said.
Before moving to build a parking garage in the city, Uran said city officials took initiative to identify 1,300 parking spots that weren't being utilized. Those spots have since been given proper signage to let drivers know there's more parking available.
In addition to publicizing under-utilized spots, Uran said the Crown Point Police Department has received and soon will begin using license plate reading technology to identify vehicles that have been parked in hourly spots for more than two hours.
"I can't make a blanket statement, but we find that a lot of people that park on the square for well past two hours are business owners and people that work in the businesses. So it's always a constant battle," Crown Point Police Chief Pete Land said.
Land added those who have a hard time finding parking for the duration of their work shift should use municipal lots.