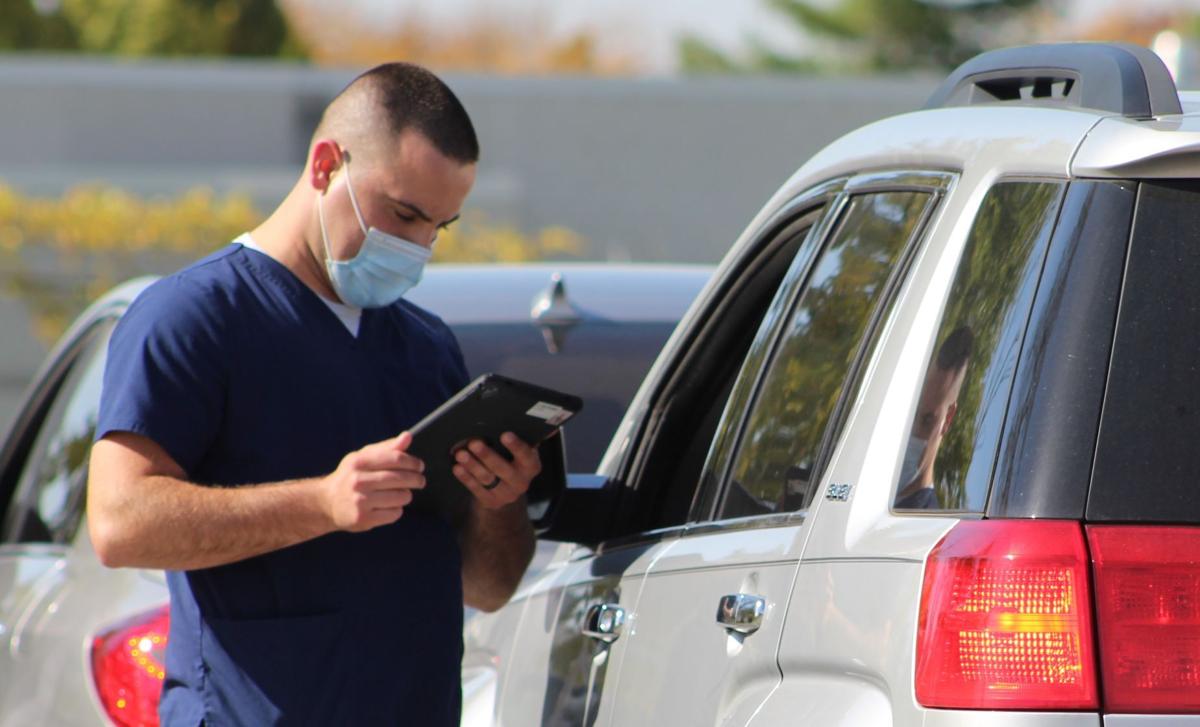 The seven-day rolling average of new COVID-19 cases in Northwest Indiana increased 250% within the past month, and the seven-day positivity rate rose — even as a record number of tests were administered.
Those metrics should be considered an early warning of the virus's most dire consequences: rising hospitalizations and deaths, said Micah Pollak, associate professor of economics at Indiana University Northwest.
"It's very concerning to see this huge rise in cases, and we're only just starting to see that rise in hospitalizations and deaths," he said.
Residents in Indiana's 1st District — which includes Lake, Porter, LaPorte, Newton and Jasper counties — should be concerned about the spread of coronavirus, he said.
"You have to remember, these indicators are delayed anywhere from three to four days to a week or more behind where we're currently at," Pollak said.
Lake County Health Officer Dr. Chandana Vavilala issued a warning last week about the rising number of positive cases and hospitalizations. People must remain vigilant, by continuing to practice social distancing and wearing a mask that covers the nose and mouth, she said.
Indiana posted its largest increase in positive cases in a 24-hour period Thursday, reporting 2,880 new cases, according to State Department of Health records.
COVID-19 had claimed 473 lives in Northwest Indiana as of Thursday, including 352 in Lake County, 48 in Porter County, 58 in LaPorte County, 11 in Newton County and four in Jasper County. Statewide, 3,831 have died from the virus.
Consider multiple metrics
Pollak, who has been tracking data as it's released by the State Department of Health and Regenstrief Institute, acknowledged there's a lot of data out there.
"It's very confusing to try to understand it all, to fit it all in," Pollak said. "Don't fixate on any one thing."
Pollak recommended considering multiple metrics when thinking about the spread of coronavirus. 
The seven-day rolling average of new cases and seven-day positivity rate for all cases are early indicators, he said.
"We track these because they're early warning signs for the things that really matter, which are hospitalizations and deaths," he said.
On Sept. 18, Northwest Indiana was averaging about 75 new cases a day, he said.
By Oct. 17 — the latest data available — the five-county area was averaging 258 positive cases a day, an increase of 250%, Pollak said.
"It's the highest we've ever averaged during the pandemic," he said. "Even in April and May, we were at under 100 a day."
The Indiana State Department of Health reports both the seven-day positivity rate for all cases and the seven-day positivity rate for unique individuals.
The positivity rate for all tests is a better metric to consider, Pollak said.
The metric doesn't include duplicate tests for the same individual on the same date, but it does include a second test result on a different day for the same person. Including such data offers a more accurate picture, he said.
The positivity rate is the number of positive test results divided by the number of tests administered.
It's an important metric to consider because it shows whether a community is doing enough testing and can indicate the severity of an outbreak.
Positivity rates rising
Public health officials consider a seven-day positivity rate of 5% to be a benchmark for whether testing is sufficient and the virus' spread is under control.
When the rate rises above 5%, it can become difficult to do contact tracing, Pollak said. 
Contract tracing is the process where public health officials interview a COVID-positive patient to determine where the person has traveled and with whom the patient has been in contact. Health workers work to provide infection-control instructions with the patient's contacts and remain in communication with the patient through recovery.
When the positivity rate is 10% or higher, community transmission is usually considered to be out of control, Pollak said.
An average of 2,700 tests are being administered a day in Northwest Indiana, which is a record, he said. 
However, the positivity rate for Lake, Porter, LaPorte, Newton and Jasper counties is 8.6%, which is high, Pollak said. Back in September the rate as about 4.3%.
"The problem is the positivity rate is rising, even as we're increasing the number of tests that we're doing," he said.
The Indiana State Department of Health released its weekly scorecard for each county Wednesday, and three Northwest Indiana counties — Lake, LaPorte and Jasper — received a score of 2, the second highest of four possible scores.
The state bases the weekly scores on the weekly number of cases per capita and the seven-day positivity rate for all tests.
The state has done a nice job of setting up a dashboard with county-level data, but it may have been too lenient with the scorecard, Pollak said.
To get to the red zone, and receive the highest score, a county must have a positivity rate of 15% or more, which is well above the federal Centers for Disease Control and Prevention's recommendation of 10%, he said. 
'What we're worried about'
The number of hospitalizations in Northwest Indiana began to rise in mid- to late September, he said. 
On Sept. 17, hospitals were admitting an average of 4.5 people a day with suspected and confirmed COVID infections, he said.
As of Oct. 14, the average had increased to 16 people per day.
"That's what we're worried about," Pollak said.
A portion of new positive cases will result in hospitalization, and some of the hospitalizations will result in death. There's typically a lag of about two week between each of the new types of cases, he said.
Northwest Indiana hasn't surpassed a peak in hospitalizations seen in April, but the number has been rising over the past month, he said.
The average number of COVID deaths has increased to three per day, he said. From June to September, the area averaged about one death per day fairly consistently.
Another metric Pollak considers is the daily number of COVID-19 cases per capita, he said.
Statewide, the number of cases per capita from late June to late September was driven by young people between the ages of 20 and 29.
In the past two weeks, the highest rate per capita was among people age 70 and older, who are generally considered to be higher risk, because hospitalization and death is more likely, Pollak said.
A total of 2,205 residents in nursing homes and other long-term care facilities have died from COVID-19 as of Wednesday, accounting for 58% of all coronavirus deaths in the state, data showed. Nursing home residents also account for a significant share of the state's surging hospitalizations.
Indiana Gov. Eric Holcomb said Wednesday he decided to send the Indiana National Guard to long-term care facilities next month to assist with testing, data entry and infection control. 
The state is offering free testing from 9 a.m. to 6 p.m. through Saturday at the Lake County Health Department, 2900 W. 93rd Ave. in Crown Point.
Additional testing sites in Lake, Porter, LaPorte and Jasper counties can be found by visiting www.coronavirus.in.gov.
Gallery: Recent arrests booked into Lake County Jail
Concerned about COVID-19?
Sign up now to get the most recent coronavirus headlines and other important local and national news sent to your email inbox daily.