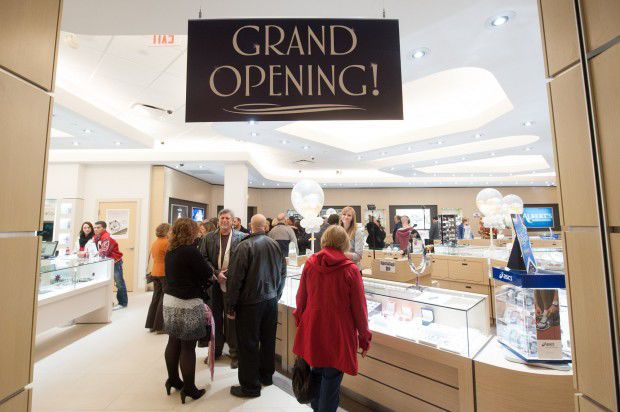 Albert's Diamond Jewelers, one of the Region's premier jewelry stores, is closing its location at Southlake Mall in Hobart.
Albert's main store at the intersection of Main Street and Indianapolis Boulevard in Schererville between the Highland Grove and Shops on Main shopping centers will remain open. The long-running family-owned jewelry store chain, which was founded in East Chicago in 1905, opened an outpost in the super-regional Southlake Mall at U.S. 30 and Mississippi Street in 2012.
The lease at the mall soon will be up and the two sides couldn't reach an agreement, Albert's President Josh Halpern said.
"Our lease is up," he said. "We were renegotiating to extend our lease when COVID-19 hit, and we decided to close this store and reevaluate other opportunities."
Halpern said the decision was not related to the recent string of fights at the mall.
"They will get that under control," he said. "But malls in general are on a downturn. People are not frequenting them as much. Southlake Mall has lost two anchors, and they were still asking us to pay an extraordinary amount of rent."
Albert's Diamond Jewelers had planned to stay in the mall for only about another year anyway, as it aims to open another store somewhere else in Northwest Indiana in the next 12 months, Halpern said.
"This just accelerated our plans," he said. "We're looking at a few communities, including Crown Point and Valparaiso. It's up in the air, but we plan to open one or more stores. We're looking at all opportunities."
Albert's at Southlake is liquidating its inventory, marking down diamonds, gemstone jewelry, engagement rings, watches, tennis bracelets, gold chains, diamond stud earrings and other jewelry by as much as 70% off.
"I would love to say thank you to the Southlake Mall and Hobart," Halpern said. "We met many great clients and friends. They can come to the Schererville location until we open the new store to service all their needs."
Southlake Mall has suffered from a string of closings as the brick-and-mortar retail industry has struggled in an age of one-click e-commerce, including of the anchors Sears and Carson's. The mall is still home to many retailers, including Macy's, JCPenney, H&M, Dick's Sporting Goods, Disney Store, Foot Locker, Vans, Spencers and Books-A-Million.
Remaining jewelers include Jared Galleria of Jewelry, J.B. Robinson Jewelers, Kay Jewelers, KB Jewelers and Kumar's Jewelers.
2020 The Times Best of the Region
Welcome to The Times Media Company's Best of the Region for 2020.
When voting began in early March, we couldn't have predicted the changes to business as usual that we have experienced.
Still, thanks to the pluck of local entrepreneurs and dedication of our readers, we are presenting our annual look at the best restaurants, services, places to live and more in the Region.
This year we added an ambitious 40 categories for a total of 176, and we are proud to profile these businesses and providers that you chose in the monthlong voting.
This contest is the culmination of another year of interacting with our readers, telling stories about people and places that make a difference in our communities and championing the local businesses that serve as the backbone of the Region. It's also a testament to the resilience of the Region.
This is a process you, our readers, take seriously, casting 320,282 total votes, up 28% from 2019. That includes an 11% increase in write-in votes.
All this from 36,068 registered users, an increase of 84% from 2019. That speaks to more than the fact that we have been spending a lot more time at home. It expresses the understanding that the Region is poised to rebound from the limitations imposed by the coronavirus.
What accounts for the staying power of Best of the Region? Perhaps it's how we recognize the value of hard work and the chance to applaud businesses that respect our time and resources and consistently exceed our expectations. A Best of the Region nod is not only a well-deserved "thank you" to those who truly care for their customers, but it also reinforces those efforts.
These pages contain a number of first-time winners including Anytime Fitness, Jay Marie Salon & Spa and the Valparaiso Chamber of Commerce in addition to stalwarts such as Albert's Diamond Jewelers, Centier Bank and Strack & Van Til that annually dominate their categories. But whether the business is big or small, time-honored or cutting-edge, all have excellence in common.
So on behalf of the Times, I'd like thank the readers who took the time to thoughtfully complete the ballot and offer our congratulations to the winners. Here's to another year of "the best" in the Region!