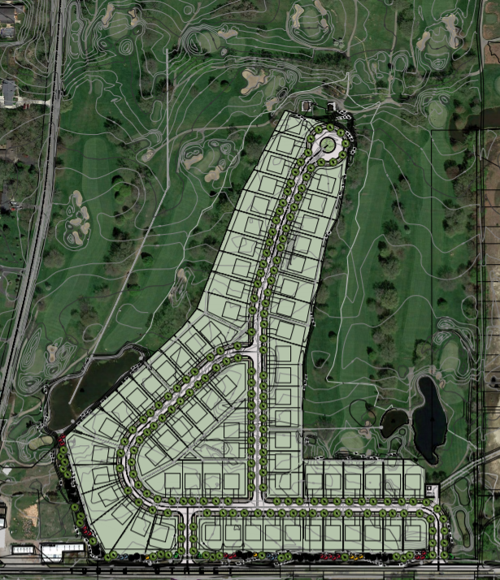 CROWN POINT — New houses might soon make their way to the links at Youche Golf Course. 
On Monday, the Crown Point Plan Commission heard plans for a potential single family subdivision, The Fairways, on Youche Golf Course. The subdivision would be on the northeast corner of West 133rd Avenue and Marshall Street. 
The Fairways is an extension of an existing subdivision, The Regency, which surrounds Youche Country Club. The new subdivision will be a part of The Regency's homeowners association. 
Doug Ehens, vice president of land with Providence Real Estate Development, told Plan Commission members the plan has changed since it first came before the board in 2006. 
Originally, The Fairways was intended to have 104 paired villas. However, the land The Fairways sits on was never annexed into the city, making the plan void. 
Now, Providence is proposing 68 single-family homes for the subdivision, which will be located on the Youche Golf Course, Ehens said. 
"Our schedule for this project, we've been wanting to get going for a while now, so we're pretty excited to be here (Monday) evening," Ehens said. "We're in the midst of the approval phase. We're in the process of contracting all the site work. Still this month, we'll probably have some trees coming down.
"The ultimate goal is to have some pavement down in June and have our model and any purchased homes by then started by June." 
The project will be broken up into two phases, and there will be six design model options, all of which will have attached garages and some level of masonry on each home, Ehens said. 
Lots along West 133rd Avenue will have backyards facing the street. To help screen the backyards from the road, there will be an at-least 5-foot berm along 133rd Avenue, Ehens said. There will be a mix of trees and shrubs, Ehens added. 
Base model homes will begin in the low $300,000s, with most homes averaging in the $400,000s, and the average lot size will exceed 10,000 square feet, Planning Administrator Anthony Schlueter said. 
The subdivision should be built within three years, Schlueter added. 
Plan Commission members approved the preliminary planned unit development (PUD) 6-0 — with member Scott Evorik abstaining — and sent a favorable recommendation to the City Council. 
The approval is contingent upon the developer needing to furnish a payment in lieu of land dedication to satisfy the greenspace/park requirements. 
Additionally, the City Council must annex the northeast parcel of land on West 133rd Avenue and Marshall Street for the PUD to be approved.
During the April 6 City Council meeting, council members heard Ordinance 2020-04-06, which would allow for the annexation. The ordinance was approved 6-0 on first read. Evorik abstained from voting on the annexation. 
City Council members will again consider the annexation during its May meeting.