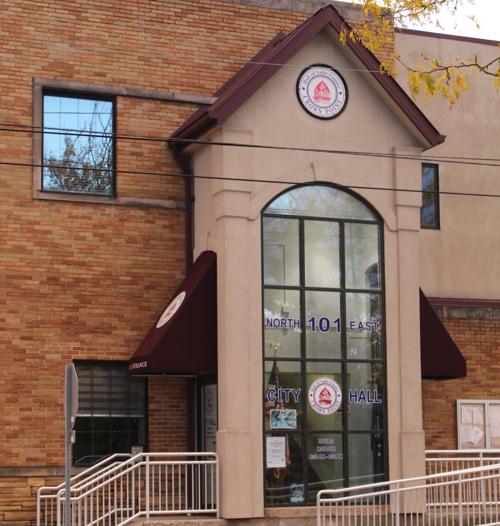 CROWN POINT — Crown Point officials have laid out a timetable as the city graduates through Gov. Eric Holcomb's Back on Track plan.
It spells out government operations, library openings and public access to buildings.
Those were outlined in Mayor David Uran's monthly Tuesday Talks with the Mayor conducted online.
City Hall has been closed to the public for more than a month, Uran said, and it's likely to remain that way for coming weeks.
Besides prohibiting walk-ins at City Hall and other municipal facilities, the coronavirus has forced Crown Point to conduct its meetings online.
"That will continue through the month of May," Uran said.
Lake and Marion counties are expected to enter the second stage of the state's Back on Track plan on Monday. When that happens, some functions will resume in Crown Point.
Clerk-Treasurer David Benson said the walk-up window at City Hall will reopen to accept utility payments from residents.
"We're going to start processing that immediately using (personal protective equipment)," Benson said.
Crown Point has been letting those items sit for at least 24 hours before collecting and processing them.
Uran said public interactions with most city staff have occurred by phone, through email and other electronic methods.
"We anticipate as we enter phase three (of the Back on Track plan), that we will start to loosen those restrictions with our community," Uran said. "We feel at this point right now for your safety and as well as our employee safety, the current provisions that we have outlined have been working and we're going to continue to do that."
The third stage is currently scheduled to begin May 24.
Julie Wendorf, director of the Crown Point Community Library, said the public can't access the Crown Point and Winfield branches this month, but curbside pickup of library materials is expected to begin May 18.
She said the book drop has been opened at the two locations. Library staff is expected to return to the branches starting Monday, and they will begin checking in items that have been returned.
Wendorf said WiFi also is available at all times in the parking lots of the two branches.
As local entities make operational plans, many residents also anxious to know what the easing of restrictions means for the activities they typically enjoy in the spring and summer.
They wanted to know when youth sports could take place, when they could have garage sales and if the city will have a Fourth of July celebration.
Uran said he is waiting on additional information from the governor's office about sporting activities and garage sales. He's hoping to hear more about those matters sometime this week.
Uran said it hasn't been decided if an Independence Day celebration will take place in the city.
The fifth stage of the state's Back on Track plan is tentatively scheduled to go into effect on July 4, and it would allow for social gatherings of more than 250 people as long as social distancing guidelines are met.
Uran said parades and other events could attract massive crowds, and it's uncertain how to ensure there is sufficient social distancing in those situations.
"Please understand that these decisions are difficult to be made," Uran said.
He said the Back on Track plan and decisions Crown Point makes about city operations depend on scientific data, including the number of COVID-19 cases and how they are affecting health care providers.
"Things can change," Uran said. "This is not absolute."
As more testing is completed, it's likely there will be more coronavirus cases in the area.
"We're not trying to put any panic out there," Uran said. "Just understand that number is going to be realistically going up."
He encouraged residents to continue practicing social distancing, regularly washing their hands and following other CDC guidelines.
"Those are the things that are going to get us down to the finish line," Uran said.