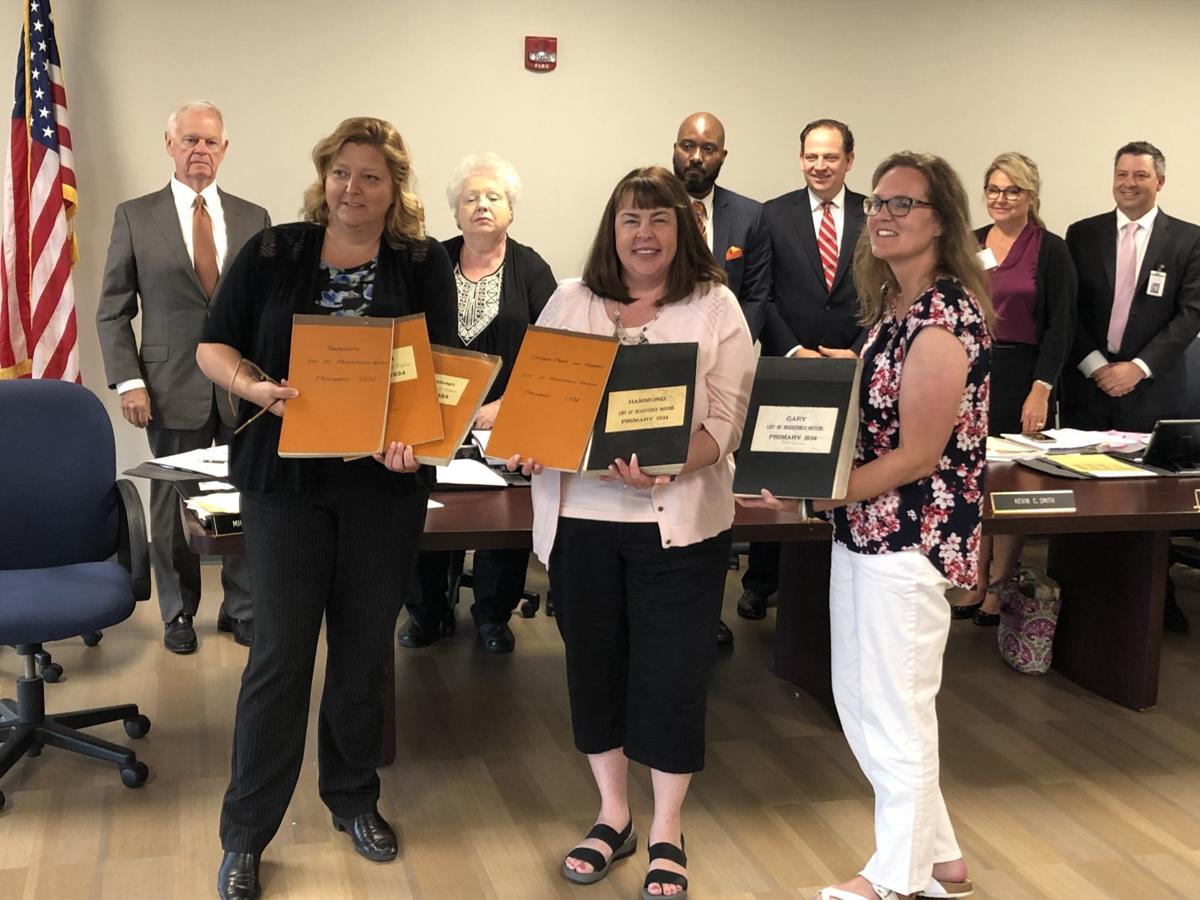 CROWN POINT — The Lake County Board of Elections is giving a historical gift to the Crown Point Community Library — Great Depression-era voter registration records that were discovered accidentally in the basement of a local American Legion post.
At a public meeting Tuesday, elections board Director Michelle Fajman formally turned over six books of voter rolls from 1934 to library director Julie Wendorf and archivist Jeanene Letcher.
The books contain the voter registration information for primary elections in Lake County that year. Each corresponds to a geographical division used at the time: Gary, Hammond, Whiting, East Chicago, Crown Point-Hobart and township residents.
The trove comes courtesy of a surprise find at the American Legion post in Crown Point, where the 85-year-old books were discovered inside an old beer box. American Legion members then took them to the Lake County Clerk's Office.
Clerk Lorenzo Arredondo turned the records over to Fajman, who reached out to the Crown Point Library about giving the books a home more befitting of their historical significance. 
"We were of course very excited to have something like that in the library," Wendorf said of the donation.
Beginning this month, the registration books will be kept under lock and key in the library's Indiana Room, a section dedicated to historical records from Crown Point and the surrounding area. Scanned copies of the pages will be available for members of the public who want to look through the rolls.
The books are the first historical voter registration records to be housed at the Crown Point Library, according to Letcher, who curates the Indiana Room.
"It's really significant from the time period," she said of the discovery. "I'm looking forward to digging into the records to see what they contain and the names they contain."
Library officials plan to display the voter books in the lobby in October, ahead of the Nov. 7 general election. The records will be part of a larger exhibit on voting history in Lake County, Wendorf said.
Letcher, who has been a historian and archivist for more than 20 years, said the voter books "seem to be in pretty good shape" for their age. She applauded county officials for recognizing the historical importance of the records and handing them over for preservation.
"Personally, I think it's exciting (the elections board) considered us," Letcher said. "It shows we value history in Crown Point and in Lake County and they want to recognize the work that we do. We were pleasantly surprised."