CROWN POINT — All signs are pointing forward for a new 500-plus-acre Franciscan Health development in Crown Point that could include a new site for Andrean High School.
But 59ers will have to wait a little longer before seeing whether plans to move the Merrillville-based Catholic high school to Crown Point will proceed.
Franciscan Alliance announced plans last week for a new multimillion dollar project to include a new Franciscan Health hospital, an expanded University of Saint Francis campus and a possible new home for Andrean High School at the southeast corner of Interstate 65 and U.S. 231.
However, Diocese of Gary officials say any plans to move ahead with a new high school location must wait until the appointment of a new bishop following Bishop Donald Hying's June departure.
"Reserving land on the Franciscan campus for future purchase by the diocese for a potential expansion project is exciting because of our shared mission and commitment to Catholic education," said Michael Wick, chief of staff for the Diocese of Gary. "While decisions regarding projects of this magnitude will be guided by the next bishop, we continue to discuss and discern possibilities for Andrean High School."
A demographic study completed three years ago showed the community was strongly supportive of a new building project, Superintendent of Catholic Schools Joseph Majchrowicz said. The school received Hying's blessing last December to move forward with a search for a new location.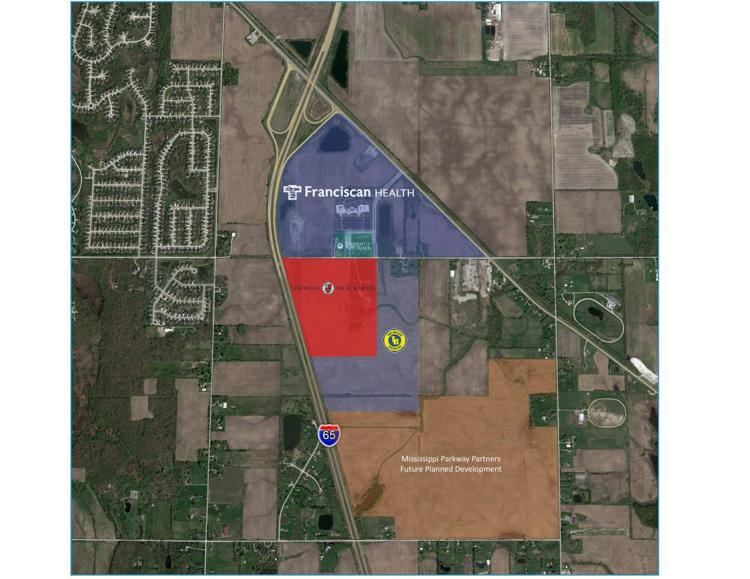 Andrean, celebrating its 60th anniversary this year, has been in the 5959 Broadway location in Merrillville since opening in 1959. While the building has seen periodic upgrades — including code and safety measures taken within the school's physical plant — Andrean largely remains as it was built 60 years ago, Andrean Principal Jaycob Knazur said.
Administrators are hopeful a school near the new health complex in Crown Point could bring opportunities for science, technology, engineering and math as well as other 21st century learning. 
Also, Gary Diocese officials say they have interest in constructing a larger school that could add about 250 students to the school's current enrollment of about 400 students.
With its new project, Franciscan Alliance has verbally committed to set aside a 60-acre parcel of land to serve as a potential new home for the high school, Majchrowicz said.
But because the project was not officially engaged under Hying's tenure, any plans to move or build must wait until a new bishop, to be appointed by the pope, can approve of the work. 
Andrean officials have begun fundraising efforts to support a building project. If the Gary Diocese's next bishop ultimately decides against a new high school, funds may be reallocated to other projects or returned to donors, Diocesan Administrator Rev. Michael Yadron said.
"Across the country, tuition covers only 80% of the true cost of a Catholic high school education, and Andrean is no exception," Andrean Principal Jaycob Knazur said. "Since January, we have been working to put the structure in place to build a sustainable philanthropic culture to support annual and capital endeavors, such as a new building campaign."
The high school is approaching its annual 24 Hours of Giving campaign this Saturday. The fundraising campaign seeks donations to support Andrean's Red and Gold Fund, which finances student programs, scholarships, professional development, technology and more, according to the school's website.
More information can be found at andreanhs.org/donate. Those interested in making a significant contribution can contact Liz Metts at 219-887-5959 ext. 294.
Crown Point city officials have expressed excitement for the educational opportunities, workforce development and regional growth the estimated $400 to $500 million in total investment the Franciscan project could bring.
"It's going to create a lot of new employment opportunities for medical professionals, career-oriented professionals that will lead to people wanting to change careers or start a new career, or for youth wanting to start in these fields and work and play here in Crown Point," Crown Point Mayor David Uran said. "It really starts to touch a lot of buckets for a community that wants to both maintain its values and grow."
Uran said the development fits in well to Crown Point's reputation for quality schools and housing opportunities. He said he sees the complex further contributing to economic growth throughout the county.
"Anyone who's going to put a $500 million investment into the city, you get a big grin on your face," Crown Point City Councilman Chad Jeffries said. "This is an all-encompassing project. How can you ask for anything more?"
Be the first to know
Get local news delivered to your inbox!