HAMMOND — All 253 of Columbia Elementary School's kindergarten through fifth grade students gathered Friday morning in the heart of their school for daily announcements.
Lining the steps and the ramp overlooking the Columbia Elementary theater, the students rose, like they do everyday, to say the Pledge of Allegiance.
They stood among the printed portraits used this year to learn the names of every U.S. president and on the same carpet many of their own parents, or even grandparents, walked years ago as students of the same Hammond elementary school.
The next time the Columbia students gather for Principal Lynn Lange's morning meeting will be their last.
The School City of Hammond board voted last month, along with two other schools, to shutter the doors of Columbia Elementary after this school year ends on June 3.
Some teachers will be reassigned in the district. Others may lose their jobs in announced staff reductions. But, the future is certain for one Hammond kindergarten teacher.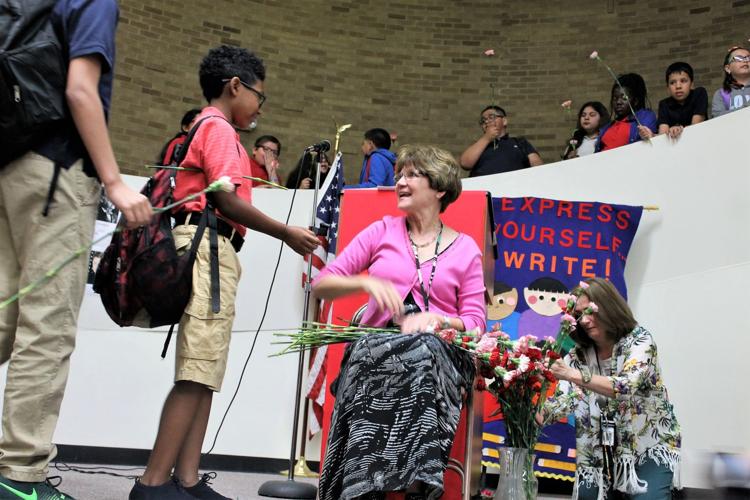 Jill Morrison, who began her teaching career 43 years ago at Columbia Elementary, will retire with the school.
Since 1976, a year after Columbia opened, Morrison has spent every day teaching out of the same elementary classroom.
She watched as kindergarten education evolved and adapted to changes in teaching standards and technology all while staying true to the core values of patience and understanding, her colleagues said.
Third grade teacher Rhonda Sutphin, who has worked at Columbia for 17 years, is also one of Morrison's former students. She said she still remembers show-and-tell days and learning shapes in Morrison's classroom.
"We knew she cared all the time," Sutphin said. "Although she's embraced change, she's still, when I go back to her room, that kindergarten teacher I remember all those years ago."
Maria Rohrman, who also teachers third grade at Columbia, did her student teaching under Morrison a decade ago. Her son is now a student in Morrison's last kindergarten class.
"She taught me how to be nurturing to the students, how to have goals for them, how to set high standards for them and how to be flexible," Rohrman said. "Every student does not learn the same way, so you have to find ways to reach them."
Morrison grew to teach three generations of students in some families throughout her career at Columbia and became a major draw to the school with parents specifically requesting her to teach their children.
Morrison has taught more than 1,500 students in her career, including her first year teaching when she split her days between Columbia and Lafayette Elementary School — the second Hammond elementary slated to close this summer.
Morrison had been considering retirement before school closures were announced this month, but when the rumors became reality, she said she knew it was time.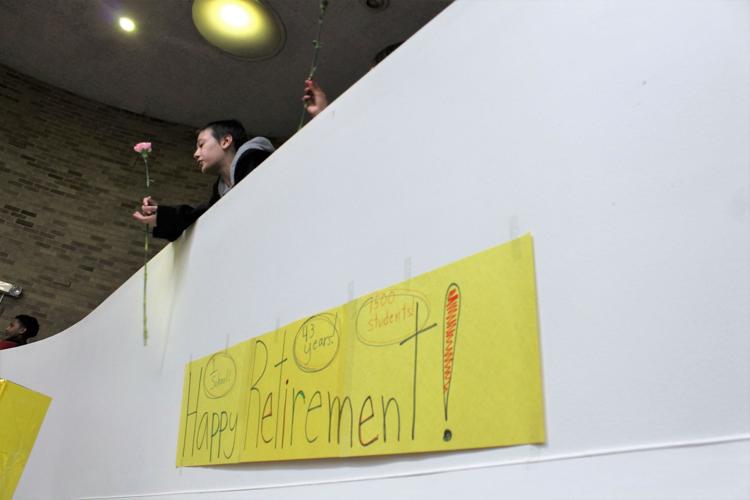 "I started here when I was 21," Morrison said. "I've got a lot of memories."
As students took their seats in the theater Friday morning, Columbia's teachers handed each student a red, white or pink carnation.
"She has been wonderful and such a great Columbian for 43 years," Lange said, calling Morrison up to the front. "So many kids have gotten their great start in education because of Mrs. Morrison, so we are going to pay tribute to her right now."
One by one, students lined up to present Morrison a carnation and a hug. Sutphin and Rohrman organized the Friday morning surprise to send off the teacher who gave more than four decades to their school. Morrison's husband, Jim, sat in the middle theater.
"It was very, very thoughtful for them to do that in the midst of the fact the school's closing," Jim Morrison said. "They have a lot of other things to consider — where they're going to go next year and what they're going to do. To go ahead and think of her like that is very, very nice of them. She's had a terrific career here."
Jim Morrison said he and Jill will split time between Northwest Indiana and the couple's Florida home. The couple is active in the retired School City of Hammond teachers board. Jim Morrison, now retired, also taught for years in the Hammond school district at Morton High School.
"After all those years, she remembered me," said Sutphin, Morrison's former student. "That's how you know she's a true teacher. She remembers all her kids."
Be the first to know
Get local news delivered to your inbox!