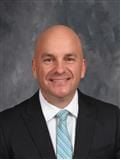 CROWN POINT — A day after Duneland School Corp. named Crown Point's Chip Pettit as its next superintendent, the Crown Point Community School Corp. has announced its next high school principal.
Russ Marcinek, serving most recently as an assistant principal at Crown Point High School, will step into the role beginning July 1.
"Mr. Marcinek is going to be a great leader of CPHS," Crown Point School Board President David Warne said in a Tuesday news release. "As a board and school corporation, we are all very thankful to have such a strong internal candidate to replace Mr. Pettit as principal. We expect the transition to be seamless and our high school leadership team to be as strong as ever under the guidance of Mr. Marcinek."
Marcinek is a 24-year veteran in the field of education, spending his first 14 years as a teacher before taking on administrative roles, according to the news release.
The incoming principal lives in Crown Point with his wife and three children. He has been with Crown Point High School for 11 years, nine of those serving as assistant principal, according to the release.
"My time with the Crown Point Community School Corp. has been personally and professionally rewarding as I have been fortunate to work with many talented students and teachers," Marcinek said in the release. "I am grateful to have the opportunity to further serve the school in my new role."
Marcinek replaced Pettit, who was announced Monday morning as the next superintendent of Duneland school following a unanimous board vote. Pettit served as Crown Point High School principal for seven years. Before that, he worked as a teacher, middle school athletic director, administrator and high school head football coach for more than a decade.
Stepping into his new position, Marcinek said his goal is to continue building upon Crown Point High School's success. As assistant principal, Marcinek worked closely with administrative teams to develop high school transition initiatives, senior internship opportunities, college-career programming and more, according to the news release.
Crown Point has been nationally recognized for several years among U.S. News & World Report's Top U.S. High Schools and has received the National School Boards Association's Magna Award.
The high school is also recognized at the state-level as a repeat recipient of an "A" grade in Indiana's annual school accountability reports and was designated this year as one of the Indiana Department of Education's high-achieving Four Star Schools.
"Crown Point High School enjoys a tradition of academic excellence, achievement in the arts and athletics, service to the community and unmatched school spirit," Marcinek said. "We will remain focused on positive transitions, sound programming, post-secondary placements, and extra-curricular opportunities. I look forward to partnering with the Crown Point community to ensure our students have a meaningful and positive high school experience."