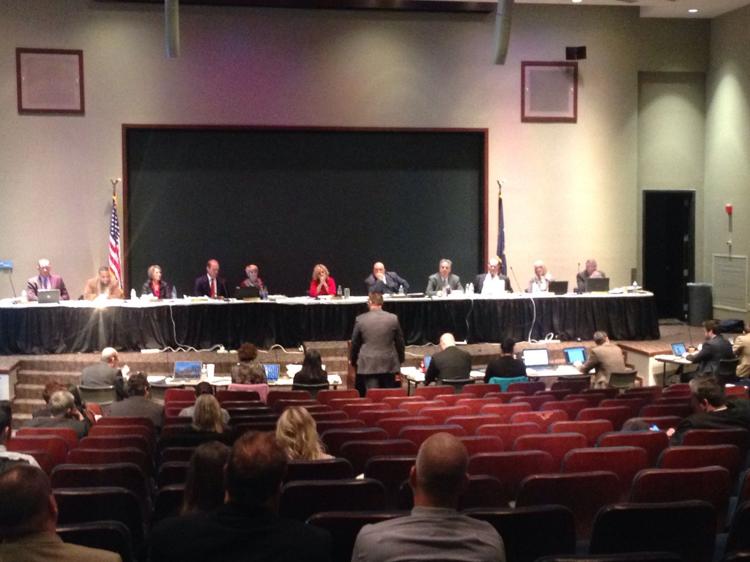 INDIANAPOLIS — The State Board of Education approved a major overhaul of Indiana's high school graduation requirements Wednesday, despite significant concerns from Hoosier educators about how the changes will be implemented.
The new graduation pathways mandates all Indiana high school students, beginning with the 2023 graduating class, explicitly demonstrate both work-ready skills and post-secondary education preparedness — in addition to completing a traditional academic program — to earn their diplomas.
The added graduation requirements were ordered in April by the Republican-controlled General Assembly, and follow Republican Gov. Eric Holcomb's announced intention to convert Indiana's education system into an employment skills training pipeline for Hoosier businesses.
According to the implementation plan, approved 7-4 by the mostly governor-appointed state school board, students will have numerous options to satisfy the work-ready and post-secondary components.
For work-ready, students must participate in either project-, service- or work-based learning, within or outside the classroom, designed to develop the knowledge and skills that the state's employers say they want their workers to have.
That could include completing a course capstone or long-term research project; "meaningful" volunteering or civic engagement; participating in co-curricular or extra-curricular activities, including high school sports; employment training through an internship; or working at an after-school job.
For post-secondary, students either would complete an honors diploma; receive a to-be-determined score on the ACT, SAT or military readiness exams; achieve a "C" average in at least three Advanced Placement and similar high-level classes, or career education courses; participate in a formal apprenticeship program; or earn an industry-recognized credential.
It's still unclear whether all options will be available to students at every school corporation, particularly those with limited resources or located in rural areas.
The new requirements are strongly supported by the Indiana Chamber of Commerce and Indiana Manufacturers Association.
They claim Hoosier employers consistently are unable to find a sufficient number of skilled employees to fill their open positions, and the changes will get students thinking about, and working toward, their careers beginning at age 13 or 14.
"The status quo is not working. The status quo is not enough," said Caryl Auslander, chamber vice president for education and workforce. "The good-paying jobs of today and the future simply require more than a just a high school diploma."
State school board member Tony Walker, of Gary, who voted in favor of graduation pathways, said he agrees — "It's the right thing to do."
"We're in an education crisis right now. We're not having the kind of production in terms of competencies among our graduates that we need to have either for workforce or higher ed," Walker said. "And this is a good step in the right direction."
Teachers, principals and superintendents from across Indiana told the state school board during six hours of public testimony Wednesday that the rush to adopt graduation pathways before finalizing how they'll work inevitably will result in another Indiana education fiasco, akin to extra-long standardized testing and the repeatedly revised school accountability grades.
Besides the question of whether all students will have equal access to every graduation pathway option, they said no one knows how the new requirements will affect students who transfer from a district offering a unique graduation pathway, or those who move to Indiana from other states.
In addition, educators questioned whether businesses have the capacity to accommodate and supervise some 250,000 high school students coming to them for internships and apprenticeships, in addition to asking how students will get to those unpaid jobs and whether their employers will undergo background checks like those required for teachers.
It's also not known how many additional guidance counselors will have to be hired to track and verify each student's graduation pathways progress, as well as how students with disabilities will be accommodated so they still can earn a high school diploma.
Moreover, the Legislature has not figured out how much all the extra work and testing and other graduation pathways options will cost, or who will pay for it.
Stacey Schmidt, superintendent of Porter Township School Corporation, told the state school board that she doesn't oppose the graduation pathways idea, but believes it should not have moved forward until most of those questions were definitively answered.
"The details have yet to be worked out and there are many conversations yet to be had," Schmidt said. "Hope is not a strategy that's good enough for our students in Indiana."