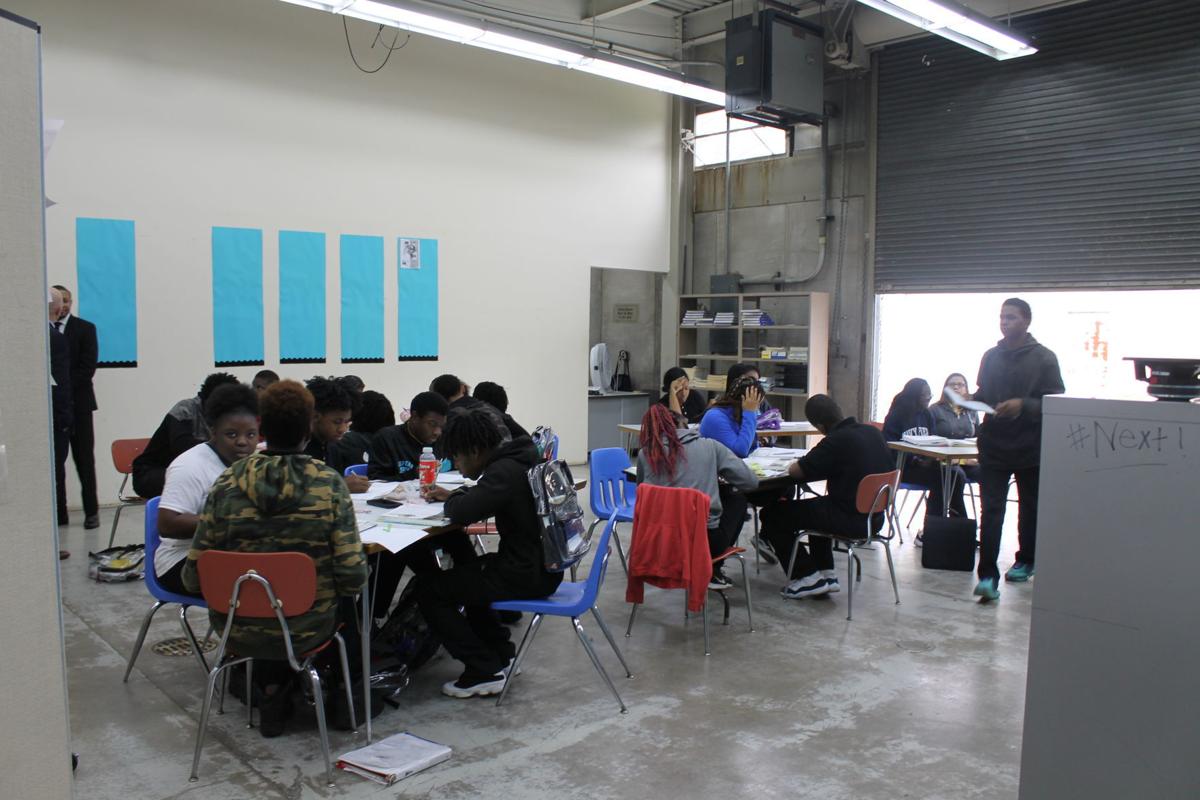 GARY — EdisonLearning is proposing a new school concept for Theodore Roosevelt College and Career Academy ahead of a visit next week from Indiana State Board of Education staff.
The Florida-based academic services provider is looking to create a pre-K through 12th grade environmental studies academy in the school's former home at West 25th Avenue — and says it can attract the funds to do it.
Students were first displaced from the historic Gary Roosevelt campus in February following extreme weather-related damages to the 90-year-old building expected to cost more than $10 million to repair.
EdisonLearning instructors have been teaching class at the Gary Area Career Center ever since. However, uncertainty has been cast on the school's future operations following a series of contentious Indiana State Board of Education meetings in which Roosevelt's operations and academic promise have been questioned.
The Gary Community School Corp., which runs the Gary Area Career Center and is responsible for housing Roosevelt students in an innovation agreement struck with EdisonLearning in 2017, is also looking to expand career center offerings, leaving Roosevelt students without a home next school year.
EdisonLearning proposes new curriculum, charter concept
EdisonLearning had been quiet about its vision for the future of the historic Gary school until a community meeting called Thursday night to introduce the recommendations for a repurposed school to be called Roosevelt R.I.S.E. Academy.
Citing strengths in its JROTC and DECA business programs and a recent A ranking in the state's accountability grades, EdisonLearning leaders said they feel they can bring educational opportunities missing in Gary through its "Renewable Industries for Sustainable Energy" concept.
EdisonLearning officials said they have invested $1.5 million of the company's own funds in Roosevelt building repairs prior to students' displacement last year and are dedicated to remaining a partner in the Gary community.
"The citizens of Gary should not have to go to other cities to get a quality education," EdisonLearning Principal Joshua Batchelor said. "They should be able to go to their home neighborhood school to get quality education inside a 21st century building."
STEM programs have become increasingly popular in the state's education arena.
The Gary Community School Corp. re-opened its Bailly school as a 6-8 STEM academy this school year and a number of dual-credit and CTE opportunities are offered both in Gary's existing charter schools and through the Gary Area Career Center.
"Gary was known for the steel industry," EdisonLearning Superintendent Marshall Emerson said. "A lot of jobs in the future are coming from 'How can we improve life on this planet?'"
EdisonLearning officials say they're courting an Atlanta-based investment firm to provide the $25 million in funding through grants, loans and philanthropy to make their proposal happen.
The for-profit educational services provider says it has already consulted with an architectural firm from Chicago, independent of the state and the Gary Community School Corp., to evaluate needed repairs in the school.
EdisonLearning's plan calls for a complete renovation of the inside of the Roosevelt building, providing "an innovative lab for students and teachers," while maintaining the outside of the historic façade.
The plan further proposes the establishment of a long-term lease of about 15 years with the Gary Community School Corp., which owns the Roosevelt building.
The new academy would first serve students in the sixth through 12th grades before expanding its courses over time to the lower grade levels in the building which has a capacity of about 2,000 students.
Roosevelt currently serves just over 400 students in its existing 7-12 structure, according to Indiana Department of Education data.
"We're hearing a lot of voices in the discussion of the future of Roosevelt," EdisonLearning CEO Thom Jackson said via teleconference Thursday night. "We need to make sure that the voices that we hear as well are from the folks who are most directly impacted by the future of what happens to Roosevelt."
One Roosevelt alum questioned EdisonLearning leaders Thursday about the level of commitment expressed by the Atlanta investment team.
EdisonLearning spokesman Michael Serpe declined to confirm the name of a Georgia-based investment firm, when asked by The Times on Friday, saying "we wouldn't have mentioned the fact that we've had discussions if they weren't serious."
Challengers to establish charter
EdisonLearning may face an uphill battle in implementing the Roosevelt R.I.S.E. concept.
In order to carry out such a plan, EdisonLearning will need the support of the Gary Community School Corp., and its emergency management team staffed by for-profit MGT Consulting, to break the school's existing innovation agreement.
Two-and-a-half years are left on the five-year contract between EdisonLearning and the Gary Community School Corp., which establishes EdisonLearning's role as an educational services provider only in a building owned and facilitated by the public Gary school system.
Emerson said the concept presented for the first time publicly on Thursday had not been shared the state, the Gary Community School Corp. or MGT Consulting prior to the meeting.
"We haven't had conversations with other constituents," Emerson said. "This is an EdisonLearning program. We wanted to get this in front of the alumni, family and staff first."
Under state law, for-profit entities cannot obtain charters, so EdisonLearning is further proposing the creation of a non-profit entity governed by a local board of directors to oversee the new school.
EdisonLearning officials suggest this board would be comprised of five to seven community members representing the city, the Gary Community School Corp. and Roosevelt alumni.
This board would then need the backing of a state-approved charter authorizer, such as Ball State University or the Indiana Charter School Board — the latter of which denied a similar request in three Indianapolis schools on Friday.
The academic services provider was first contracted by the state to work with the school in 2012, following years of failing academic performance. EdisonLearning's relationship working in the school continued in the 2017 agreement struck with Gary schools after Roosevelt came out of state takeover.
However, standardized test scores and graduation rates have consistently reflected percentages half that of state averages in the years since EdisonLearning came to lead curriculum causing some to question the progress of the school.
"One of the challenges you face in any turnaround school — you can't turnaround a generation of poor performance in a short period of time," EdisonLearning spokesman Michael Serpe said. "It's been extremely challenging for the kids because of having to be moved around."
EdisonLearning school officials have also framed their discussion of Roosevelt's future around the assumption that the state and the Gary Community School Corp. want to close Roosevelt altogether.
"If it were left up to people outside of this room, Roosevelt would've been closed," Emerson said. "We're trying to propose something that at least keeps Roosevelt open for a number of reasons — one, it should be; two, it's one of the premier schools in the history of the state of Indiana."
The Gary Community School Corp. is currently in the process of seeking a second evaluation of the costs needed to repair the Roosevelt building and has expressed interest in working with EdisonLearning to find a suitable home for students next year.
Indiana State Board of Education staff will meet at 5 p.m. Monday at Indiana University Northwest's Anderson Library Conference Center to hear from parents about current academic performance and to weigh educational alternatives in the area.
The Thursday night meeting put on by EdisonLearning was attended by a couple dozen stakeholders, a majority of whom were Roosevelt staff and alumni.
EdisonLearning school officials distributed surveys asking questions like "Do you want to see the Roosevelt legacy continue?" and "Would you like to see Roosevelt R.I.S.E. Academy locally controlled and governed by a board of directors?"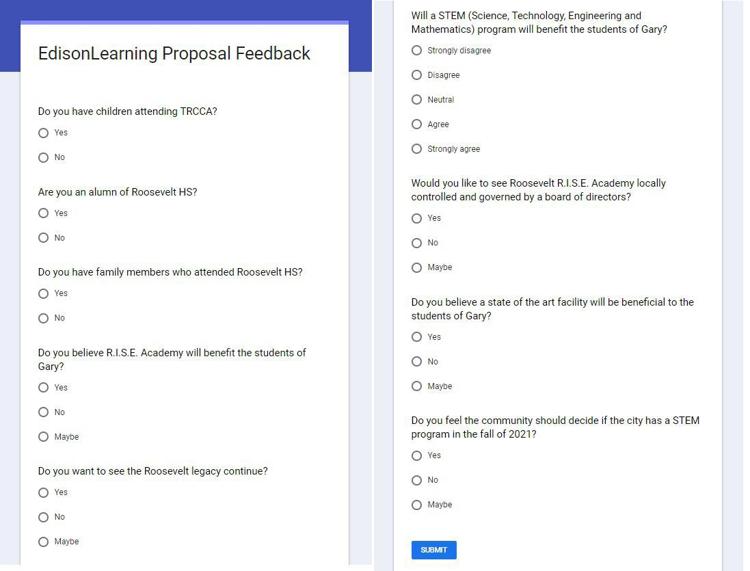 Some in the audience asked how school leaders intended to fill a building as large as Roosevelt with the school's current student enrollment of less than 500. Others questioned the feasibility and effect on other schools in the area the proposal would bring in a city already struggling with population decline.
"It's not my responsibility to think about what happens there," Emerson said, referencing competing schools. "I don't want anybody to be displaced or any school students to be displaced, but my primary concern is what happens to Roosevelt High."
EdisonLearning employees expressed optimism the proposed curriculum could attract remaining Gary parents sending their children elsewhere into the new Roosevelt R.I.S.E. Academy.
A majority of the Thursday night presentation was future-looking and did not address the pressing need to find a location for classes in the next school year. Under EdisonLearning's proposal, renovations at the school would take between 12 and 18 months.
MGT Consulting, Gary schools and state representatives will tour three Gary schools on Monday as possible locations for next year, Emerson said.
"EdisonLearning wants to be a part of the Gary community," Emerson said. "EdisonLearning wants to make sure Roosevelt stays open."