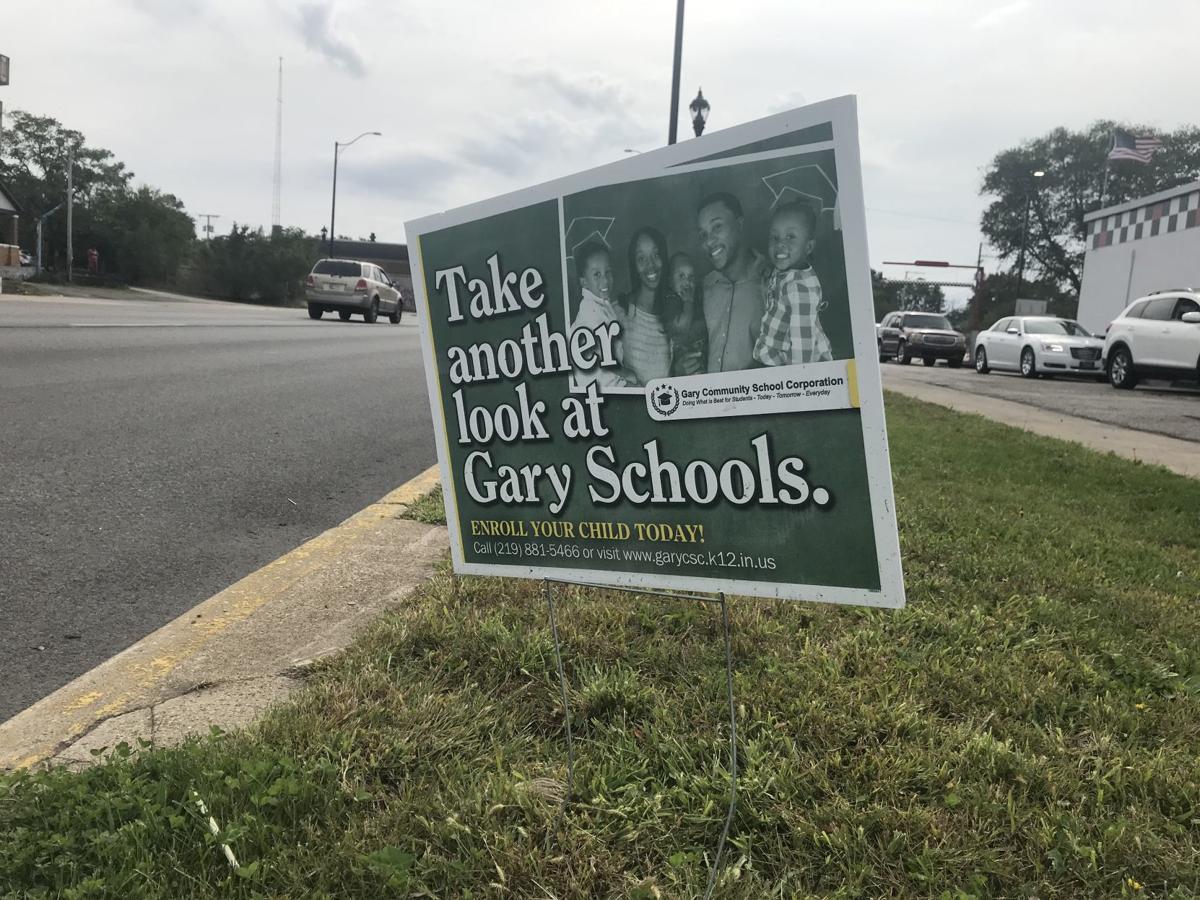 GARY — State officials have put the Gary Community School Corp. on notice after learning of enrollment incentives offered last fall in the Gary community that appear to violate Indiana law.
On Sept. 12 and 13, the Gary Community School Corp. posted at least nine times among official Facebook, Twitter and Instagram accounts that parents who provided successful referrals for student enrollment at the Gary district would be eligible for a $25 Visa gift card.
The posts further offered that students enrolled by 5 p.m. Sept. 13 would be entered in a raffle to receive an iPad. The district planned at the time, according to the posts, to raffle off two of the devices, valued in the hundreds of dollars.
However, Indiana law explicitly prohibits any public school, charter school or private school receiving state scholarship funding from offering such incentives in the form of "any item that has monetary value, including cash or a gift card."
Gary school officials say none of the gift card or iPad incentives offered in the social media posts were purchased or awarded by the financially distressed district, operating under state takeover since 2017. Gary schools saw no increases in enrollment as a result of the Sept. 12 and 13 social media posts, Gary schools spokeswoman Chelsea Whittington said.
The timing of the fall enrollment incentives, posted as a part of the Gary district's fall "Take Another Look at Gary Schools" campaign, is significant given the posts were made just before and on Sept. 13, the day all Indiana districts were required to submit student enrollment totals to the Indiana Department of Education for verification.
Tammy White, deputy examiner with the Indiana State Board of Accounts, said a review of Gary's enrollment-related social media posts would be conducted as a part of the state board's next routine audit of Gary schools.
The district launched its own investigation of the posts last week after the Indiana Department of Education notified Gary schools personnel on Jan. 15 that the department had been tipped off to the provided enrollment incentives.
Eric Parish of MGT Consulting, contracted to lead the state's takeover of Gary schools, was asked to investigate the September 2019 posts. His investigation found, according to a district statement, that all incoming Gary students may be given items such as backpacks, school supplies and uniforms supported through grant funding.
During the fall 2019 "Take Another Look" campaign, parents enrolling students were offered GCSC branded T-shirts, car stickers, pencils and lanyards.
The proposed $25 gift card and iPad incentives originated from a September GCSC Cabinet meeting led by Gary Emergency Manager Pete Morikis, according to the district's statement.
This meeting, attended by central office department leadership, was followed by discussions among Parish, Morikis, Whittington, Deputy Superintendent Nakia Douglas and Family and Community Engagement Liaison Manager Tennille Foster about the proposed incentives, according to the Gary statement. Douglas then took these ideas to Gary schools Chief Financial Officer Lisa Rosinko in a request for funding.
"Rosinko immediately denied the request and explained the inappropriateness of offering enrollment incentives," the Gary statement reads, adding that the gift card offerings and iPad raffle, though advertised on social media, did not take place.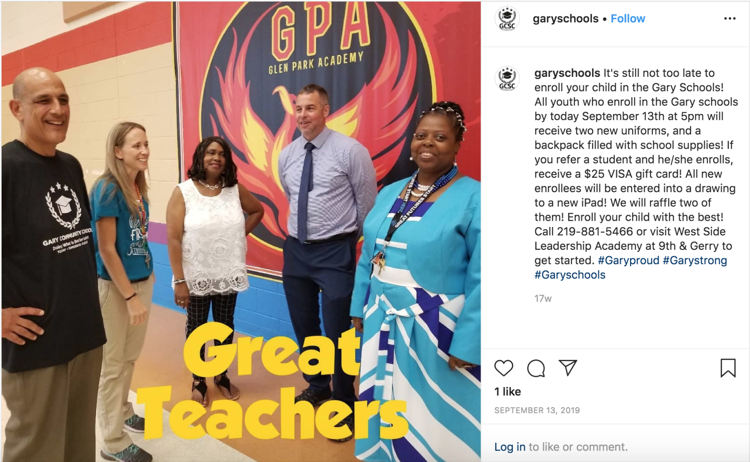 It is not uncommon for schools to offer gifts of nominal value, multiple state officials told The Times.
In a system where dollars follow the student, Indiana districts are under increasing pressure to raise their student enrollment to receive increases in state funding.
State Rep. Bob Behning, R-Indianapolis, said Indiana's enrollment incentive statute was passed in 2015 after a similar promotion was offered by an Indianapolis charter school.
"We thought that was not the right way to encourage people to go to school," said Behning, chair of the House Education Committee. "We wanted parents to make a choice based on academics, not on a prize being awarded."
The Gary Community School Corp. — struck for years with declining enrollment as Gary residents move out of the city or enroll their students at competing charter and voucher schools — reported a slowing of its decades-long student losses in October. Reducing this trend is a key component in Gary school corporation's plan to right district finances and bringing the politically distressed unit out of state takeover.
The district has not removed its September posts advertising a gift card and iPad giveaway, but instead edited its social media to include the following message; "Upon notification that the presentation of gift cards was inappropriate in this circumstance, the above promotion ceased. It is important to know that no gift cards were given out by the District nor was a raffle held for iPads."
Indiana's next student enrollment reporting day is Feb. 3.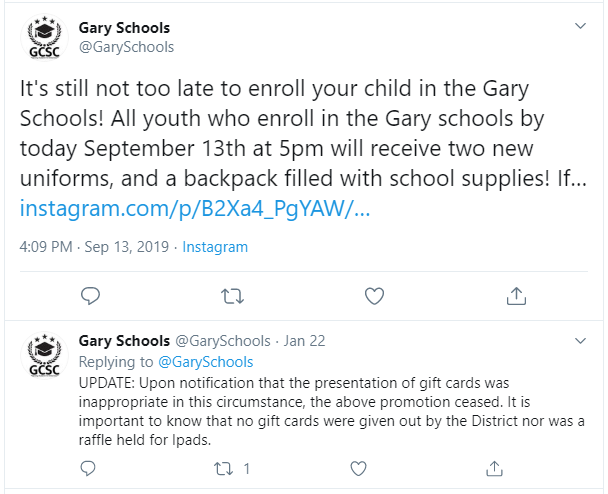 A look at the 2018-19 Federal School Accountability results in Northwest Indiana
A look at the 2018-19 Federal School Accountability results in Northwest Indiana
Here's a look at how Northwest Indiana schools compared in 2018-19 Federal School Accountability ratings.
Be the first to know
Get local news delivered to your inbox!