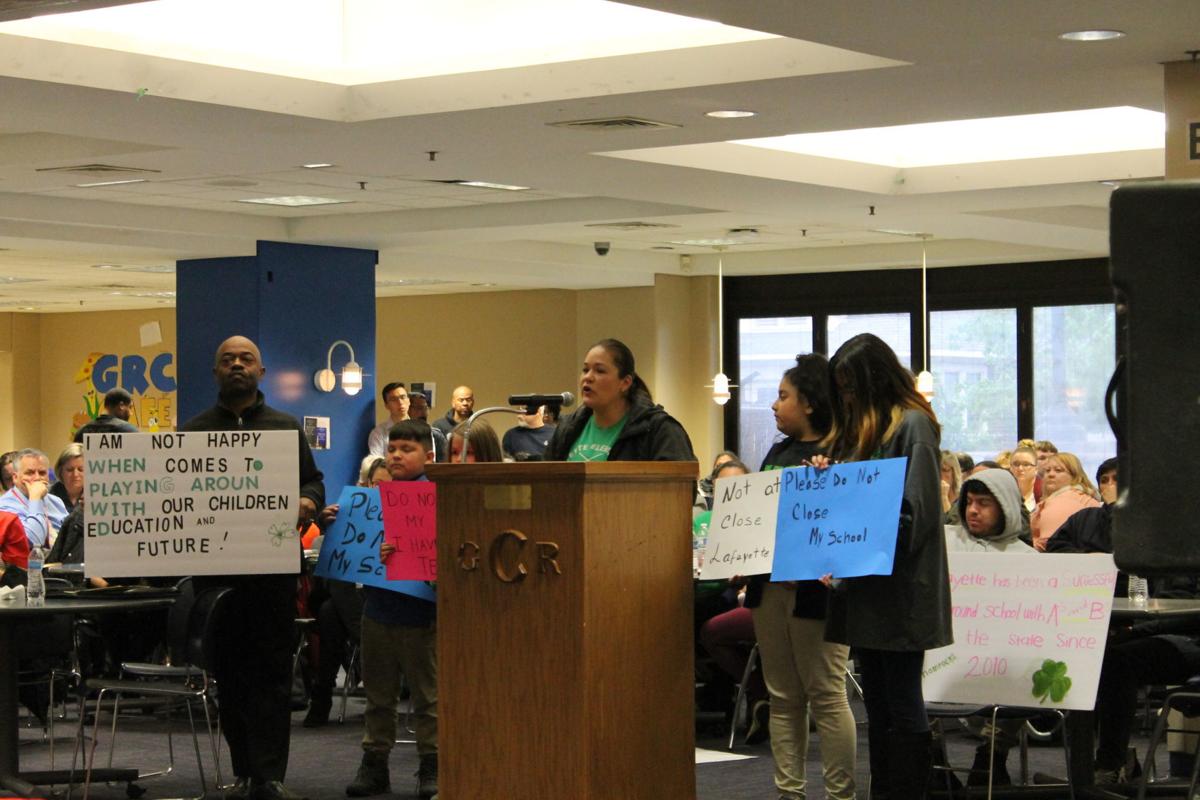 Following its superintendent's recommendation, the School City of Hammond board voted on Tuesday night to close three schools and eliminate between 130 and 150 positions.
Columbia and Lafayette elementaries, and Miller School — which houses Hammond's Head Start and special education programs  — will close after this school year after the board's 4-1 vote. 
A majority of Columbia students will move to Irving Elementary School, currently at 388 of its 800-student capacity. A majority of Lafayette students will move to Maywood Elementary, currently at 370 of its 775-student capacity. Superintendent Scott Miller promised parents of Columbia, Lafayette and Miller students that the district would provide transportation to their new schools.
The board also approved by a 4-1 vote an updated policy for staff reductions. The policy makes clear that if 130 to 150 positions are eliminated in the district, as Miller recommended last week, individuals cut will be selected based on a teacher effectiveness rating as approved by state statute and Hammond's teacher's union.
Board member Carlotta Blake-King cast the only votes against the school closings and staff reductions.
Reductions will begin as soon as possible now that the policy update has been approved, Miller said, to give affected teachers time to seek new jobs in nearby districts.
"We want to continue to have the programs for our students to have the best teachers and programs," Board President Deborah White said. "But with our district having 20 buildings that are growing older with the day, we are going to make the best decision fiscally to keep the corporation from folding that other corporations have. If there was any other way to get any other funds, we would do it."
A solemn tone marked the start of the meeting as attendees joined in singing the Clark school choir's rendition of John Lennon's "Imagine". Many in the audience knew the cuts would be coming.
The board vote comes following multiple public meetings last week explaining the district's current financial status. Matt Ruess, a financial consultant hired by Hammond schools following the March retirement of the district's chief financial officer, projected the school city is on track to run a $10.2 million deficit in 2020.
With about about 90% of Hammond school funding coming from the state, the school city has been struck hard by enrollment declines and changes in the state's poverty funding.
A number of parents, students and politicians — including state Rep. Carolyn Jackson, D-Hammond — spoke at the meeting. Jackson specifically drew attention to the growing inequality in state funding of public education versus charter and voucher-accepting schools. She cited statistics that charter and voucher-accepting schools receive anywhere between 5 and 9% of total state funding, while 94% of Hoosier students attend traditional public schools.
"That is disgrace," Jackson said. "And, in 2021 it will only get worse."
Jacqueline Robledo, the mother of a Lafayette second-grader, begged school board members to consider how the closing of three schools serves the district's vision statement to provide "a rich and challenging learning environment that encourages academic excellence."
Her daughter, Amie Robledo, was one of a handful of Lafayette students who spoke up in support of their school and teachers.
"We don't want our school to close," the second-grader said. "I love my school. I love my teachers. I don't want that to go away."