HAMMOND — Long-rumored consolidation in Hammond schools could come to fruition within the next two school years.
Hammond Superintendent Scott Miller made recommendations this week to close Clark and Gavit middle/high schools ahead of the start of the 2021-22 school year.
The consolidation, driven by declines in enrollment and state funding, could be set in stone as early as next week, and could bring greater academic opportunity to students in Hammond, where some seniors currently enroll in multiple courses of peer tutoring or take half days when they run out of available classes to take.
"All those issues — not having enough teachers or classes, providing enough opportunities for kids — would be solved," Miller said. "We would be able to provide your children and the children of this community the classes they would get if they went to a school system outside of Hammond."
Still, some in the community wonder if the decision to close schools, coming as early as Wednesday, could be happening too fast.
Two high schools for Hammond
If approved, the superintendent's plan, revealed in a Tuesday meeting, calls for complete redistricting in Northwest Indiana's largest school district.
Sixth-grade students would be moved into Hammond's 12 neighborhood elementary schools. Seventh- and eighth-graders would attend Hammond's Eggers and Scott middle schools. Morton High School would remain open and a new school being built behind Hammond High School would serve as the district's second high school.
In the two high school model, both Morton and the new school, slated to open for the 2021-22 school year, would serve about 1,850 students each, Miller said.
Transportation will be provided to all students relocated from their current neighborhood schools, and parents would likely be notified of new school assignments after enrollment totals are taken in February 2021, Miller said.
The superintendent estimates most Clark, Hammond and about 250 Gavit high schoolers would feed into the district's new high school. Remaining Gavit students would join students currently slated to attend Morton High School.
Expanded opportunity for students
Hammond administrators have expressed clear support for the superintendent's consolidation plan, which they say will bring greater equity and course offerings to Hammond's secondary students.
Assistant Superintendent for Academic Services Theresa Mayerik said with two high schools, the district could better balance classes, where now some advanced classes among the four high schools only have 10 students. Other introductory courses, she said, can see as many as 30 to 35 students.
Increased access to freshman and junior varsity athletic programs, the Hammond Academy for Performing Arts, currently only offered at Morton High School, and the district's Early College dual credit program, only available at the Hammond Area Career Center, could be expanded to all students through two high schools.
Consolidation could also better balance access to new facilities, with half of Hammond's high schoolers attending class in the new building and the other half in Morton.
"I want opportunities for all of our kids, whatever their interest is, to be available," Mayerik said. "That's what a high school of 1,800 does."
A plan for Clark, Gavit
The Hammond superintendent said he has already entered discussions to repurpose both Clark and Gavit schools, if closed.
Hammond Mayor Thomas McDermott Jr. has expressed interest in ownership of the Clark property, Miller said, in an exchange for the city's lot behind the Hammond Civic Center.
This land, across from the new school project at Hammond High, could create a greater school city campus housing a high school track and field complex, Miller said. The current Hammond High School would be demolished with a new school parking lot and baseball diamond to be built in its place.
The city has also offered in the exchange to handle road improvements in the area of the new school, something the district has not budgeted for, the superintendent said.
The Clark property could become a mix of single family housing and retail, Miller said in a presentation Tuesday night.
Purdue University Northwest has expressed interest in buying the Gavit property, just a mile away from the university's Hammond campus, to create a county-serving business incubator, Miller said. The district would plan to reinvest profits of a sale to PNW into renovations at both Morton and Scott schools.
"Purdue Northwest supports efforts to think creatively about how pre-existing facilities might be retooled for future use," reads a statement from the university. "Ignite the Region's support for an Impact Lab designed to foster entrepreneurialism and innovation may be an ideal use for a city and school system grappling with our changing times."
At a parent meeting Thursday night, Gavit parents and neighbors living near the school expressed concern for what could happen to the property if discussions with PNW do not advance into a formal agreement.
"I'm not just content with just leaving a building empty like Gary," Miller said Thursday. "I'll look for another buyer and I'll continue looking for buyers."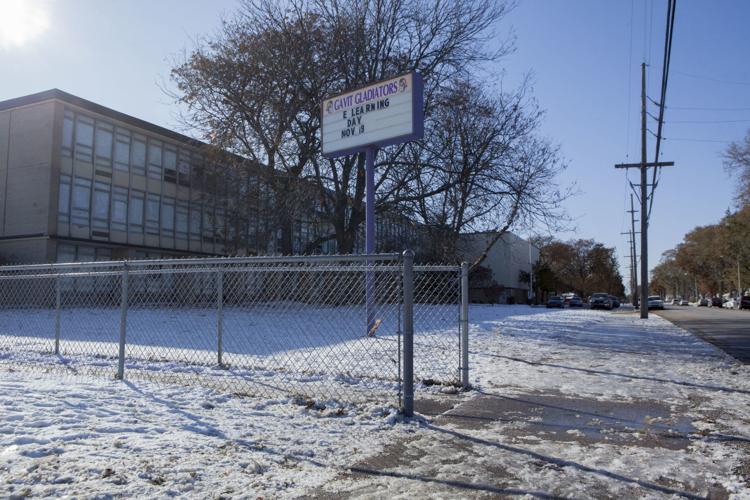 Consolidation to save millions
The consolidation makes sense, administrators say, in a school district that has operated under the same four high school model for decades, despite enrollment declines in the thousands.
The district served 23,745 students in the 1969-70 school year, according to historical data presented by the superintendent Tuesday. Now, the school city is down to 12,230 in enrollment this school year and finished with just $1,800 in its general fund last year.
In a state funding formula where dollars follow the student, declining enrollment has cost the district millions in state funding over the years. The school city is also projected to lose about $900,000 in local funding when tax caps take full effect in Lake County in January.
The district's reductions have brought an operations savings of more than $6 million, according to Tuesday night's presentation. But Matt Ruess, a financial consultant for Hammond schools, warned that the district is still on a path to lose $2 million each of the next two years if school leaders make no change to operational costs.
High school consolidation could bring nearly $9 million in annual operations savings and a combined operational and capital savings of almost $36 million over five years.
"This could be really good for Hammond in the long run," Miller told Gavit families Thursday. "I don't want the state coming in and taking over the school system. That's not good for anybody."
Referendum ask
Voters who supported the school city's November 2017 referendum to fund new school construction say the superintendent's recommendations go back on promises made when retired Hammond Superintendent Walter Watkins led the district.
Hammond residents say they were told schools would not close and there would be no need to open enrollment — a vote the Hammond school board approved this summer — if the district's referendum passed.
In fact, at the time of the referendum, Hammond administrators heavily pushed the idea of combining Eggers Middle and Hammond High schools.
Miller, who stepped into his role in April, acknowledged the district's formal proposals for a new middle/high school, but pointed to the original referendum ballot, which included language only asking for support to construct a new high school.
The superintendent did detail what it would look like to honor the Eggers and Hammond High proposal, leaving Clark and Gavit open.
In this plan, the district would operate three middle/high schools and one traditional high school, moving Eggers students out of its current building and into the new school.
The school city could then move students from nearby Kenwood and Wallace — two of the district's older elementary buildings — into the Eggers school, which Miller said is in good condition.
This plan would allow eighth-graders to more easily take advantage of high school courses and would honor the referendum, but the district would still need to staff each of the four secondary schools within three older buildings, which all could benefit from repairs.
In other words, this proposal would not bring as substantial a savings to the school city — a savings the superintendent said could be put toward closing enrollment.
Combined school communities
Gavit parents and students spoke up in Thursday night's community meeting, asking questions of school safety in larger, combined high schools. Many expressed concerns for conflict created in combining students of Hammond's distinct school communities.
"Putting three schools together into two, I feel like it's going to be a lot of chaos, a lot of fights," Gavit parent Irasema Arreola said. "I don't feel like it's going to be a safe place for my kids." 
Others feared the loss of relationships with influential instructors if let go in staff reductions or moved into another Hammond building.
"My success is mainly due to the teachers, staff and administration here at Gavit High School," senior Ana Almanza said in an emotional appeal to the superintendent Thursday night. "The amount of support that not only I, but my peers, have received here at Gavit High School is exceptional and I know that I am not alone when I say Gavit High School is my home and will forever be a part of my heart."
Miller assured the Gavit families classes would remain similar to their current size. He said the school city would likely look to reduce teachers and staff positions through attrition and in negotiations with union leadership.
Teachers working on emergency permits and those with less experience would be among the first considered in reductions, the superintendent said, creating greater access for Hammond students to receive high-quality instruction. Administrative positions between the two new middle and high schools would be posted and opened for interviews.
Next steps in consolidation plan
Others expressed concern Thursday with how quickly a vote to close schools could come.
Miller presented his consolidation plan publicly for the first time Tuesday, asking the school board to approve consolidation plans just eight days later in their Nov. 20 meeting.
The board — in the middle of filling a vacancy left by former President Deborah White — plans to interview and name a new board trustee on Saturday with the intention of allowing a new member to vote Nov. 20.
"The fact that this is all being presented within one week … it's not the right thing to do," City Councilman Dave Woerpel said to cheers in the Gavit auditorium Thursday night.
The board could choose to table the Nov. 20 vote for a later meeting, though some see the benefits in pressing forward with a long-rumored plan.
Jamaica Sawyers — a teacher cut in last summer's staff reductions, then rehired at Gavit this school year — spoke Thursday night in support of expediency.
"We need this time so that we don't go through what we went through last year," Sawyers said. "We need to let this happen as soon as possible so our teachers are given that time to figure out where they are going to teach, and so our administrators are given plenty of time to pick out the best teachers."
Upcoming meetings
The school board will publicly interview trustee candidates beginning at 10 a.m. Saturday at the district's administration center at 41 E. Williams St.
The superintendent has an additional community meeting scheduled at 6 p.m. Monday at Clark Middle/High School.
A potential trustees' vote could come at the board's 6 p.m. Wednesday meeting, also at the district administration center.