HAMMOND — Longtime School City of Hammond Superintendent Walter Watkins died Monday.
The leader in education, who recently retired after 41 years with Hammond schools, is being remembered for his calm presence and his commitment to promoting diversity within Northwest Indiana's largest public district.
Watkins retired from the School City of Hammond in June after helping the district secure funding in a 2017 referendum to build a new school behind the current century's old Hammond High School — a feat those who worked closely with him said was among Watkins' greatest accomplishments.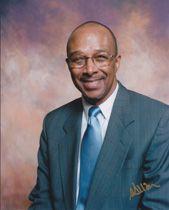 "He worked very hard on the referendum because he wanted to give the students of Hammond what other students have in other corporations," Hammond School Board President Anna Mamala said. "He was a very smart and intelligent man. There will never be another like him."
Watkins had been in declining health for some time, Hammond school leaders said, though, his death still came as a shock to many. He was 72. 
"He devoted his entire life to children and education," said former Hammond School Board President Deborah White, who resigned in November. "What people will probably remember most is him fighting for equality and equity for every child. It was on a daily basis, he worked to do the right thing."
Watkins began his career with the School City of Hammond as an educator in Eggers Middle School, teaching English and reading, said Theresa Mayerik, assistant superintendent for academic services. He rose through the ranks as principal at Eggers and a secondary director for the district before becoming superintendent, a role he served in for more than 16 years.
"He always supported me," said Mayerik, who worked with Watkins for more than a decade. "He always had time to talk to you and he always had an open door."
Hammond educators remember Watkins, who was the school city's first African American superintendent, as a champion for diversity and inclusion.
Watkins was responsible for promoting African-American school leaders and supported the establishment of the district's Dual Language Immersion program teaching Spanish to Irving Elementary students beginning in kindergarten.
"Every child should see somebody that looks like them in the classroom," School Board Vice President Carlotta Blake-King said. "He just loved children. He was a hell of an educator. It's going to hit this community real hard."
This representation, led from the top of the district down, is what led Hammond School Board Secretary Manny Candelaria to run for a position on the board last year.
"He was an inspiration for me," Candelaria said. "I was the first Hispanic on the School Board. It felt like we were reflecting the changing demographic of Hammond."
The former superintendent helped usher in new educational opportunities for students through Hammond's performing arts academy, broadcast academy, early college program and Project Lead The Way STEM curriculum. Shortly before becoming superintendent, Watkins completed his dissertation studying youth in poverty, former Hammond Teachers Federation President Patrick O'Rourke said.
"I saw him as a genuine human being who cares first and foremost about the kids and the district," said O'Rourke, a former Hammond Teachers Union president who worked with Watkins for two decades. "He had a big heart and a good mind."
Hammond Superintendent Scott Miller worked alongside Watkins for three months in a transitional period as the former superintendent prepared to retire. Miller said he believes Watkins' legacy will live on through the new high school — a building that could serve Hammond students for the next 100 years.
"That will not go unnoticed," Miller said. "He was incredibly gracious, kind, supportive and wanted to make sure, more than anything, that I was successful so the students and teachers could get what they needed."
A wake is planned from 6 to 8 p.m. Friday at New Hope Missionary Baptist Church at 1117 Merrill St. in Hammond, said Maxine Simmons, godsister and caretaker for Watkins. Visitation will be from 9 to 11 a.m. Saturday at the Hammond Civic Center at 5825 Sohl Ave., with a funeral directly to follow. All are open to the public.
"He always wanted what was in the best interest of kids," Simmons said of Watkins. "He was very humble when he was named superintendent of schools. He just always thought he would be a teacher and possibly a principal."
Be the first to know
Get local news delivered to your inbox!