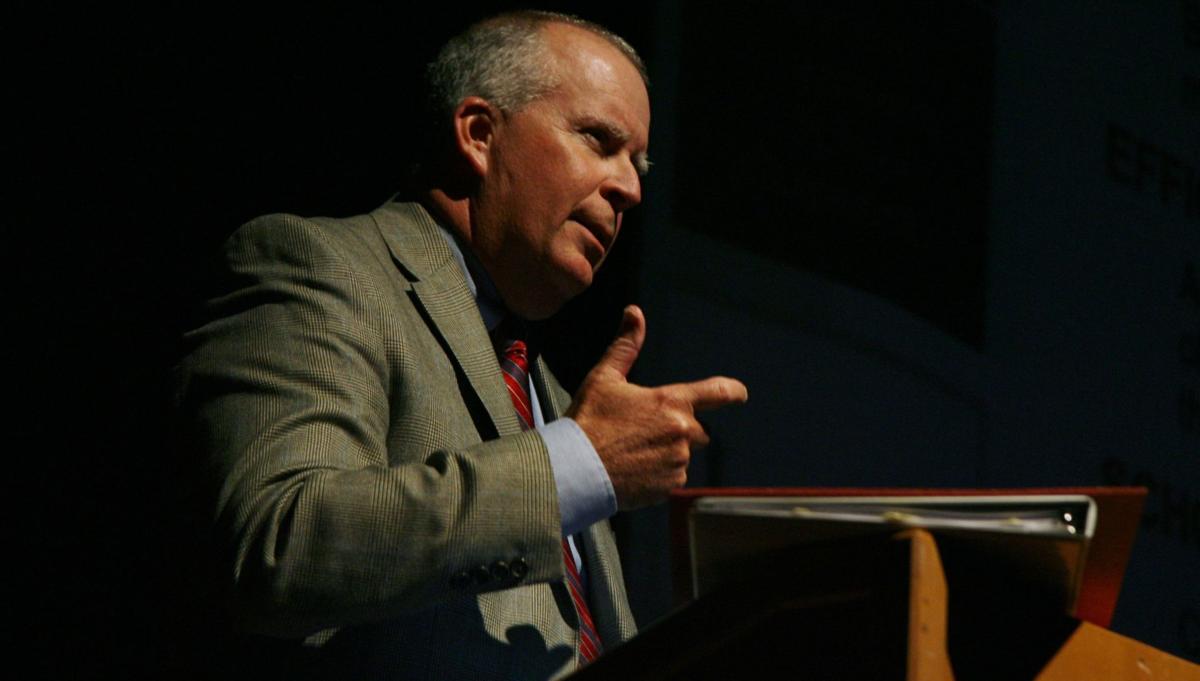 CEDAR LAKE — For Hanover Community School Corp. Superintendent Mary Tracy-MacAulay, being "good" or "good enough" for her students is not good enough.
"I want great and exceptional," Tracy-MacAulay said Thursday at the first of two community meetings to garner support for another referendum for potentially $79 million in capital building projects and current facility renovations.
A second meeting will be held at 6:30 p.m. Monday at the Hanover Central High School auditorium.
Thursday's meeting came after Hanover voters in May narrowly voted down a referendum seeking $44 million in school construction to accommodate growing enrollment numbers.
Hanover has since presented the Lake County auditor the signatures of 663 property owners on a petition in support of a capital referendum. Following community feedback, Tracy-MacAulay said, the school board could vote, likely in January, whether to seek a new referendum in May 2020.
The board will have three options to consider. Depending on the amount of work stipulated in each plan, the total bond issues range from $46 million to $79 million. Projected monthly tax increases for a median area home, valued at $214,200, would range from $6.89 to $16.89.
Representatives from the architecture firm of Gibraltar Design and the accounting firm of Baker Tilly outlined the potential construction and renovation projects, along with projected impacts on property taxes.
The proposals include the construction of an upper elementary school for grades three through five, located south of Hanover Central Middle School. This new school would free up classes at the district's two elementaries. Due to continued growth, fifth grade was moved to the middle school.
Also proposed is a resource center to house the school system's buses and provide space for vehicle repairs and fueling.
Improvements to the middle school would include choral and band room expansions, four new classrooms, physical education expansion, the addition of an auxiliary gymnasium and reconfiguration of two existing classrooms.
High school improvements would include new science rooms, band room expansion, updating and modernizing classrooms, adding a student commons area, centralizing the main office, upgrading the heating and electrical systems, a new community and locker building, new practice fields and one new parking lot.
Additional high school projects call for an early childhood center addition, a new artificial surface and drainage system for the high school football field, renovation of athletic locker rooms and restrooms and one new pedestrian walkway.
Just as the community's net value is increasing, Tracy-MacAulay said, so is its school enrollment. Among elementaries, she said, Lincoln is at capacity and Jane Ball has one extra classroom. The middle school has 777 students, while high school enrollment is 715.
Tracy-MacAulay said the school system will need two mobile classrooms operational by Jan. 2, 2020. One will be at Lincoln and the other at the middle school. Total costs for the two units, the superintendent estimated, will be $573,000.
Total 2019-20 enrollment for HCSC is 2,444. Those numbers have grown every year since 2014-15, when the Hanover student count was 2,061.
Hanover graduate Michelle Duffy, a Hanover Central English teacher with three children in the school system, supports the project.
"I've lived here, I went through the schools, and I have chosen to stay here," Duffy said. "It's for my kids, but also for my students, and that's what it's all about."