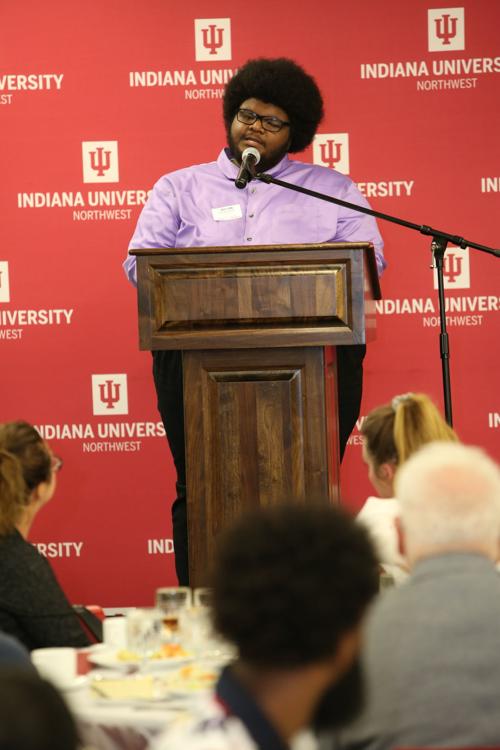 GARY — Jay-Lan Halliburton said it wasn't easy growing up in a family that struggled to make ends meet.
His mother worked hard to support him and his brother, and as a result, had to sacrifice her own dreams of attending college.
The gratitude was evident for the Indiana University Northwest performing arts senior as he went on to describe how a scholarship made it possible for him to stay on course in the face of his financial circumstances.
Halliburton, from Gary, received the Debra Wiener Memorial Performing Arts Scholarship, made possible by the generous support of Bill and Leslie Nelson, whom he personally thanked in his remarks at IU Northwest's recent Scholarship Recognition Luncheon.
Addressing his donors directly, he said, "This scholarship will allow me to go through my final year of college with one less worry on my shoulders, but also with a smile in knowing that someone else believes in my dreams, too. I hope to one day be able to give back to many future IU Northwest performing arts students and help them pursue their dreams as you have done for me."
That's what the annual Scholarship Celebration at IU Northwest is all about—bringing scholarship donors and recipients together to highlight their impact.
"What I find most amazing and awe-inspiring is that while previously strangers, Jay-Lan and Bill and Leslie are now forever linked, thanks to one of the purest forms of altruism," said Jeri Pat Gabbert, Vice Chancellor for University Advancement and External Affairs. "Because Bill and Leslie believe in the power of education - in an IU degree – and because of their philanthropy, Jay-Lan does not have to focus as much on how to pay for college. Instead, he is now afforded with the opportunity to dream big, and to clearly envision his future, and his aspiring acting career."
Halliburton and the Nelsons serve as only one example of this impactful partnership.
In the last four years, she said, the campus has received more than 4,000 gifts; established 29 new endowed scholarships of $25,000 or more; and gifts totaling more than $3.6 million came directly from IU Northwest employees.
"Because of you - our philanthropic supporters -- students' dreams are coming true, lives are being transformed and pride and confidence is being firmly established," Gabbert said.