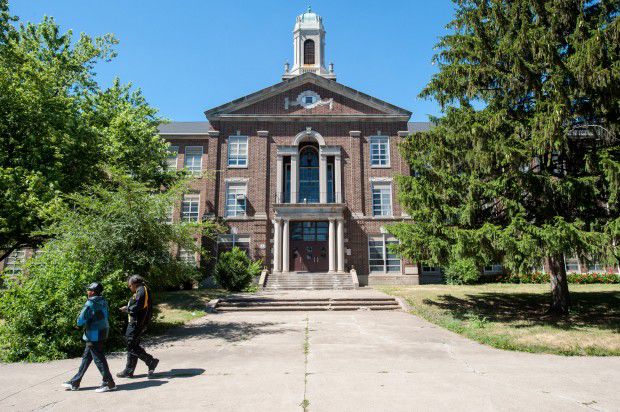 GARY — Twenty-five teachers and support staff at Roosevelt College and Career Academy were laid off Nov. 16, just two days after learning their school was given an A in the State Board of Education's annual assessment.
EdisonLearning, a private organization contracted six years ago by the state to operate the school, said the layoffs came as a result of low enrollment numbers and an effort to improve overall school operations.
Roosevelt staff, who were given little warning of the departures, said laid-off employees included longtime Roosevelt teachers who were integral to the school's first designation as an A school following years of failing and near-failing grades.
"Adjustments were recently made in the instructional and support staff at the school to more effectively address the academic needs of the students," EdisonLearning spokesman Michael Serpe said in a statement.
"These adjustments will have no impact on the quality of education being provided to the students. In fact, they are designed to enhance the continued successful progress at the school."
Teachers described reporting to work Nov. 16 for a staff professional day as students began their first day of Thanksgiving break. Chelonda Ray, a former math teacher, said when she arrived, employees were separated and directed into either the school cafeteria or library.
Staff in the cafeteria were joined by the school's superintendent, an EdisonLearning human resources representative and Roosevelt Principal Ian Miller, who informed the employees their contracts were being terminated and they would need to collect their belongings within the next hour, Ray said.
In their termination letters, employees were told their insurance coverage would end that day, and their final paycheck would come Nov. 23. Several teachers who spoke to The Times said they had no idea the layoffs were coming or that enrollment had been such a pressing factor.
"No one said anyone would be let go," Ray said. "If they had told us that, everyone would have worked harder."
Serpe, the EdisonLearning spokesman, said enrollment at the school has been declining steadily. Indiana Department of Education records show Roosevelt's current enrollment at just under 500 students this school year, down from about 650 students three years ago.
The state took Roosevelt over from the Gary Community School Corp. in 2012, following years of failing grades. The state contracted with EdisonLearning to become the school's turnaround partner, and Roosevelt saw slight academic improvement, receiving a D grade in last year's state assessment.
In an email to one employee, EdisonLearning President Thom Jackson said staff is "working hard to increase enrollment" at the school, and when additional staff could be supported, EdisonLearning would look to rehire former Roosevelt employees.
Those let go surprised by decision
Among those let go, 17 were teachers and eight were front office and support staff. Serpe declined to comment on how EdisonLearning selected teachers for its layoffs. He said EdisonLearning had let go of its own facility maintenance staff onsite, because the Gary Community School Corp. is currently charged with maintaining the school building and employs its own staff. He said more than 30 total staff remain employed after the layoffs.
Ray, who was a teacher with the school for five years and holds a doctorate in education, said she was surprised to be terminated. She said she had always found EdisonLearning to be transparent in its communications up until this point.
"It's a family-oriented company," Ray said. "There was an open-door policy where we could talk to the CEO at any time. We had never been left in the dark about anything."
Current and former teachers had expressed concern about the students' learning environment moving forward in a school with moldy ceiling tiles, frequent water outtages and, now, a shift in teaching staff just before end-of-semester exams.
"They look forward to steady teachers," Ray said of her students. "Steady teachers they build relationships with, they can build a rapport with."
Serpe said the school expects no major class restructuring as a result of the layoffs.
"None of this is going to impact the quality of education," Serpe said. "Even though adjustments were made to staffing at the school, parents can rest assured their students will continue to get that quality education at the school."
Students will return Monday from Thanksgiving break. Serpe said no phone calls or emails have been sent out to notify families of the layoffs. Roosevelt will open its doors to the public at 2:30 p.m. Dec. 12 for a celebration of its A grade.