HAMMOND — Hammond students Gisselle Canuto, Mya Molina and Alyssa Nugin walked in their first graduation — caps, tassels and gowns included — last month.
They drove four hours to the Vincennes, Indiana, commencement and filed across stage in a crowd of mostly strangers.
Now, in just a couple days, the School City of Hammond seniors will prepare to do it all again, this time a little closer to home.
The three teens are among the growing trend of Indiana students successfully completing entire semesters of college credit before even graduating high school.
Canuto, Molina and Nugin graduated together May 4 from Vincennes University with their associate's degrees.
Through specialized programming at Hammond's Area Career Center University, the three students have navigated their Indiana high school graduation requirements all while taking classes in criminal justice led by industry professionals to complete their two-year associate's degree.
"We get to have experiences that other students won't get the chance to have before they're out of high school," Canuto said. "This is something we can apply to our future and put on our resumes and that makes us standout from other people."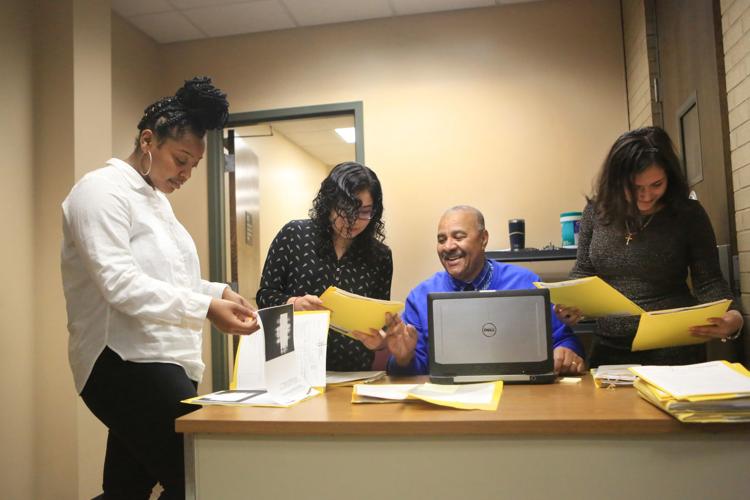 The ACCU is made up of a small cohort of students from all School City of Hammond high schools who complete advanced curriculum pathways — often carrying one or two years worth of college credit — at the Area Career Center in downtown Hammond.
Canuto, Molina and Nugin interviewed and applied to join the ACCU as freshman for an opportunity to take advantage of accelerated coursework and close-knit classes.
For Nugin and her family, who moved to Hammond from Georgia a year before she started at ACCU, choosing the university pathway route was a no-brainer.
"When I heard associate's degree at 18, my family said you're going," Nugin said with a laugh. "There's no option. Getting my associate's at 18, why wouldn't I do that?"
The ACCU places Hammond students among the nearly two-thirds of Hoosier students who are receiving college credit while in high school. A recent assessment conducted by the Indiana Commission for Higher Education found a 15% increase in the last four year alone of students receiving early college credit through Advanced Placement and dual-credit programs.
Through their chosen criminal justice pathways, the Hammond teens were exposed to real-world industry scenarios, learning stop-and-frisk techniques, recreating crime scenes and even practicing de-escalation tactics in shooter scenarios through a virtual simulation program.
And, the three students finished out their last month at the ACCU with a a first-of-its-kind internship opportunity in Hammond forged through ACCU Work-Based Learning Coordinator Marty Tatalovich's friendship with Lake County Superior Court Judge Aleksandra Dimitrijevic, who was appointed to the court in February.
"I was a prosecutor for 16 years in a violent crime courtroom," Dimitrijevic said. "I've really seen how families are ripped apart, so the focus I've always wanted to take if I did come to this position is to give back to the community, to make sure young people are included in this process."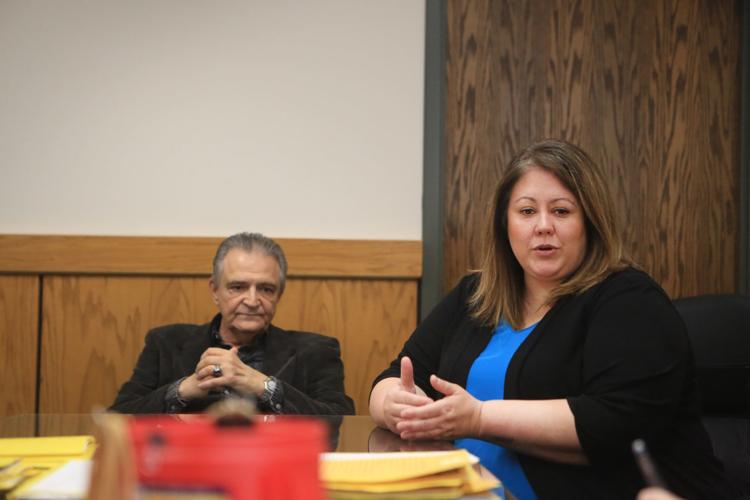 In their internships the students each spent one day a week at the courthouse, checking parties in, pulling tickets and filing court records. On occasion they sat in the courtroom to observe court appearances and how Dimitrijevic worked to approach each individual with a fair, unbiased judgement.
A single mother who missed payments for dental work, a man who owed money in a restitution case and appeared for his hearing in a new car, and a pregnant mother with a suspended driver's license who drove away from her court appearance were among the memorable cases.
"Personally I want everyone to succeed," Molina said. "People lie, and it's hard to be lied to and then still be compassionate, but you have to so that everyone is treated fairly."
Dimitrijevic said these internships are important to allow students the opportunity gain hands-on experience early in a career field to decide if it's the right fit for them.
"When I got to my job is when I saw how the law really works, and that's after high school, college and law school," Dimitrijevic said. "The fact that they're seeing this now, they're miles ahead of where I was back then."
And, after their month-long internship, the Hammond seniors all have plans to stick closely to their early studies in criminal justice.
Next year, Nugin is going to Xavier University of Louisiana to study political science on a pre-law track. Canuto plans to study criminal justice at Indiana University this fall. Molina said she also plans to study criminal justice next year at Purdue University Northwest.
"I'm very grateful, very blessed because not a lot of kids have these opportunities," Nugin said. "Hammond's doing their thing with us, they're preparing us for the future."