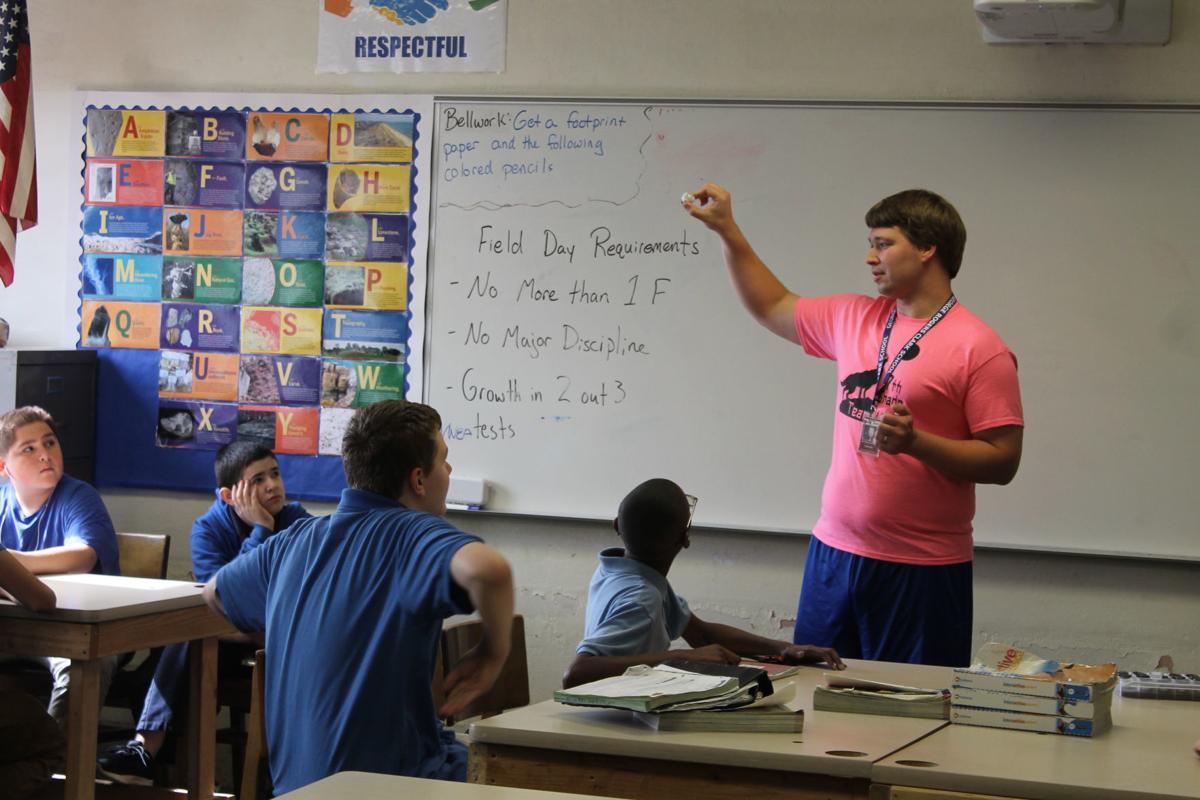 HAMMOND — When Nathan Miller started teaching six years ago at Clark Middle/High School — his first teaching job out of college — he was given a classroom on the third floor of the north Hammond school.
Teaching seventh- and eighth-grade science his first year, Miller regularly engaged students in hands-on experiments, so when the classroom he was offered was only equipped with small, individual desks, Miller quickly learned more space would be needed.
With his department at capacity and no other classrooms available, Miller said the timing was right after his first year for a fresh idea.
His mom — a library aide at Bremen High School, south of South Bend, Indiana, — knew of several desks being removed from her school's computer labs as Bremen students adopted 1-to-1 technology in their classrooms.
So, that winter, with his dad's help, Miller went to work fitting the computer lab table tops with steel-tubed frames and legs to create a larger student workspace.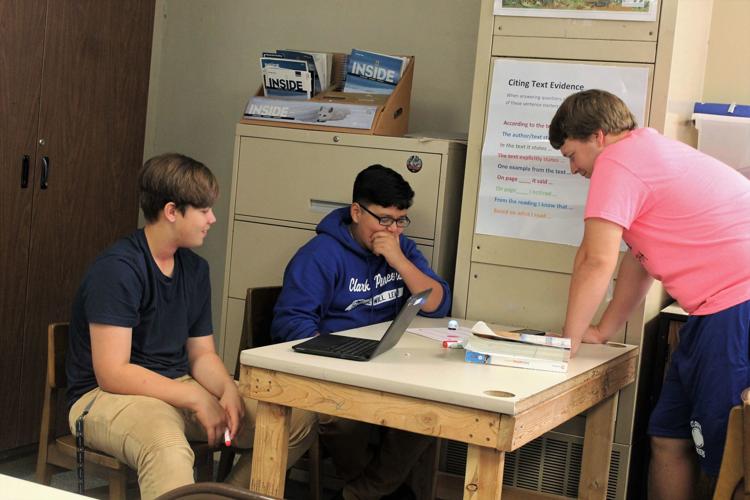 When Miller's science students returned from winter break in the 2014-15 school year, the steel-tubed tables were waiting.
"It was kind of a perfect timing situation," Miller said.
However, Miller quickly learned the steel-tubed frames were no match for the wear-and-tear of 20-plus middle school science students each class.
"I had tables mid-class that were just like falling over," Miller said. "I'd be out in the hallway monitoring what's going on out there and all of a sudden I'd just hear a table breaking."
For the next couple years, every time a table gave out, Miller would jump in, building a sturdier wooden frame to support the flat computer table tops. All 15 workstations were complete by summer 2017.
Each table seats two students comfortably and supports in-class collaboration for group activities like Miller's paper rollercoaster construction project or his friction lab, which involves rolling cars across flat surfaces.
Miller said each school year on the first day of class he explains the tables to his students, but that the tables quickly become something they're accustomed to using.
"It's kind of expected," Miller said. "I walk into a classroom, there should be something for me to put my stuff on."
Over time the tables have become better. Miller said he repairs the occasional loose screw and has kicked around the idea of finishing and painting the wood frames, but for the most part, the tables are self-sustaining.
"You always try to put funding where it can have the most impact," Dado said. "When we have surfaces to do work on, it wouldn't be the first place money would go, to furniture, so when people like Mr. Miller are sourcing their own things to bring a better science environment, it really shows what kind of a person he is and how much he cares about our kids."
Miller's students echoed that statement. Many say Miller's helpful nature extends easily into his class lessons. Briana Hatcher, who was in Miller's seventh-grade class this year, said Miller's approachable teaching style and hands-on lessons make his class one of her favorites.
"Mr. Miller helps with everything," Hatcher said.
Be the first to know
Get local news delivered to your inbox!