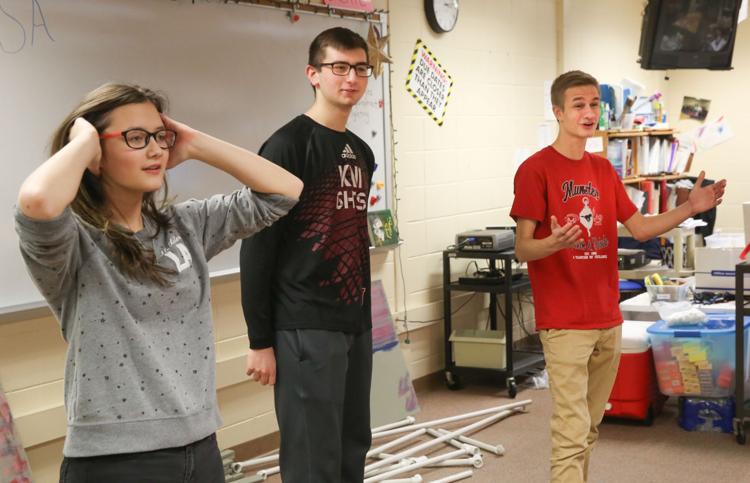 MUNSTER — A group of Munster High School students is busy during the day with English and calculus classes, but it will be all fun and games when that same group hosts its second annual Improv Nights on Jan. 11 and 12 on the stage of the Munster Auditorium.
Raymond Palasz, Munster Auditorium and theater company director, said about 16 students who are members of Munster's Theatre Co. are among the best improv performers at the school and will entertain audiences with interactive improvisational theater.
The students involved in the performance say it will put the audience in the mind of the television show, "Whose Line is it, Anyway?"
"Whose Line?" is a short-form improvisational comedy show originated as a popular British radio program. In the United States, it was hosted by Drew Carey on ABC and ran from August 1998, to December 2007. A revival of the show, hosted by Aisha Tyler, began airing on The CW on July 16, 2013, featuring Wayne Brady as one of four comedians on the show.
The students say they watch the show all the time, and take notes on it, as well as on classmates and things that happen around them to use in their comedy performances.
Palasz said the 16 students, who also perform in plays, musicals, monologues and other performances, did a couple of improv performances last year and wanted to put it in their season this year.
While the Munster Theatre Co. is an after-school group that meets twice weekly and the productions are all extracurricular activities, the high school also offers two theater classes.
Those classes — theater arts and technical theater class — are both taught by Peggy Matanic. Those students often become members of the Theatre Co.
Palasz said he and Matanic collaborate about the season. He said the students from the technical class often paint the sets and work on makeup.
Sophomore Trinitee Hassan said she enjoys improv and considers herself a bit of a comedian.
"I can make my teachers and classmates laugh sometime," she said.
Keep reading for FREE!
Enjoy more articles by signing up or logging in. No credit card required.
"I see something and think it's funny, and I'll put it into improv. I get ideas from everywhere. I'd be interested in doing it when I get older but not forever. Improv is something where you have to act on your feet and think quickly. Improv makes you get out of your comfort zone. You can be goofy and just have fun."
Sophomore Patricia Castro said she performed last year but this year wanted to experience being a director.
"It can be difficult to keep them all in order," Castro said with a laugh.
"But otherwise, it's been a good experience and I would do it again. I plan to major in theater in college."
Improv actors senior Steven McDunn and junior Ben Peters said improv has been lots of fun.
"It's pretty much just like messing around with your friends, but you use your imagination and make a story out of it," McDunn said. "It's working with people who you connect well with, and I get along with all of these guys."
Peters said it's been fun getting together with these "talented" people.
"You get a chance to use your creativity and share your ideas. It's really rewarding when you can have fun and goof around. You look at the guys who do improv on TV, and they get paid for making people laugh."
While Improv Nights is free, people will be asked to make a donation. Performances are at 7 p.m. on Jan. 11 and 12.
The audience will be seated on stage to create a comedy-club atmosphere.
All proceeds will be used to fund student registration and travel in June to the International Thespian Festival in Lincoln, Nebraska.
That festival brings together 3,500 high school theater students for a week of workshops, individual event competitions and scholarship opportunities.