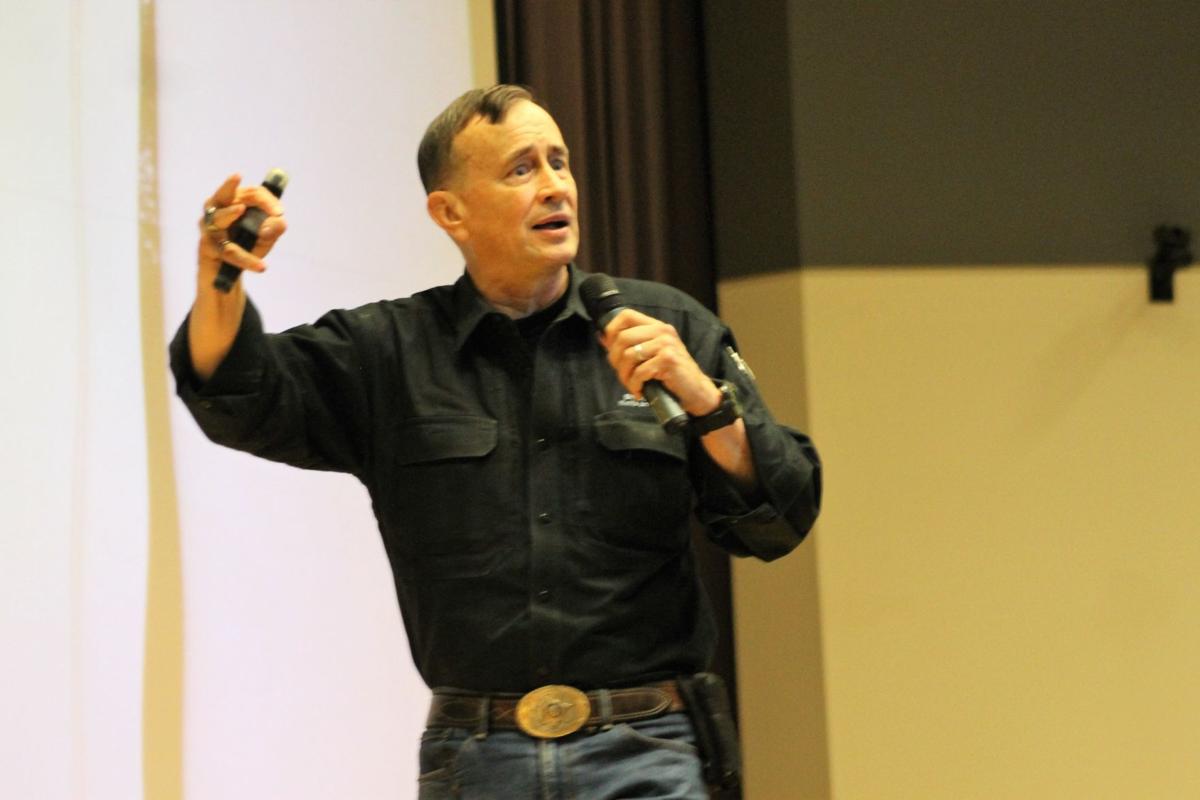 VALPARAISO — Educators and school safety personnel should never lose sight of their responsibility to return students home safely.
That was the message school safety speaker and retired U.S. Army Lt. Col. Dave Grossman repeated to Porter County law enforcement officers and educators Thursday morning.
Grossman, a national speaker and author, was the keynote speaker of a four-hour school safety seminar at Ivy Tech Community College's Valparaiso Campus presented by school safety technology providers SchoolGuard and Hero911 in partnership with Valparaiso Community Schools and the Porter County Sheriff's Department.
Grossman and Nate McVicker, of the Hero911 Network, applauded Porter County's "One County, One Protocol" initiative, saying they wished more schools mirrored what is seen in Valparaiso Community Schools.
As one of the several districts encompassed by the countywide "One County, One Protocol" initiative, Valparaiso schools has adopted SchoolGuard technology, using a mobile application that allows educators to notify local law enforcement of a potential threat with one tap to the app's panic button.
"We travel around the country all of the time," McVicker said. "I just wish other schools would emulate some of the proactive nature you take. You guys are dynamic."
In his opening remarks, Grossman traced the history, both domestic and abroad, of what he called "school massacres" and not "school shootings" beginning with the 1998 shooting at a Jonesboro, Arkansas, middle school.
The school safety expert has written multiple books on the subject — including one published in 1999 he says predicted the rise of violence in schools and another called "Control: Exposing the Truth About Guns," co-authored with conservative commentator Glenn Beck.
While saying guns are part of the equation in schools threats, Grossman called an increased focus on firearm regulations "a diversion" and suggested instead educators and law enforcement must address the root causes of violent thoughts in school-aged children.
He largely squared the blame on violence in media portrayed through movies and video games, dismissing scholarly research disproving such a correlation as "malfeasance."
"It's not about what's in their hand, it's about what's in their head," Grossman said of school shooters.
He offered advice in securing schools, sharing that locking doors and having officers present in a building for rapid response makes a difference.
The presentation comes following police investigations of threats in at least three Lake County school districts this month.
"Every year we nail hundreds of these kids before they commit these crimes," Grossman said. "Never lose your sense of outrage. This is not business as usual. This is not right."
Valparaiso Community Schools Superintendent Julie Lauck, who introduced the Thursday morning speakers, said she feels there's a greater awareness today of issues surrounding school safety.
Along with One County, One Protocol measures, Valparaiso schools has looked to increase its support for students, creating a new director of social emotional learning position and introducing therapy dogs in nearly every school through the district's Viking Puppy Project.
"We're talking about it more," Lauck said. "We're able to get a better handle on it and prevent threats before they happen."