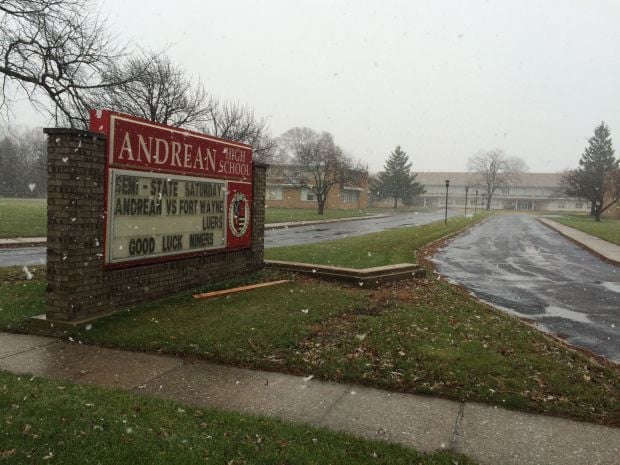 MERRILLVILLE — A new building at a new location could be in the future for Andrean High School.
That is one of the possibilities mentioned in a letter Principal Tony Bonta sent Tuesday to Andrean family and friends.
"Now it is our time to plan Andrean's future and write a new chapter for the next 59 years," he wrote.
This past January, the Most Rev. Donald Hying, bishop of the Gary Diocese, released a feasibility study and said "Andrean High School should remain at its current location at this time to support its rich tradition of excellence in Catholic education. This decision gives the Andrean administration time to pursue a more in-depth study of their programmatic needs, existing facilities and other options in order to grow a promising future for the 21st century in its Catholic identity, curriculum, faculty, staff and facilities."
Bonta said Phase One of the study was complete and the cost to upgrade the current Andrean complex would exceed $30 million.
"Again, no decision has been made for Andrean's future as I state in the second to the last paragraph of my letter/email," Bonta said. "The Andrean administration has been updating the diocese on our assessments and envisioning for Andrean's future. The Andrean administration will update the bishop and his consultors in late November on the five areas listed in my email to the Andrean family."
Phase Two of this feasibility study includes five points: evaluate Andrean's programmatic vision, personnel needs; assess abilities of current development office and demographic accuracy and create plan for capital campaign; develop comprehensive business plan for Andrean's future to present to bishop and diocesan consultors; determine best new location for Andrean; explore potential financial options.
Bonta added building a new school at a new location was never off the table.
"The bishop wanted us to stay here while we do assessments because it is so cost prohibitive to renovate," Bonta said. "We have to talk with the consultants and then we will have another meeting in late November or December. We are preparing our documentation."
Bonta said it's a very exciting time for the school because it's the 59-year anniversary and he "wants to keep people updated."
Be the first to know
Get local news delivered to your inbox!