As students return to class this week, things might be looking a little different in a few Northwest Indiana school districts.
From implementing new technology, updating classroom space and providing new athletic opportunities, schools use summer as an opportunity to freshen up classrooms, upgrade facilities and more while students are away.
However, some projects are bigger and will add thousands of square feet to students' educational experience. Here's a look at a few of the major projects currently underway in Northwest Indiana schools.
Hammond secondary school building
Peeking out from behind the current Hammond High School building on Calumet Avenue, the School City of Hammond's $115 million secondary school project is well underway.
Officials broke ground on the 340,000-square-foot school in October 2018 and, despite a wall collapse on the project earlier this month, crews are on track for a fall 2021 completion.
The project, funded through the School City of Hammond's 2017 construction referendum, will include three gymnasiums, a natatorium and wrestling room.
The old Hammond High School, currently still in operation, will be raised to create space for parking in front of the new school. The current Hammond High building was completed in 1916, Skillman Site Manager Larry Gutierrez said.
In addition to athletics facilities, the new school will have more than 60 classrooms, multiple band and choir rooms, a black box theater and a Junior Reserve Officers' Training Corps range.
Hobart's Veterans Elementary School at Mundell
A new 76,000-square-foot elementary on the site of the former Mundell Elementary and Mundell Field at 52 N. Wisconsin St. is well under way.
Crews broke ground at the Veterans Elementary School at Mundell in September 2018 and are expected to finish work in time for students and teachers to move in for the 2020-2021 school year.
The $21.6-million project will have between 20 and 24 classrooms and can house a maximum 720 students alleviating some of the growth at nearby Joan Martin Elementary, Fidelis Management CEO Chris LaFollette said.
Art, music and STEM rooms will connect the school's main entrance and academic wings to its gymnasium, cafeteria and stage.
Soccer and baseball fields will sit at the rear of the school, and an 8-foot-wide walking path will circle the 13-acre property for walkers and joggers who may have used the track previously in Mundell Field.
Like the Hammond Secondary School project, Veterans Elementary is also funded through referendum support. The School City of Hobart also passed its construction referendum in 2017.
Hobart High School Aquatics Center
Hobart also looks to complete an $18.8-million high school aquatics center this fall.
The 51,600-square-foot center is being constructed at the southwest corner of Hobart High School and will also house a new home for the Brickie Community Health Clinic open in partnership with St. Mary Medical Center. The clinic, currently housed within the high school is open to the public and, in its new location near the auditorium, will have its own entrance independent of the school, LaFollette said.
The aquatics center complex features a 50-meter pool with 10 swimming lanes and five diving boards. Overlooking the center's 594 seats will be a second-floor spectator concessions and common area.
On the first floor, a hospitality room will be available as flexible class space with potential to be rented out to the community for parties or corporation events, LaFollette said.
Separate swim team and P.E. class locker rooms will open out to the 715,000-gallon pool.
Munster multi-purpose building
The multi-purpose building will house Munster's new Student Transition Education Program, or STEP, after the dissolution of the joint Munster-Lake Central West Lake Special Education Cooperative.
It will also include space for building maintenance and technology teams for the School Town of Munster, as well an area for professional development training for school town employees.
The project originally slated for significant completion this year was delayed while the school town sought city approvals, Superintendent Jeff Hendrix said.
With the city's requested changes to the project, Hendrix said funding will exceed initial $4 million estimate coming out of the district's 2017 referendum fund.
In addition to the building project, Munster is also welcoming students back with upgraded entrances, fresh paint and classroom features in schools across the district.
Munster High School Fieldhouse locker rooms will see the second phase of upgrades and classrooms at Frank H. Hammond Elementary School will have new chairs, tables and flexible seating this school year, Hendrix said.
The superintendent said the district has spent about $13 million of $28 million set aside this year for districtwide improvements.
"We've tried to touch a little bit of everything," Hendrix said.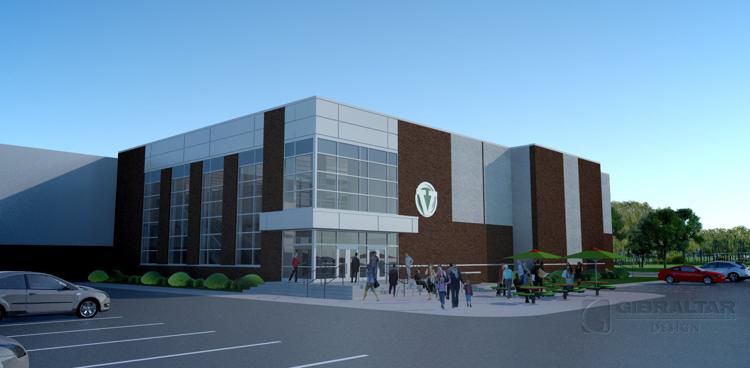 Valparaiso High School Natatorium
Coming as the final phase of district-wide facilities upgrades, the 56,000-square-foot natatorium will feature a 720,000-gallon pool, team locker rooms and climate-controlled spectator "Bird's Nest" with high top tables overlooking the the competition area.
The school's current pool facility, constructed in 1972, was state-of-the-art for its time, Aquatics Director Adam Nellessen said. But in recent years it has fallen behind facilities in neighboring districts and state competition standards to the point where the Vikings boys and girls swim teams have not competed in a home meet in three years.
The $16-million to $18-million project will incorporate large glass windows allowing daylight in the aquatics complex frequented by student swimmers spending their morning and after-school hours at the pool.
While swim teams and Valparaiso High School classes will take first priority pending the natatorium's completion this fall, Nellessen said the school has long-term plans to open the natatorium, also funded through public referendum support, for community rentals.
Nelleson said the school does not have set plans yet for the current pool facilities, but that it will likely remain filled until the end of the upcoming swim season.