In the Region and across the state, school advocates ranging from large rural districts to small rural communities rallied Tuesday behind a common message: public schools in Indiana are in need of legislators' support for funding.
Teachers, parents and administrators carried the support for public education throughout the day in local marches, speeches and an Indiana Statehouse rally, all planned just ahead of the end of this year's legislative budget biennium.
Public education supporters urged teachers to organize quickly in the final days of this legislative session in which state proposals to increase public education funding have not met the expected rise in inflation and no legislation has explicitly directed funds to teacher pay.
"Much more needs to be done to appropriately fund and sustain all of the great things that take place in our public schools every day," M.S.D. of Boone Township Superintendent Nathan Kleefisch said Tuesday. "Now is the time for action, not rhetoric."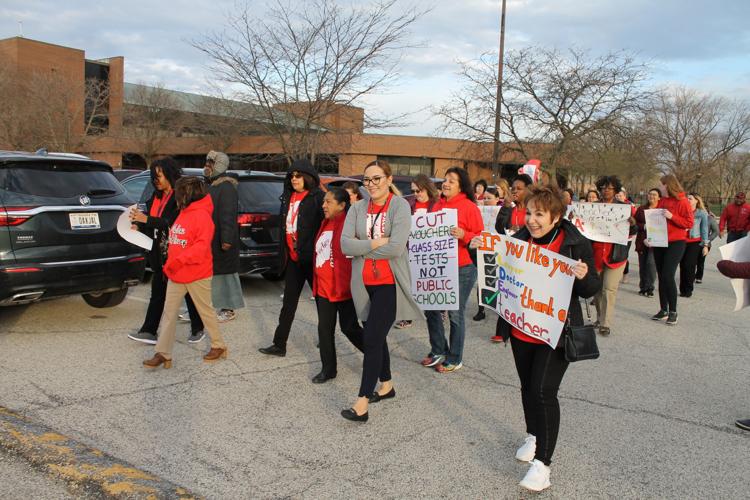 Changes in poverty funding to strike urban districts hard
Teachers in East Chicago gathered Tuesday morning for a "walk-in" at the start of the school day.
Helen Steinbach, incoming president of the East Chicago Federation of Teachers, Local AFT 115, organized the 7 a.m. rally last week after realizing she and other East Chicago Teachers wouldn't be able to attend the Statehouse rally in Indianapolis.
"It's a need for all teachers in the state of Indiana to gather together and fight together because if they cut funding, then teachers aren't going to want to stay in the profession," Steinbach said. "We're losing really good teachers every year because they can't afford to stay in the profession."
Steinbach led chants of "Teachers want more pay" and "Don't touch funding for our schools" as the group of more than 50 teachers from East Chicago, Hammond and Gary rallied outside the main entrance of East Chicago Central High School.
With the coming 2020 tax cap deadline in Lake County and proposed changes to the state's complexity index funding based on district poverty levels, Steinbach said the School City of East Chicago stands to lose nearly $3 million in the next two years.
"It's going to affect our students and ultimately it affects the community," Steinbach said. "Urban communities have a hard time passing referendums, and there's only so many sources that you have for income."
You have free articles remaining.
Keep reading for FREE!
Enjoy more articles by signing up or logging in. No credit card required.
Lake Ridge New Tech schools serves as an example of this. Monday night, the district announced the closure of its Hosford Park New Tech Elementary School — one of two elementaries in the district — and the elimination of more than 20 positions following the failure of it's November 6 referendum.
In the Monday night meeting, district administrators said they hoped other school communities were watching Lake Ridge as an lesson for what could happen in other districts if their referendums fail. Duneland School Corp., Hanover Community School Corp. and River Forest Community School Corp. all have referendum questions on the ballot this May, each for different reasons. 
Rural communities at risk of major losses, too
Hundreds of teachers in Boone Township and neighboring district teachers marched with their administrators' support Tuesday afternoon, leading a stream of red down Hebron's Main Street.
The two-hour rally, which began at Hebron Middle School, culminated at the Hebron Community Center with multiple speakers making the plea for supporters to reach out to their representatives as soon as possible with the legislative session's near-end.
Speakers addressed the losses expected in rural districts where, with lower enrollment totals as compared to larger districts, the state's funding model of dollars-follow-the-student strikes especially hard each time a student transfers schools.
"We are running at bare bones," Hebron Schools Union President Joanne DeFries said. "We've cut everywhere we can cut. There is nowhere else to cut."
In Hebron alone, Kleefisch said, the district identified 15 employees that, on a teacher's salary, would qualify for the state's free and reduced price lunch programs. Kleefisch said these teachers, which make up 23% of all teachers in his district, deserve more.
"This is unacceptable," Kleefisch said. "The state needs to provide more funding towards public education to retain the quality teachers currently serving our students and attract new teachers into the profession."
Speakers also drew attention to the affect legislators' increasing support of charter and voucher-based schools have on public education. Kleefisch said Boone Township could lose more than $113,000 in state funds directed toward vouchers that were previously earmarked for public education.
"In a rural community, our school is the life of the town," DeFries said. "We can't let our school system fail due to inadequate funding. Stand behind us."