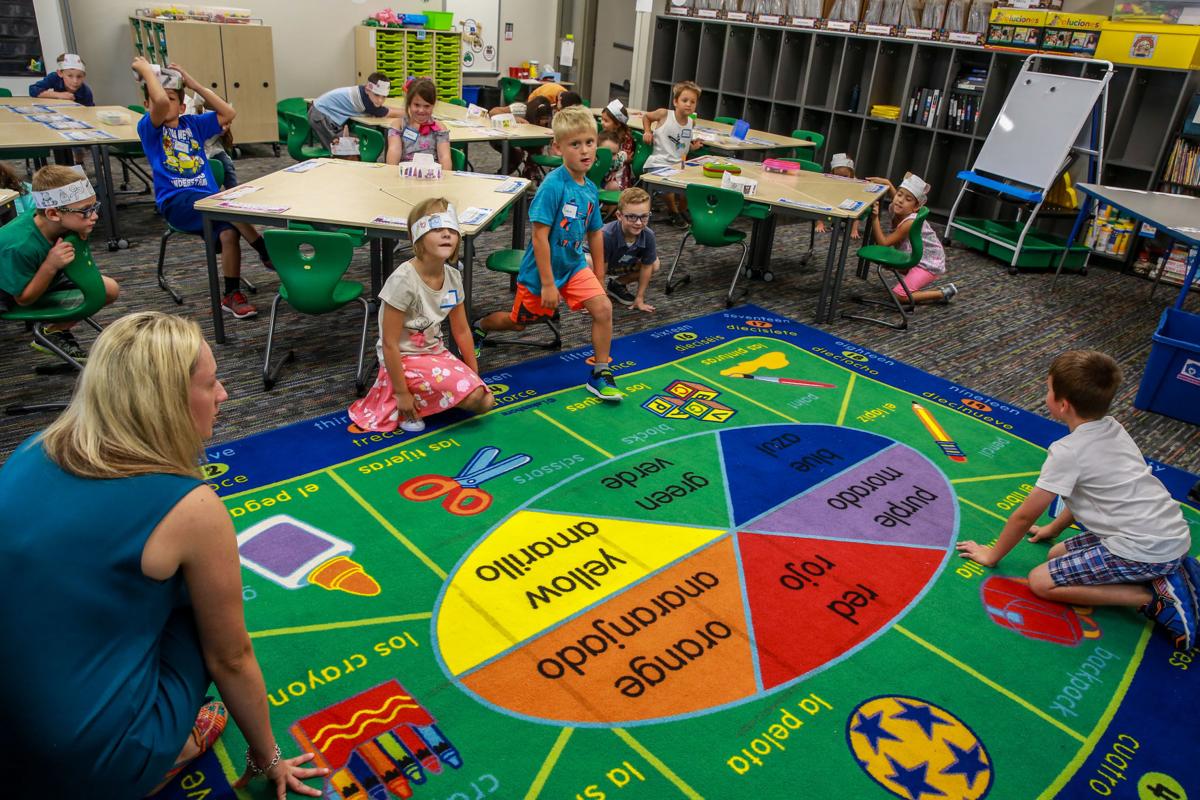 VALPARAISO — The Valparaiso Community Schools board meeting escalated to shouts Thursday night as parents, educators and students advocated for the continuation of Parkview Elementary's Dual Language Immersion program.
"We don't need to change something that's not broken," Parkview parent Lauren Huber said in her appeal to the board.
Valparaiso administrators announced plans last month to discontinue its Parkview Dual Language Immersion program, which allows allows 50% of students' instruction to be taught in Spanish beginning in kindergarten. However, immediate pushback from Parkview parents led administrators to walk back their decision and open a review of the program through its existing Bilingual Advisory committee.
Board President Rob Behrend prefaced the Thursday night meeting at Cooks Corners Elementary with a statement explaining the district's intention to allow Parkview school administration, led by new principal Calli Dado, to analyze data and information provided by Parkview teachers and staff.
"At this time no final decisions have been made," Behrend said. "Rest assured, the administration will do whatever they believe is best for the children of Valparaiso Community Schools."
When the district first announced it would be ending the popular program, VCS administrators cited concerns of academic growth, the long-term sustainability of the program, and the ability of students to opt in and out of the program in their neighborhood school.
"The quality of teachers has been one of those concerns that has been voiced to the administration over the years as far as the pool of the candidates for the positions," Assistant Superintendent Jim McCall said, referencing the difficulty the district has cited in its search for educators qualified to teach in both English and Spanish in the middle of a statewide teacher shortage.
Yet, parents picked apart the district's reasoning, offering suggestions to collaborate with local university education programs. 
Parkview parent Amanda Alsbaugh read data from a letter she said she planned to email to VCS administration Friday. In it, Alsbaugh contextualized students' academic performance within the DLI program, noting that the state's evolving ISTEP and new ILEARN exam should not be used to evaluate academic success based on statewide dips in performance as the test experienced two major changes in the last five years.
Instead, Alsbaugh argued, administrators should look to the results of the state's third grade IREAD test, generally considered a more consistent exam, where Parkview students outperformed peers at all other Valparaiso elementary schools last year.
"Considering our students are learning to read in English and in Spanish, this is nothing short of remarkable," Alsbaugh said, before calling her daughter to the podium.
The board tried to limit public comment Thursday night to only adults — prompting cries from the audience of "She's a stakeholder!" and "Let her speak!" — but eventually relented, allowing several Parkview DLI students to showcase their Spanish skills.
"¿Por qué se cancela el programa DLI?" asked Alsbaugh's daughter, Madeline. "Why are we losing the DLI program? I don't understand why a good opportunity for students to learn another language at a young age would be shut down."
Valparaiso administrators told parents last month it hopes to have a program status update by late spring. More information on the Parkview Dual Language Immersion program review is available on the school's website.
A look at the 2018-19 Federal School Accountability results in Northwest Indiana
A look at the 2018-19 Federal School Accountability results in Northwest Indiana
Here's a look at how Northwest Indiana schools compared in 2018-19 Federal School Accountability ratings.