VALPARAISO — When Zoe, Nick Slater and Valparaiso police Officer Terry Cox enter Troy Yeager's seventh-grade social studies room, a hush falls over the room.
"Officer Cox is going to show you a trick," Slater said. "She's two for two so far."
Cox and Slater, assistant principal of Benjamin Franklin Middle School, take a few seconds to draw Zoe's attention to the front of the classroom and away from the rows of adoring students. She's just 4 months old. She's still learning.
"Come, here, sit," Cox commands. "Down, roll over."
The curly-haired retriever barrel rolls across the front of the room and to her feet among the seventh-graders' applause.
"You see the effect on how a dog can bring the best out of kids," said Slater, Zoe's handler.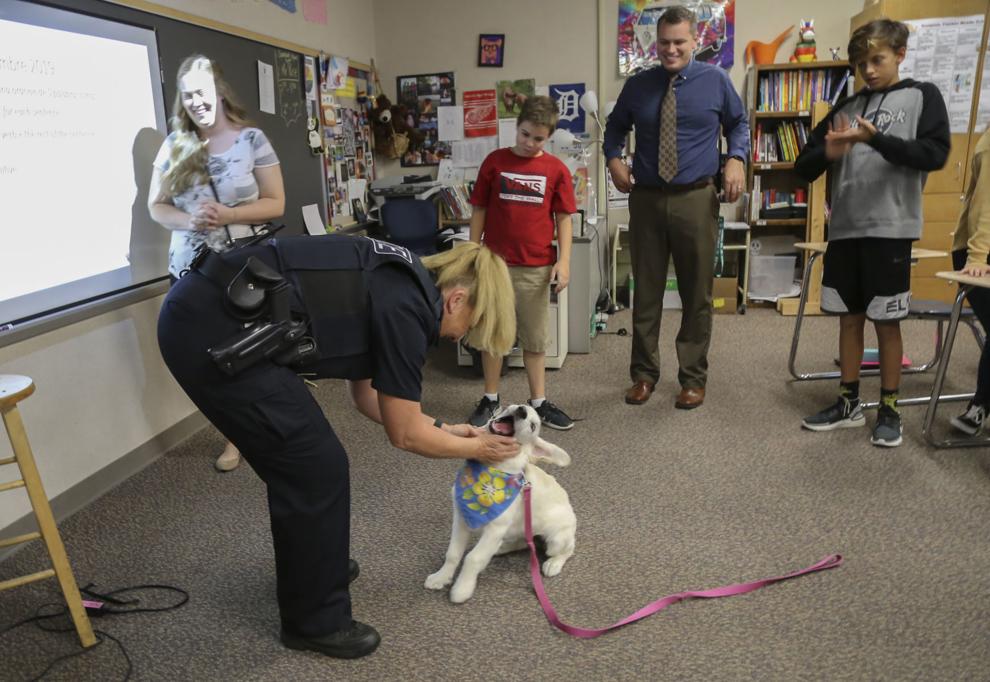 Zoe is one of a dozen therapy support dogs placed in Valparaiso Community Schools this fall as a part of the district's Viking Puppy Project — a nod to Valparaiso High School's nickname. 
The puppies — almost all of them English cream golden retrievers from the same litter — were adopted from the Vale Park Animal Hospital after Valparaiso Superintendent Julie Lauck visited the office last spring with her Yorkie, Annabelle, and learned of an expected litter soon to be in need of a home.
The Viking pups were born May 18 and connected with their Valparaiso schools handlers on a first-come, first-serve basis.
Lauck secured nine of the 10 pups in the Vale Park litter and a 10th born just three weeks before to join June — a 7-year-old golden retriever who had been in the district for about four years before.
Moose — Flint Lake Elementary School Principal John Miller's 2-year-old Labrador retriever — rounds out the district's dozen dogs.
Handlers are administrators, teachers and social workers in the district. They take the pups home with them every night and are responsible for training.
"Watching him interact here at school and also with my 1-year-old at home, it's unbelievable," Miller said of Moose. "To see the difference he makes in our kids' lives and also our staff, it's so rewarding."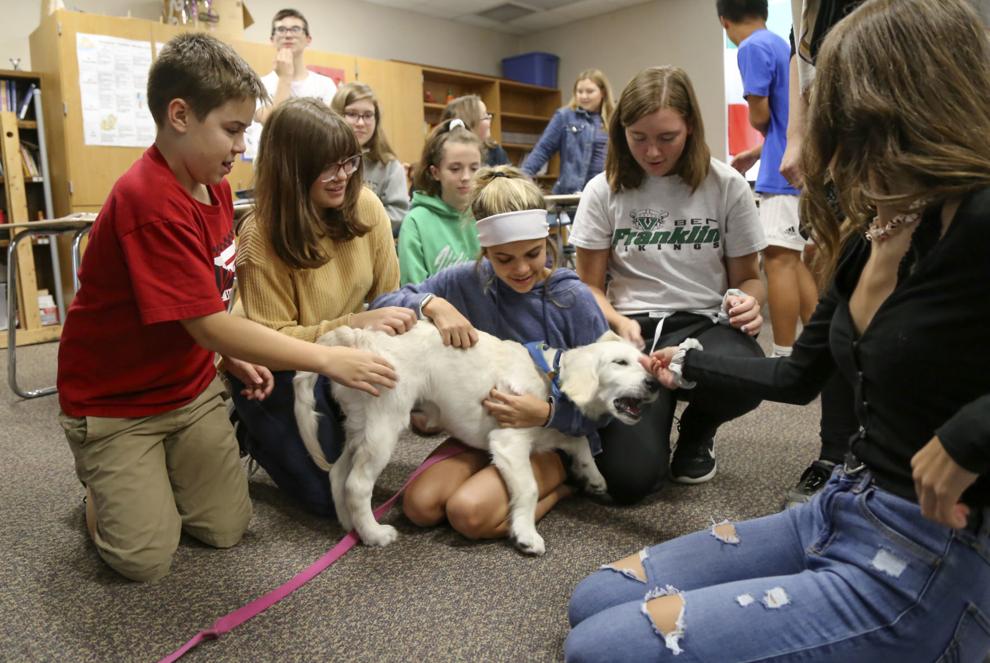 All but one of the Valparaiso schools have a pup or dog in service, and Valparaiso High School has two. VCS Communications Coordinator Allison Hadley said the district is working to secure its 13th dog for Cooks Corners Elementary School.
The program is funded largely through community support. Lauck secured $12,000 in just four hours of initial fundraising. Each of the pups is sponsored with partners pitching in to provide food, medicine and even veterinary care for little Vikings.
The pups were selected based on their availability, and not necessarily for any particular breeding purpose, though goldens are known to be especially good with children.
The handlers and their pups meet for class every Sunday at Stoney Run Canine Camp for training, and have begun meeting informally midweek to practice homework assigned by trainer Lisa Bataska.
The puppies took the American Kennel Club S.T.A.R.Puppy test after their first six weeks of training. The next step will be to take the AKC's Canine Good Citizen test.
They're learning basic commands like sit and stay, as well as how to interact with other dogs and stay focused in a distracting environment.
It takes work, Slater said, but his pup, Zoe, is picking up the skills.
"When she sees Dad cutting up those all-beef hot dogs, it's training time," Slater said.
The same can't be said for 2-year-old Moose. Somewhere between 80 and 90 pounds, the "gentle giant" at Flint Lake is on a diet.
The nine pups of the Vale Park litter will grow to be about the same size when they are full grown. When they reach their first birthday, the pups will seek evaluation from Therapy Dogs International.
The project comes as a part of Valpo Schools' dedication to expanding social and emotional learning services. This year, the district assigned its first director of social emotional learning, Erin Hawkins, who is also a handler for Viking Puppy veteran, June.
"My experience has been that for many people — children and adults — the benefits are incredible," Hawkins said. "Not only can the atmosphere of a situation be positively enhanced by a therapy dog, but it also can foster conversation between individuals which leads to relationship-building."
Each day for the pups varies depending on the schools they serve.
At Flint Lake Elementary, Moose is there to lick away tears after stressful multiplication tables and timed tests. At the middle and high school level, pups are on call to visit with school counselors and social workers if individual emotional support is needed.
At Valparaiso Alternative Learning Experience, freshman- through senior-year students at the district's alternative learning high school spend every English class with Viking pup Lucy.
Her handler and VCS English teacher Taylor Rose said she has seen how the pup has brought both a comfort and a comedic effect to the class of high schoolers selected for their VALE program as a way to provide a smaller, work-at-your-own-pace learning environment.
"Life is just hard, I think, for kids now because there's so many things — there's technology, there's social media," Rose said. "This is helping students with managing stress here before they reach a tipping point."
The pups also are being used an incentive-piece for younger students. Yeager promised his Viking Time study hall students a class with Zoe for their strong grades and completed assignments during midterms.
Slater said he's watched as Zoe has shifted attitudes throughout his school, teachers included.
"The biggest surprise honestly has been our staff — they're in a better spot, they're enjoying their job more, and the kids see that," Slater said. "The whole vibe of the building has been fantastic."