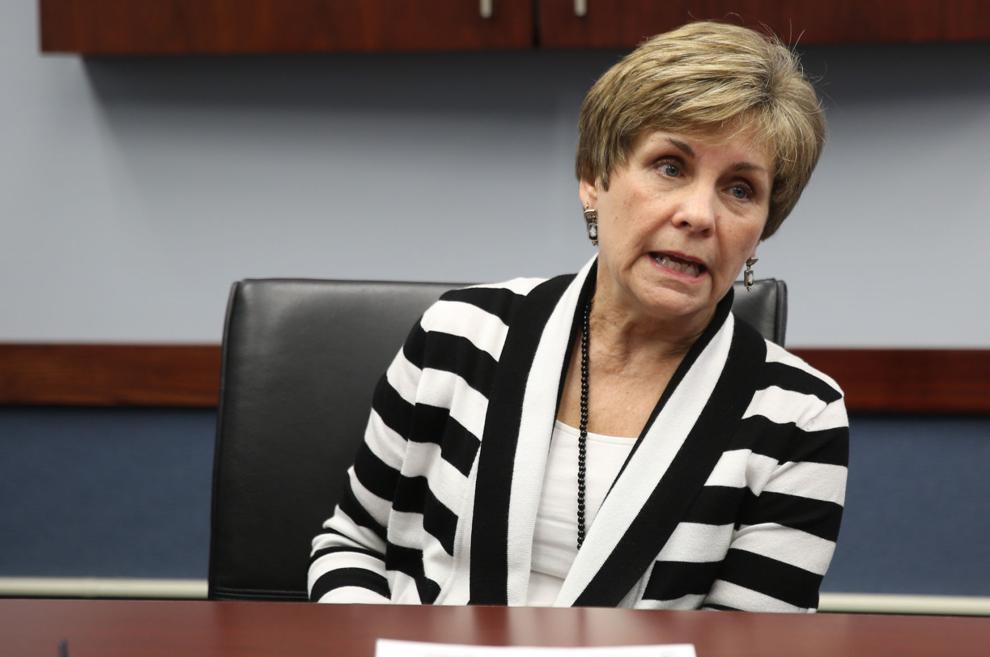 HAMMOND — The traditional role and responsibilities of guidance counselors in schools across the country, including Northwest Indiana, has evolved with professional school counselors trained to do much more than before.
Graduate students in the School of Education and Counseling at Purdue University Northwest are doing clinical work in local schools and counseling centers.
PNW professor Bonnie Colon, who was a school counselor for 15 years, said the university offers programs in clinical, mental health and school counseling. She said there are certificate programs in addictions and in expressive arts, where students learn how to use artistic expression in therapy with their clients.
"We try to give our students a realistic view of what they will face in schools and in the facilities that they work in," she said.
Colon said counseling students to prevent suicide is another area that graduate students focus on. She said the social and emotional issues that young people face is on the rise, and with that sometimes comes drug and alcohol abuse.
"Suicide among adolescents is also on the rise, and Indiana has one of the highest rates of suicide among children and adolescents in the country," she said.
"There is a focus in the schools on mental health counseling. In order to be a licensed educator in Indiana, you must have the suicide prevention training. We focus on suicide assessment and suicide response. Our students in counseling are required to have that training to be licensed," Colon said.
There are two major counseling programs at the PNW Hammond campus, the School of Education and Counseling and Marriage and Family Counseling. In the fall of 2018, those programs will come together in one building at 7030 Indianapolis Blvd., in Hammond.
The Marriage and Family Therapy Center will begin classes at that location in spring 2018. The School of Education and Counseling program will begin classes at that location in fall 2018. Both programs will have classrooms and private therapy rooms.
CHALLENGING BUT REWARDING
Megan McClymont, of Cedar Lake, who is a third-semester graduate student, said she is looking forward to working in a public school.
"I really believe in this program and I know students need this kind of support," she said. "I'm taking the core classes now. Working in a school is going to be challenging but also really rewarding. I want to do mental health counseling in the school system."
Maggie Musillami, of Whiting, who will graduate in December, is doing an internship at an outpatient clinic in Munster and she works at the school's counseling clinic which sees children and adults in the community.
Musillami said typical outpatient services may include seeing people with adjustment disorders, personality disorders, anxiety, depression, drug abuse and suicidal ideation.
"I'm taking everything that I've learned over the past couple of years and applying it," she said. "We're required to do 900 hours in clinical mental health. The internship gives us a chance to work with clients and give back to the community."
Crystal Garcia, of Merrillville, is in her second year in the graduate program, and is focusing on mental health counseling for an additional certification in addictions and the expressive arts. "I'll be looking for an internship in the spring," she said.
The School of Education and Counseling received a $20,000 grant from the Lilly Endowment Comprehensive Counseling Initiative intended for the school principal and counselor preparation programs. Money from the grant will be used to host a program for school principals and counselors on Nov. 14 at the Hammond campus.
The guest speaker is Cynthia Mose-Trevino who is in her third year as principal at Calumet New Tech High School in the Lake Ridge New Tech Schools. Before that Trevino was a school counselor.
Colon said the purpose of the funding is to help "bridge the gap" between the traditional roles of school counselors and those of the transformed school counselor.
The Lilly Endowment promotes the expansion and enhancement of school counseling programs in Indiana so that counselors can utilize their knowledge and skills to promote the healthy academic and personal development of all the students with whom they work.