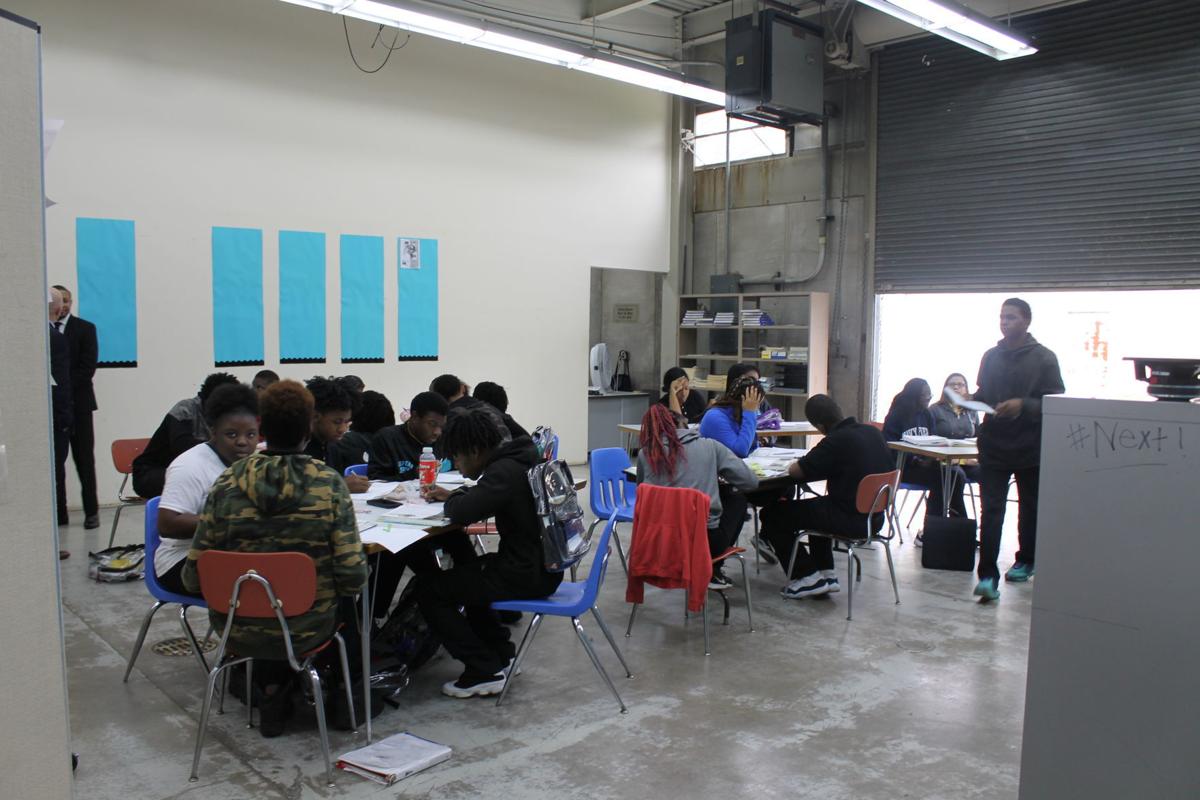 GARY — Theodore Roosevelt College and Career Academy students, displaced from the historic Gary Roosevelt school building last winter, will likely attend classes in a third building in as many years if the Gary Community School Corp. gets its wish.
But, the next stop for Gary Roosevelt students could remain unknown for several months as the Indiana State Board of Education weighs future possibilities for the school at its meeting Wednesday.
Gary Roosevelt students have been reporting for class in the Gary Area Career Center since damage sustained during and after last February's polar vortex rendered the building inoperable.
The Gary Community School Corp. — which maintains facilities for the innovation network school operated by for-profit educational services provider EdisonLearning — now says it wants to expand offerings at the Gary Area Career Center, and has indicated its desire to the state board to find a new location for Roosevelt students for the 2020-21 school year.
About 420 Gary Roosevelt students in grades seven through 12 are currently attending classes this year in the career center. Another 168 Gary Community School Corp. students attend career and technical education programs in the building, according to a report prepared for SBOE's upcoming meeting.
The school corporation's CTE programming — offering everything from cosmetology to culinary arts — is currently a major selling point of the state-controlled district as Gary school leaders look to expand a recent summer enrollment campaign. Next year, the Gary district hopes to offer new aviation and criminal justice programs out of the career center, which is currently at capacity.
"Ultimately the goal is to make it a resource for the community," said Eric Parish, a member of the Gary Community School Corp. emergency management team. "We're not looking at it as a profit center of a money deal, but what does the community need?"
State report details conditions
State board members first called into question the long-term viability of housing Gary Roosevelt students in the Gary Area Career Center at an SBOE meeting last month at Indiana University Northwest.
Members of the board, detouring from their monthly meetings typically held in Indianapolis, took a tour of Gary schools on Oct. 1 and raised concern about students attending classes in career center garage bays converted into class space to support the influx of students this school year.
The garage bay space is currently being used for both Roosevelt classes, including JROTC and physical education, and Gary Area Career Center and Ivy Tech dual credit programs, according to the SBOE report.
Alarmed by the makeshift classrooms, state board members asked last month if they should take action to remove students from the career center before temperatures drop.
However, in his report to the board this month, SBOE Senior Director of School Performance Ron Sanlin recommends no immediate action is needed before winter begins.
Twelve of the career center's 33 air control units service the garage bays, according to the report, and school officials are identifying additional ways to heat the garage space after Roosevelt representatives raised concerns about heating capacity within the building.
Roosevelt students likely to relocate
Under an innovation agreement signed by both the Gary Community School Corp. and EdisonLearning, the public school district is required to provide learning facilities for the Roosevelt students.
EdisonLearning first came to manage Roosevelt in 2012 after the state took over the academically failing school, removing it from the Gary Community School Corp. The for-profit academic services provider continued its work at Roosevelt after signing the school's current five-year innovation agreement in 2017.
Officials for EdisonLearning say they are hopeful for a return to the historic Gary Roosevelt school building at West 25th Avenue, but financing the cost of extensive repairs needed in the 90-year-old school building could prove difficult for the cash-strapped Gary Community School Corp.
Gary school leaders led a video walk-through of the Roosevelt building in July, showcasing the effects of burst pipes, cracked heating vents and years of neglected maintenance. At that time, estimates to bring the building back into a condition safe for students totaled more than $10 million.
Parish said the district plans to seek an additional assessment of necessary repairs and their costs — something he said school leaders would not do if they didn't believe a return to the original building were possible.
But, even if new repair estimates are lower than expected, it's unclear whether the necessary work could be completed in time for next school year.
"As we've always said, we'd like to see the students back in the main building, but we also understand the challenges of that," EdisonLearning spokesman Michael Serpe said. "Anything that was started now would still take a substantial amount of time to fix."
Parish said district leaders have considered relocation among several other Gary Community School Corp. school facilities, including both open and recently closed buildings. With capacity available, West Side Leadership Academy may be the most likely option to take Roosevelt students next year.
Parish said it's possible to place both West Side's approximately 1,000 high school students and Roosevelt's 7th through 12 grade classes in the building as two separate schools. The building at West 9th Avenue and Gerry Street also houses administration offices for Gary Community School Corp.
Future Roosevelt operations uncertain
The SBOE report outlines a four-month timeline for deciding the future of the Roosevelt school.
In the state board's meeting last month, members called into question whether the school should continue operating as is — asking whether it made sense to close the Roosevelt or return its students to the academic purview of the Gary Community School Corp.
Roosevelt earned its first A marking in the state's accountability grades in 2018, but failed last school year to meet benchmarks for attendance and graduation rates outlined in the school's innovation agreement.
The school also recorded a 55% attendance rate among teachers and 84% among students last school year, which EdisonLearning officials attributed to the school's abrupt relocation mid-year to the Gary Area Career Center.
Students graduated at a 63% rate, 10 percentage points below the goal set in the school's innovation agreement, according to data EdisonLearning officials presented to the SBOE last month. None of Roosevelt's seventh or eighth graders tested proficient last spring in the state's new ILEARN exam.
"When you look at the test scores over Roosevelt over the past five years, it's not to smile at, it's nothing to report home about," EdisonLearning Superintendent Marshall Emerson said in the October board meeting. "But we have a plan in place to really drive reading and literacy and mathematics inside the classrooms."
All of this is likely to be taken into account as the SBOE considers a timeline of community meetings to discuss future alternatives for the school. The board may also consider a study of nearby public, charter and choice scholarship schools, according to the report prepared for Wednesday's meeting.
The innovation agreement contract between the Gary Community School Corp. and EdisonLearning can be broken at anytime without penalty if the two parties agree, according to the contract. However, representatives for both said they would prefer not abandon the partnership.
"We've been committed to the community for quite a while now," Serpe said. "We will continue to work and to provide a quality education to those kids regardless of where they're located and regardless of the circumstances."
State board members will discuss recommended next steps for Roosevelt at its Nov. 6 meeting in Indianapolis.
Read the State Board of Education report here:
Be the first to know
Get local news delivered to your inbox!