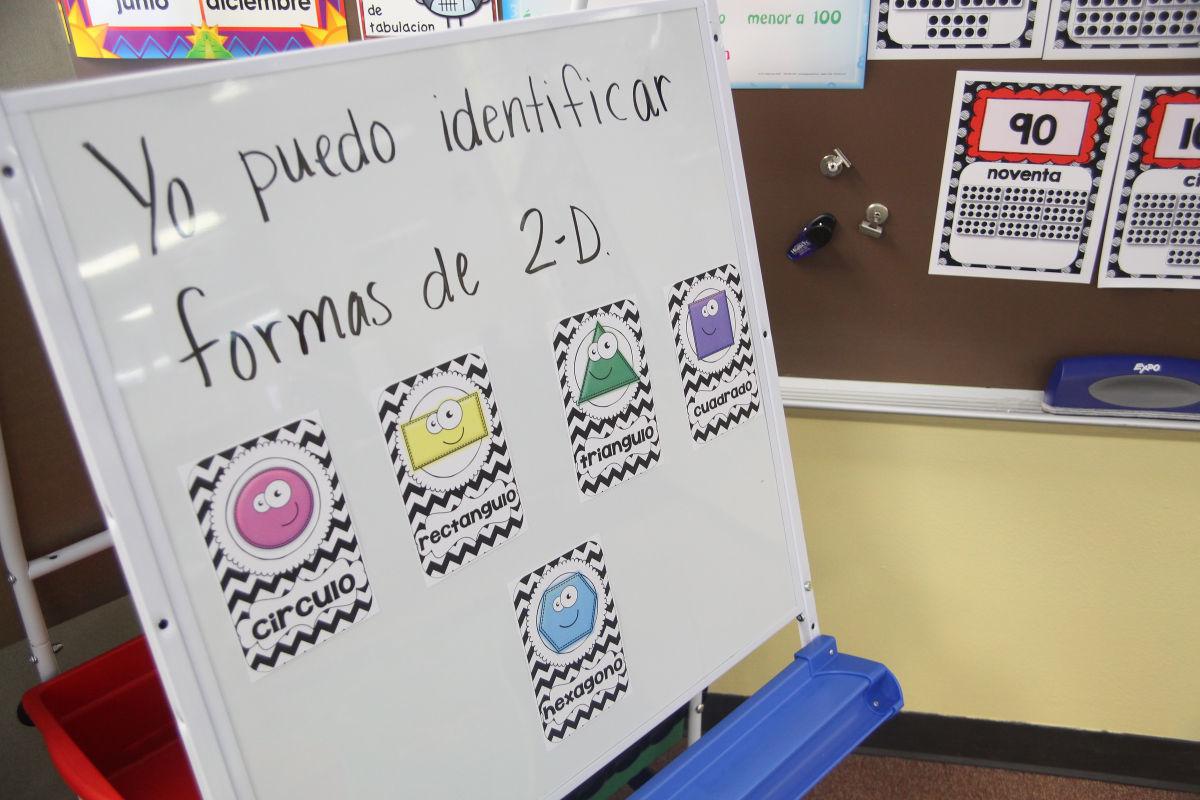 VALPARAISO — After four years of instruction, Valparaiso Community Schools is ending its highly regarded Dual Language Immersion Pilot Program at Parkview Elementary School.
The popular pilot program will be discontinued at the end of this academic year, with school officials working this spring to create a transition plan for the more than 200 students currently enrolled in dual language immersion.
An announcement, made to parents in an email Wednesday morning, sent shock waves through the Parkview community.
"This breaks my heart," said Rebecca Hoyle, the mother of a Parkview third grader. "The global mindset this has given my kids is beautiful."
The Valparaiso district also announced the resignation of longtime Parkview Principal Anne Wodetzki due to "personal reasons."
Wodetzki, beloved by Parkview parents, was influential in securing funding and shepherding in the pilot program, parents told The Times.
Brandie Muha, director of elementary curriculum for Valparaiso schools, will serve as the interim principal.
Parkview's dual language program, teaching students equally in both English and Spanish, is the only of its kind in Porter County, and among one of the only like it in the Region.
When it disbands at the end of this school year, Valparaiso's DLI program will be the first of any state-funded dual language pilot programs in the state to close, according to the Indiana Department of Education.
"The second we heard they had a dual language program, we were in," said Judy Wszolek, the mother of a Parkview second grader. "There was nothing like it in any school around here when we started."
Phasing in dual language
The district has funded the program every year since, a Valparaiso schools spokesperson said.
The program is taught this year in two sections with half of all students in each participating grade level learning in one language for the first half of the day, then swapping teachers and learning a second language for the second half of the day.
Valparaiso Community Schools started phasing in its first class of DLI starting with kindergartners entering Parkview Elementary in the 2015-16 school year. The school has phased in a new class of kindergartners every year since.
It quickly grew in popularity with parents moving into Parkview-feeding neighborhoods and applying for intra-district transfers so they could take advantage of the program.
"It's devastating," said Betsy Barger, the parent of Parkview second and third graders. "I've been driving my kids to school every day because this is worth it."
Ending DLI
In its explanation to parents, Valparaiso Community Schools noted high expectations for student performance measured by assessments, and detailed a commitment among Parkview staff to "narrowing their focus on student achievement and academic growth."
Parkview is an A-ranked school in Valparaiso serving more than 250 students, according to IDOE. All students, except those in the fifth grade, are being taught this year in the dual language program.
It was not immediately clear what assessments school officials considered when making its decision.
"There has been an ongoing discussion with VCS administrators and the former Parkview principal since the beginning of the program," VCS spokeswoman Allison Hadley said in an email. "Discussion topics included data analysis and feedback from students, staff and parents. Ultimately, the decision was made to discontinue the program by VCS administrators and the former Parkview principal."
Students' success in the program had always been strong, parents said, with kindergartners learning to count to 100 in Spanish and 8- and 9-year-olds routinely carrying on fluent conversations with native speakers.
"I was so excited for our kids to have that leg up," Barger said. "You hear about the way things are going in the job market. Why should they offer this and then take it away?"
Parents praised the program's instructors. One, Parkview teacher Anelisa Donley said, came to the school from Barcelona to teach.
It's also not clear what will happen next for Parkview staff trained to teach in the DLI program. The district did not answer multiple questions from The Times asking if staffing changes would come next year.
VCS also cited in its email to parents concerns for sustainability of the program and difficulty placing students assigned to attend Parkview Elementary if joining the school with limited Spanish proficiency. That problem could be easily solved, Donley said, if the school went down to offering one section of DLI programming, rather than trying to serve the whole school through two sections.
"(My son) didn't have an issue with it," said Angela Taraskiewicz, whose son started the DLI program as a first grader. "The teachers are good enough and the community is so supportive that there was no obstacle."
'A total shock'
Parkview parents say they are devastated both by the district's decision to discontinue the program and its method of sharing the news.
Parents say the program's dissolution came as "a total shock" in a decision disseminated through email with no community meetings arranged prior to cutting the program, or resources provided for future Spanish education outside of Parkview.
Many parents say they plan to remove their students from the school after the program's end and are grappling with how to explain the change to their young students.
"I'm worried for him because he loves it so much," said Casey Wszolek, whose son started as a kindergartner at Parkview this year. "He knew kindergarten as this. This is what he does. This is what he thought school was going to be."
The Valparaiso district is directing students to contact Parkview Elementary social worker Mary Albertson at 219-531-3110 for support.
"We are always committed to excellence in education and are continually reflecting on practices and programs school and district-wide," VCS said in its email to parents. "We understand this is a significant shift to process for the school community. We are here to support all of you."
Read the Valparaiso Community Schools letter: