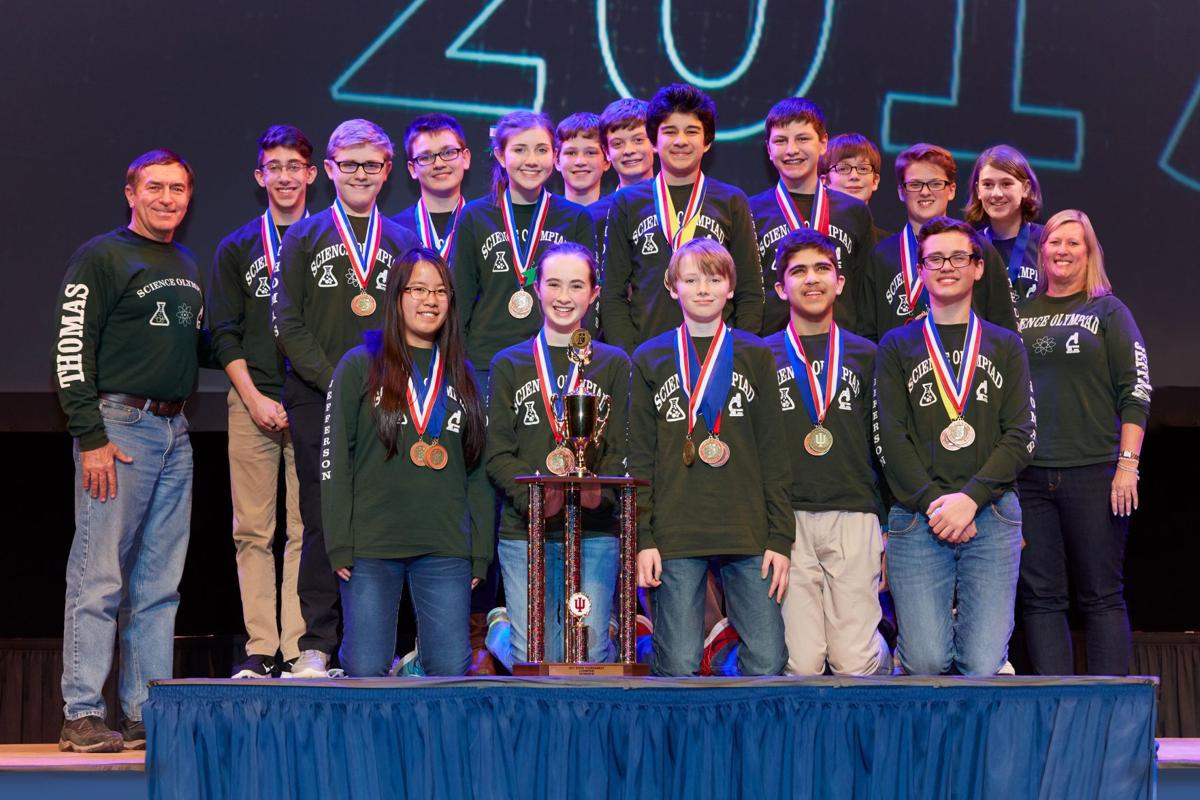 VALPARAISO — The Thomas Jefferson Middle School Science Olympiad team won its 25th state title recently during the event at Indiana University Bloomington.
Science Olympiad is a team event composed of 15 members in grades six through nine for middle school Division B and nine through 12 for Division C (high school).
Each team competes in 23 events. This year those events are anatomy, crime busters, disease detectives, dynamic planet, ecology, experimental design, fast facts, food science, invasive species, meteorology, microbe mission, optics, reach for the stars, road scholar, rocks, wind power, write it do it, aerial scramble, hovercraft, mission possible, scrambler, towers and wright stuff. Trial events are mystery design, potions and poisons and trivia time.
This is a team competition, with two to three students trained in each event, and each student does about three events, said coach Richard Bender.
TJ has had a team since 1986. Science Olympiad was founded in the U.S. in 1984. In 1990 TJ won its first state title and earned the right to go to national competition against all the other state champions. Since 1990 TJ has won 25 state titles and gone to national competition 28 years in a row. For three of those years TJ was second, but Indiana sent two teams to nationals due to the abundance of teams entered in our state.
Since 1990 in national competition, TJ has placed 10th three times, 9th one time, 8th three times, 5th one time, 4th two times, 3rd two times, 2nd two times, and twice has won the national title in 1993 and in 1996.
This year the team is travelling to Wright State University University in Dayton, Ohio and competing on Saturday, May 20. Team members are: Zach Hatseras, Lauren Skadberg, Teresa Nelson, Calvin McMurtrey, Amol Verma, Micah Nathan, Caden Hamscher, Isaac Utesch, Joel Teeple, Xander Green, Lily Rengstorf, Ethan Hutton, Max Trowbridge, Ian Smith, Ari Kessler and Zach Heskett.
The top five teams in the state this year were: Thomas Jefferson Middle School; Raymond Park Middle School, Indianapolis; Chesterton Middle School; Ben Franklin Middle School, Valparaiso; and Wilbur Wright, Munster.