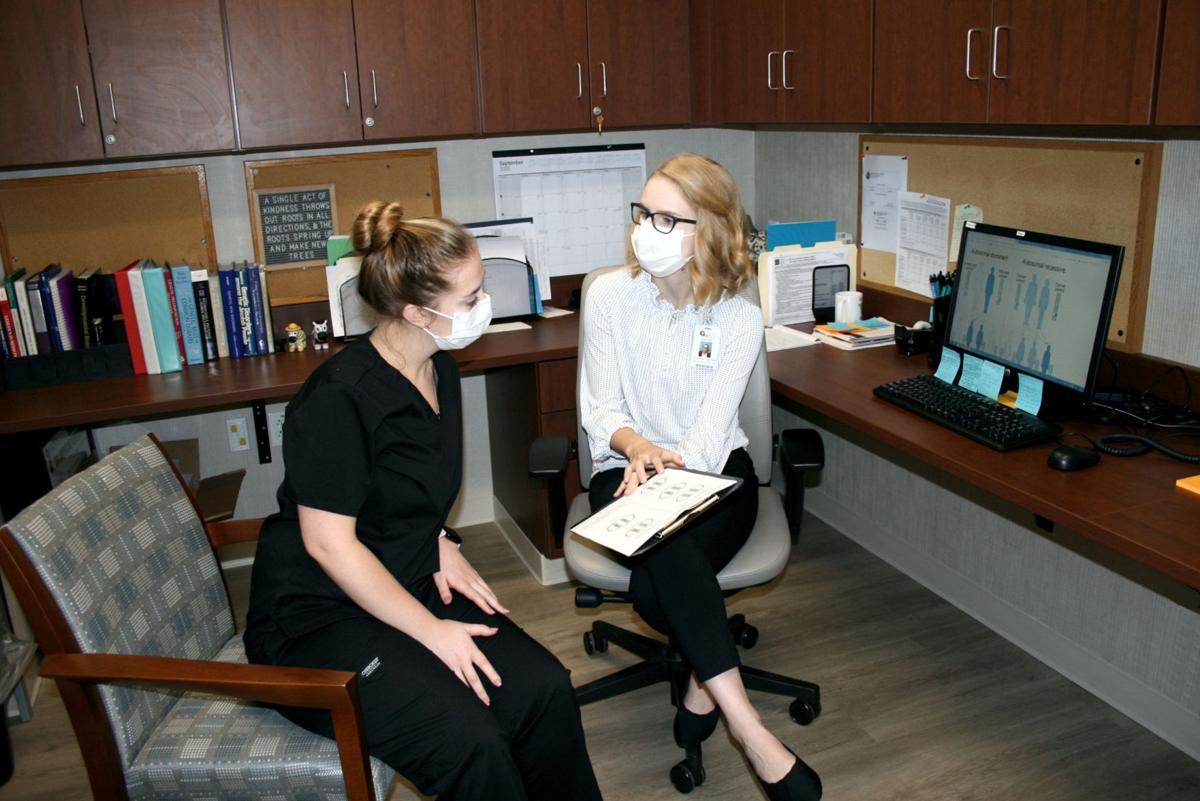 For someone who has a family history of breast cancer, the future may seem worrisome.
Although having a family member with cancer does not automatically mean an individual is in a high-risk category, medical professionals say it's important to be aware of how genes can play a role in an individual's risk for getting cancer.
Through genetic testing, offered at medical facilities in the Region, patients can learn more about their risk of developing certain diseases, including breast cancer.
"Genetic counselors can provide patients with powerful tools to help them take control of their cancer screenings," said Courtney Schuiteman, a Community Care Network genetic counselor on staff at Community Hospital in Munster.
Catching breast cancer early can greatly improve a patient's outcome, Schuiteman says, which is why screening for breast cancer is so important.
"At the same time, genetic counselors can help patients understand how their family history impacts their cancer risk, and this seemingly simple tool can be valuable to patients," she says.
The term, "genetic counseling," was coined in 1948, but it wasn't until 1979, when the National Society of Genetic Counselors, formed that the medical field began to see the presence of genetic counselors in a number of specialties like oncology, cardiology and neurology, Schuiteman says.
In 1994, Dr. Mary-Claire King identified the first of two major breast cancer susceptibility genes, BRCA1, with the BRCA2 gene discovered the following year. In 1996, clinical genetic testing for these two genes became available.
"In the short 24 years since, clinical genetic testing for cancer susceptibility genes has exploded," Schuiteman says. "We know so much more now about a number of hereditary cancer syndromes and the genes associated with these conditions."
In fact, Schuiteman says genetic counselors can now test for up to more than 80 genes related to increased cancer risk.
"That being said, we still have a lot to learn about what causes cancer and what role our genes play in our risk for developing cancer," she says. "The field of cancer genetics is a moving target, and it is the job of a genetics professional to make sure that patients receive the most up-to-date information."
Improved patient care
Knowing about a cancer predisposition mutation can change management and preventative medicine for a patient, says Malavika Praseed McGrail, Franciscan Health Cancer Center genetic counselor.
"What we're looking for is to see if the patient has a specific genetic change — also known as a mutation — that increases the patient's likelihood for certain cancers," she says. "Knowing this information, providers can tailor management to the patient's needs, and we can also facilitate testing for at-risk family members."
If a patient tests positive, he or she can be recommended for increased screening, such as mammograms or MRIs every six months, or for risk-reducing surgery such as an oophorectomy for ovarian cancer or a double mastectomy for breast cancer, she says.
"For example, for a woman who screens positive for a BRCA1 or BRCA2 mutation, MRIs can begin around age 25," she said. "Even for those who have been diagnosed with cancer already, treatment plans such as which chemotherapies to use, surgical recommendation, etc., can come into play with a positive genetic test."
McGrail says she sees more than 150 patients per year, and knows there are several more in Northwest Indiana who may benefit from genetic testing.
"More people qualify for genetic testing than you think, and most never get tested, let alone speak to a genetic counselor," she said.
While testing and counseling at one time carried a high price tag, McGrail says it is far less expensive now.
"Just a few years ago, testing and counseling added up to thousands of dollars, but these days, many insurance companies cover both the visit and the testing, and even self-pay pricing is more affordable than ever before," she says.
Even if a mutation isn't identified, Schuiteman says patients will receive guidance on additional preventative care they should take.
"Patients who come in to see a genetic counselor at our program will learn about what their screening recommendations would be," she says.
How genetic testing works
If an individual is interested in genetic counseling, she can call a hospital's cancer center for a self-referral, McGrail says. Many individuals also receive referrals from their OBGYN or primary care providers.
The genetic testing process generally begins with a consultation in which the patient provides her medical and family history, and learns the pros and cons of undergoing testing.
"If the patient agrees — genetic testing is always the patient's choice — we can conduct the testing in the office and send the sample out to be tested," McGrail says. "I notify and walk through all results with the patient."
Tests are taken through a blood or saliva sample, she says.
Throughout the process, genetic counselors support the patient through the impacts that information about genetic risk and genetic testing can have, Schuiteman says. The process can come with a multitude of emotions.
"The genetic counselor may explore these emotional responses with a patient in order to support them and to help them make the best decision about testing for themselves," she says.
McGrail says she has seen the joy when a patient receives a negative test, but has seen fear, followed by determination, when a patient receives a positive test result.
"I have seen many patients fret over their children and siblings when faced with their own diagnosis," she said. "Genetic counselors handle all of this."
Genetic testing results typically take up to three weeks to come back, depending on the urgency or the indication, McGrail says.
"Genetic counselors are part of the medical team, and together we are all an integral part of the fight against breast cancer," she says. "Knowing whether a patient has a hereditary predisposition to cancer can inform treatment, management and the health of close family members."
Gallery: Air Force Salute to first responders amid coronavirus pandemic
Be the first to know
Get local news delivered to your inbox!