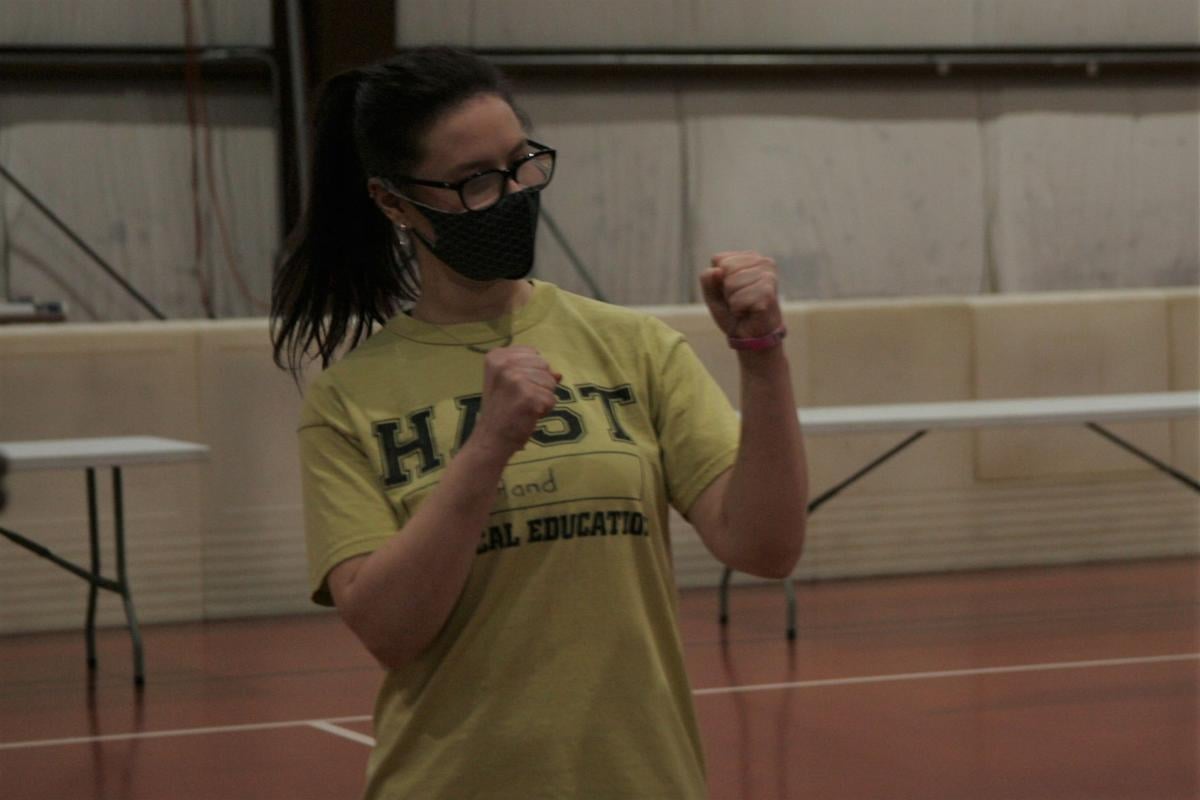 HAMMOND — Twenty-four women received basic instruction in self-defense Friday at Jean Shepherd Community Center.
Those women took part in a workshop presented by the Hammond Police Department. There they received hands-on training and safety tips from local police trainers.
"I came to get some basic knowledge," said Crystal Torres, of Hammond.
Lala Carbajal of East Chicago, Torres' friend, added, "I thought it would be a good idea to have a little knowledge." Both women work full-time.
Hammond Police Sgt. Aubrey Thomas, training coordinator for the police department, said the local force does 10-15 such training sessions annually in the city and at a training site in Valparaiso.
The Friday evening class addressed situational awareness, defensive stances, striking, choke defense and ground fighting. The program ended with scenarios in which women used their new skills against a police officer in padding.
Thomas recommends that women "be aware of their surroundings," while lead instructor Dan Mohai wanted women to leave the program with a "mindset of wanting to go home to their families."
The program drew a wide age range of participants.
Jaclyn Garcia, of Hammond, said, "It's very important for women to know how to defend themselves. Women are strong, and it's empowering for us to know we are strong."
Garcia added that son Jaiden, 8, "is excited to know I'm going to this and coming home to kick some butt."
Cara Hand, 18, a senior at Hammond Academy of Science and Technology, said, "I'm going off to college. In case anything happens, I'll be prepared."
Mohai stressed the class was not about mixed martial arts but rather how to avoid confrontations. "We don't want the fight to happen," he said.
Among the older participants was Linda Morandi, of Hammond, who said, "Seniors should be prepared to defend themselves. It's harder than it looks, but the instructors are amazing."
During a break in the action, Mohai and fellow instructor Dave DeBoer offered basic safety tips.
"The biggest game-changer is numbers," DeBoer said, adding that attackers "want an easy target, someone they can victimize."
Joggers, DeBoer said, should run with someone and use only one earplug. He also encouraged women to call police if something does not feel right.
"Use the resources you have. Don't be afraid to ask police for help, even if it's walking you to your car," DeBoer said. "It's great practice for us."
Among those successfully completing the scenario to free herself from a would-be attacker was Adelita Hernandez, of Hammond, who showed little shyness in defending herself and battering her assailant.
"It's great practice, and I have kids," said Hernandez, whose four children range in age from 10 to 24. "When my daughter comes home, I'm going to practice with her."
Gallery: Recent arrests booked into Lake County Jail