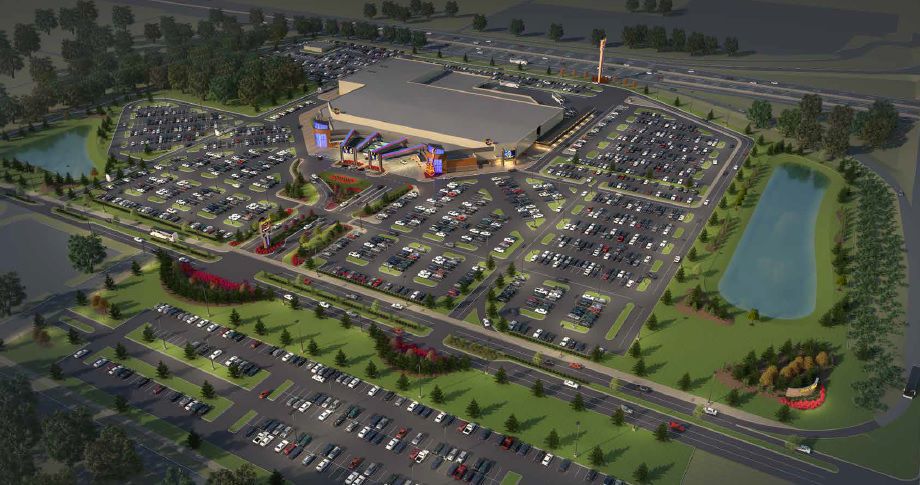 GARY — Alleged land-dealing improprieties surrounding the city's prized casino project now are being scrutinized by Hard Rock Casino's compliance board, a representative for the company confirmed.
The review happens in the wake of a Times probe into alleged conflicts of interest and reports of bidding improprieties in Lake County's tax sale, at which tax-delinquent properties were sold.
Court records show politically connected Gary attorney Rinzer Williams III represented two real estate speculators who bought land targeted by Spectacle Entertainment, the developer in the major Gary casino project. Williams also works as an attorney for the Gary City Council and the Lake County commissioners, and board president for the financially troubled Genesis Convention Center. 
The land purchases occurred not long before Williams was hired as project consultant for Spectacle.
It's unclear through court records if Williams was aware one of his clients bid on tax-delinquent land last year at Lake County's tax sale and then transferred the parcels to severely tax-delinquent business owner Sergio Gutierrez, owner of a Merrillville restaurant.
The parcels in question are part of the casino project's footprint.
State law bars people who are delinquent on their personal property taxes from bidding on other tax-delinquent properties at county tax sales. And buying a property for someone else because the individual is banned from doing so is called straw bidding — which also is illegal.
Lake County court records obtained by The Times indicate Alex Petrovski, of Crown Point, served as a straw bidder for Gutierrez because Gutierrez owes back taxes and was banned from participating in the tax sale.
Petrovski transferred properties to Gutierrez on Feb. 6 — just days before Gutierrez was to sign a $900,000 purchase agreement with Spectacle Entertainment, according to county land and court records. 
Details surrounding these land dealings has been turned over to Hard Rock Casino's in-house compliance board for review. 
"While Hard Rock has no relationship with the individuals identified, we have turned this over to the Hard Rock Board compliance committee for further due diligence," a Hard Rock representative confirmed.
The county's tax sale process has been under unusually intense scrutiny this year after a Times investigation showed another tax-delinquent property owner, in a case unrelated to Gutierrez, was allowed to bid on hundreds of parcels on behalf of a Gary firm.
The Times investigation also found a second straw bidder allegedly bid this year on Gutierrez's behalf. Those bids are being challenged by the county. 
John Keeler, attorney for Spectacle Entertainment, said the firm engaged Williams on May 24 to represent them on land zoning issues before the city of Gary.
"That is the only legal engagement, or dealing of any kind, past or present, which Spectacle or Windy City has had with Mr. Williams. At all times, Mr. Williams conducted himself in a professional and ethical manner," Keeler said.
Keeler said Spectacle Entertainment and its wholly owned subsidiary, Windy City Acquisitions, initially acquired the rights to about 30 acres near I-80/94 and Burr Street for the project. 
In order to build a great facility, control the appearance of surrounding properties in the neighborhood and have room to grow, project leaders reached out to a number of adjoining property owners to inquire if they would be willing to sell their properties.
Those property owners included Gutierrez's son, Corey Gutierrez, he said.
"Discussions followed with Corey's father, Sergio Gutierrez, and a real estate purchase agreement was subsequently entered into between (Sergio Gutierrez's corporation) Wilkerson Creek Quarry NW Indiana LLC and Windy City on Feb. 15, 2019," Keeler said.
That contract was later amended when it was determined by the courts that Sergio Gutierrez's company did not own all the real estate, Keeler added.
Records show Gutierrez apparently fumbled when a key parcel, 2800 Calhoun, fell to auction for failure to pay his taxes, and he forgot to rebuy it. Another real estate speculator, Mike Flanagan — also represented by attorney Williams — snatched it up at the county's tax sale. 
Flanagan said now that he's purchased property near the casino footprint, he wants to hold out for a solid offer from a buyer, if not the casino. 
"If the casino isn't interested, I know someone is going to be," he said. 
Art renderings for the Hard Rock casino project released in August show the casino property fully developed — except for one property that Gutierrez lost at tax sale. That parcel is undeveloped in renderings, wedged between two large parking lots west of the main casino.
Keeler said 2800 Calhoun "is not under contract and no negotiations are currently taking place with its owner."
A Hard Rock representative confirmed to The Times the company's in-house review board is looking into the alleged land improprieties, but also intends to proceed with the proposed site in Gary "as we always have, by adhering and upholding only the highest standards and principles in our business dealings." 
Be the first to know
Get local news delivered to your inbox!