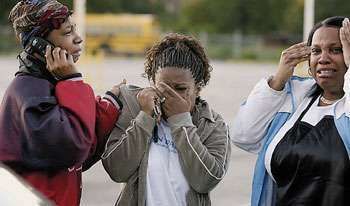 In the early morning hours of Sept. 27, 2003, a Gary family arrived at their home after celebrating a relative's college graduation.
Terry Lee Dennie, armed with a 9mm gun, shot to death four of his relatives and wounded his grandmother, officials said at the time. He then took his own life.
The shooting happened at their family home in the 1100 block of Porter Avenue in Gary. Dennie, 20, killed his mother, Angela Walton-Scruggs, 41, along with his two siblings, Darion Dennie and LaDanna "Mandy" Dennie. 
LaDanna Dennie's 2-year-old son, Isaiah "Peanut" Dennie, was also killed in the shooting. Isaiah and his mother were shot multiple times. Officials at the time said it appeared LaDanna Dennie had tried to protect her son during the shooting.
The only person who survived was Elizabeth Walton, who was 81 years old at the time, after she played dead until the shooting ended. She was taken to an area hospital to be treated for two gunshot wounds. 
Hundreds of people turned out days later for funeral services for the family held at the Genesis Convention Center in downtown Gary, The Associated Press reported. LaDanna Dennie and her son were buried together.
Gary police had previously dealt with Terry Lee Dennie after he was found near his grandmother's home. He was armed with two shotguns and was trying to burn down a house.
Officers during that incident, which happened about two years before the shooting, shot him down with a beanbag. 
Terry Lee Dennie had spent the year prior to the homicides in and out of psychiatric treatment, according to court records. He at one point was diagnosed with schizophrenia.
At times, he was committed to a hospital because he didn't take his medication and was using marijuana. However, there were months that court records indicate he regularly attended outpatient individual and group therapy sessions.
Six months before the shootings, Terry Lee Dennie temporarily was committed to a hospital because he refused to take his medication. During a family meeting with a therapist, he threatened to take his gun to "kill everyone in the room," according to court records.
Medical officials had petitioned to hold him in a state hospital for a period longer than 90 days. However, his family asked that a hearing to determine if he should be committed be canceled. They said he could come home.
Terry Lee Dennie was supposed to receive outpatient treatment at a mental healthy facility. He never showed up for his appointments.