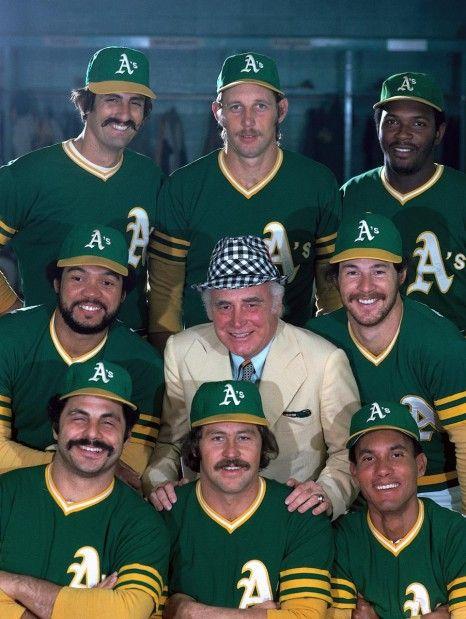 He was as colorful and loud as the green and gold uniforms his Kansas City and Oakland Athletics teams wore.
Charles Oscar Finley, along with former Cleveland Indians, St. Louis Browns and White Sox owner Bill Veeck, saw baseball's reserve clause could create free agency, which it did. He and then-players association President Marvin Miller also realized the free agency could work to the owners' advantage. If the owners allowed all players to become free agents every year, it would match the supply with the demand.
Also part of his lore were Charley O the mule, orange baseballs, a pennant porch in Kansas City, the 1972 mustachioed players, the designated hitter and designated runners.
Finley was born outside of Birmingham, Alabama, on Feb. 22, 1918. When he was 15, the family moved to Gary. He graduated from Horace Mann High School on the Steel City's north side. Like many of his generation, he went to work at U.S. Steel's Gary Works and played semipro ball.
He became an insurance salesman but contracted tuberculosis and was in the sanitarium in Crown Point for 2 1/2 years. He then came up with a plan to sell disability insurance to doctors, which made him a millionaire.
He bought the Kansas City Athletics from the estate of Arnold Johnson in 1960. After bickering with Kansas City for a new stadium, he moved the A's to Oakland before the start of the 1968 season. In 1967, he "fired" Hawk Harrelson, and the Red Sox signed him, thus helping them win the 1967 American League pennant.
His teams won American League West titles from 1971 to 1975 and three straight World Series from 1972 to 1975. He lived on a farm outside of LaPorte. The barn had a big "Swingin' A's" logo painted on it that could be seen from the Indiana Toll Road. He paid the 1972 players to grow mustaches.
He lost Jim "Catfish" Hunter to free agency for not fulfilling part of his contract.
In 1975, Finley failed in trying to get rid of Commissioner Bowie Kuhn. The next year, Finely began a fire-sale of championship team before his stars declared free agency.
Finley tried to sell Vida Blue to the Yankees and Rollie Fingers and Joe Rudi to the Red Sox. Kuhn voided the deals, declaring they were "in the best interests of baseball."
Finley, who also owned for a short period the California Golden Seals of the NHL, also threatened Oakland officials to move the team to Toronto and Denver. He sold the A's in 1980.
He died on Feb. 19, 1996.