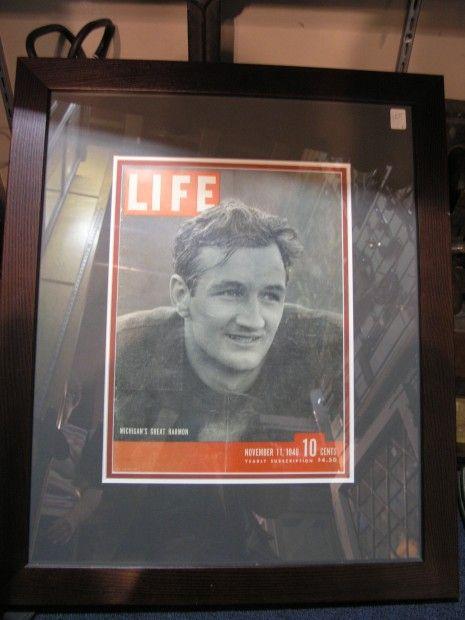 Tom Harmon was a natural athlete who some say was the best all-around athlete the Region has ever produced.
He was a four-sport star growing up in Gary, won the Heisman Trophy as college football's best player while at the University of Michigan, and transitioned from the playing field to broadcast booth, where he covered thousands of sporting events for all three major broadcast networks.
Harmon was born in Rensselaer on Sept. 28, 1919, and moved with his family in 1924 to Gary, where his father served as a police officer.
At Horace Mann High School, Harmon was a track, baseball and football star. He won state track titles in the 100-yard dash and low hurdles, pitched three no-hitters in AAU summer baseball, and starred in basketball.
As quarterback of the Horace Mann football team, Harmon won 14 varsity letters before graduating in 1937. He chose to continue playing at the University of Michigan, which he picked from among more than 50 college offers. He played there from 1938 through 1940, winning the Heisman Trophy in 1940.
You have free articles remaining.
Keep reading for FREE!
Enjoy more articles by signing up or logging in. No credit card required.
Harmon was inducted into the College Football Hall of Fame in 1954.
After college, Harmon joined the U.S. Army Air Corps and served as a pilot in World War II, surviving a crash in South America and being shot down over China. He was awarded the Purple Heart and Silver Star.
After the war, Harmon played two seasons for the Los Angeles Rams, then began a broadcasting career in 1948 that included coverage of more than 10,000 sporting events for ABC, CBS and NBC. He retired in the early 1980s.
Harmon married actress Elyse Knox in 1944, and they had three children: Kristin Nelson, Kelly Harmon and Mark Harmon. His son played college football at UCLA and is a longtime actor and star of TV show, "NCIS."
Tom Harmon died on March 15, 1990, at age 70 after suffering a heart attack.