Region came to standstill during Blizzard of 1967
Shovels, plows, tractors, even bulldozers, were pressed into service 50 years ago to dig out the Region from one of the area's most notorious weather events — the Blizzard of 1967.
The surprise storm on Jan. 26 dumped more than two feet of snow in less than 24 hours, leaving most streets impassable, stranding motorists, forcing schools to be canceled, leaving store shelves bare and causing several deaths.
The blizzard came just a few days after temperatures soared to the mid-60s and high winds ripped through the Midwest, causing several tornadoes in Iowa, Missouri and Illinois. The high winds tore roofs off buildings in Hammond, and downed tree limbs cut electricity to many in the area.
Stories from The Hammond Times and Valparaiso's The Vidette-Messenger paint a picture of chaos and resilience among Region residents whose day-to-day routines were interrupted as they waited for the snow to stop and plows to clear the way.
The blizzard also brought out the best in the Region, as neighbors helped shovel sidewalks and homeowners took in stranded drivers.
In Lake County / Illinois
Five deaths were reported in Lake County and the nearby south suburbs. Four died from heart attacks after shoveling, and one died of exposure after leaving his car.
The Hammond Times called it a "sneak snowstorm" during its early hours and predicted up to 8 inches. Traffic that morning was snarled, and Indianapolis Boulevard from East Chicago to Highland was among the most congested streets.
But Jan. 27 editions reported 20 inches of snow pummeled the Calumet Region. Buses, taxis and trains came to a standstill. Hospitals reported many workers couldn't get to work. Many nurses picked up double and triple shifts. The phone lines were overloaded by people calling home to say they were stuck at work and workers calling employers saying they couldn't get in. Officials reported there weren't enough phone lines to keep up with demand. Photos showed telephone operators stranded at the phone company sleeping on cots.
The Jan. 29 edition continued to paint a picture of the widespread effect the storm had on the Region. Area expressways were still closed to traffic as bulldozers and National Guardsmen were called to open main streets. Abandoned vehicles slowed efforts to remove the snow.
Grocery store shelves were empty. Schools were closed, and the Diocese of Gary even excused its followers from the obligation to attend Sunday Mass.
Reports of people's treks — and failed treks — began emerging. Six students from Calumet City and Hammond reportedly walked eight miles in the snow after being stranded trying to get home from Mount Carmel School.
Fire stations, city offices, VFW halls, businesses and private homes served as shelters to stranded motorists.
Drivers of milk and bread trucks, which were stuck on the roads, handed out their products to people where they were stopped.
By Jan. 30, bread and milk deliveries began again to grocery stores, but residents still were busy shoveling out cars in streets and alleys.
On Jan. 31, snow removal efforts continued, but cities and towns still struggled to provide services. Garbage pickup, which was delayed for almost a week, was about to resume. Hammond residents were told to put their garbage cans in front of their homes because alleys hadn't been cleared.
On Jan. 25, The Vidette-Messenger weather forecast called for a chance of rain mixed with snow.
On Jan. 26, schools closed and state and Porter County highway workers reported struggling to keep up with the volume of snow being dumped by the blizzard.
But, by Jan. 27, a state of emergency was declared in Porter County. A record 18 inches of snow had fallen in Valparaiso. Most roads were closed as local officials reported working together to find resources to clear the streets. Downtown Valparaiso was deserted except for a handful of pedestrians. The Vidette-Messenger published a four-page edition with no ads because it was operating with a skeleton crew. The Valparaiso High School-Lew Wallace basketball game scheduled for Friday night at Boucher Gym, now at Ben Franklin Middle School, was postponed. General Telephone was swamped with calls and asked residents to make only emergency calls. Mail delivery was canceled.
No Saturday paper was published, due to the storm, but The Vidette-Messenger's first Sunday edition was published in its place.
On Jan. 29, much of Porter County was still under mountains of snow. National Guard helicopters were used to take patients to Porter Memorial Hospital and to deliver medicine to patients in rural areas. At least one expectant mother was flown from the Boone Grove area to Valparaiso on Jan. 28. The helicopter landed on the Valparaiso University campus near the chapel and the woman was taken by ambulance to the hospital, which was near the campus on LaPorte Avenue.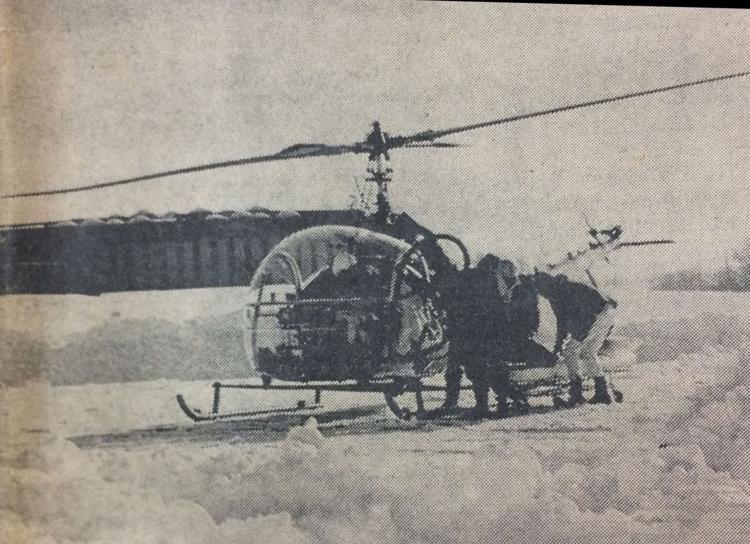 Most of the county's schools closed during the day on Thursday. They were closed for a week. Final exams scheduled at Valparaiso University were postponed.
Longtime Porter Memorial Hospital administrator Art Malasto said the number of patients at the hospital was growing, not because of a large surge in new patients, but because patients ready to be discharged could not leave.
Sunset Hill Farm, now a county park on Meridian Road at U.S. 6, reported milk was for sale to anyone who could get there. The farm manager reported people arriving on foot, by tractor and one woman arrived on a toboggan pulled by a dog.
A payloader was pressed into service during the snowstorm to clear a path for a Bartholomew ambulance and a Chesterton police car bringing expectant mothers to Porter Memorial Hospital. One ambulance trip from Valparaiso to Portage and back to Valparaiso took seven hours to pick up an expectant mother.
Graduation from the Valparaiso Technical Institute, which was scheduled for Jan. 26, was canceled and diplomas were instead handed out from the administrative offices. Family members in town for the graduation were stranded for several days.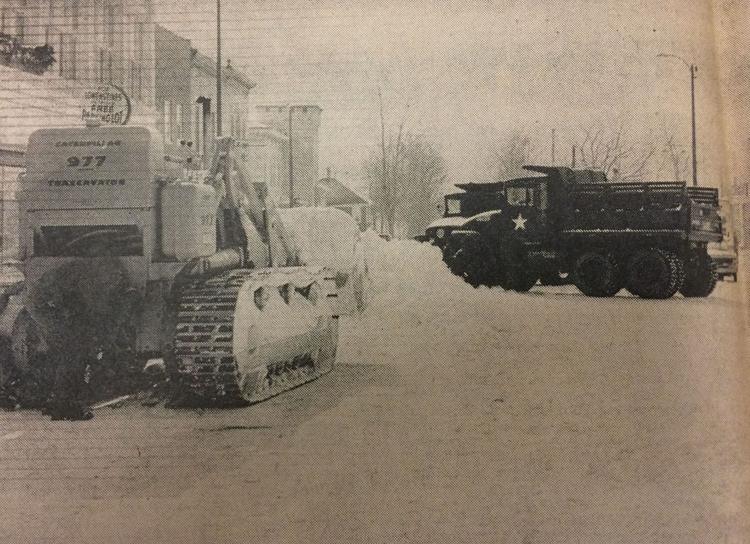 A 77-year-old Boone Grove man died of a heart seizure walking through deep snow from his stalled vehicle to his house, according to the coroner.
Calvary Baptist Church, then at 402 Harrison, served as a shelter for stranded travelers. Padded pews served as temporary beds, and local restaurants provided food. A Portage family who lived on U.S. 6 near Airport Road took in 40 travelers. One of the stranded travelers was a truck driver transporting food, which helped feed the large group in the small home.
People were not the only creatures taken in. A rural Chesterton man rode his horse into town on Saturday and tied it up downtown, but the horse broke loose. It was discovered by a Chesterton woman several blocks away, who took the horse to her garage, covered it with a blanket and fed it carrots for two days until it could be returned.
A second storm hit Feb. 5, bringing Porter County's snow total to 32 inches in in 11 days.