ST. JOHN — The entrepreneurial spirit that helped turn this town from a forested wilderness in the late 1830s into a thriving community lives on today.
In 1837, just five years after the U.S. government negotiated the purchase of land from the Potawatomi tribe, John and Johanna Hack and their eight children arrived in a wagon.
Born in the Prussian region of Germany, the Hack family staked out 40 acres about a half mile east of the present-day U.S. 41 on the south side of what is now Joliet Street. They bought the land for pennies an acre from the General Land Office of the Treasury, which eventually became the U.S. Department of the Interior.
The original land deed for the Hack property bears the signature of President John Tyler and remains a treasured part of St. John's history.
In 1838, another group of settlers who knew the Hack family in Germany joined them here, purchasing land close to the acreage owned by John Hack. These four families were headed by Joseph Schmal, Peter Orte, Michael Adler and Mathias Reeder.
Hack proved to be an astute businessman. In 1842, he built a peach brandy distillery that was one of the earliest businesses in the community. In 1846, the residents of this growing settlement named their town after Hack in 1846, calling it St. Johns. They also petitioned the U.S. government to locate a post office here with John Hack as its first postmaster.
St. Johns remained the community's name even when the town was platted in 1881, but the "s" was dropped at its 1911 incorporation.
John Hack was also a man of faith and arranged for a priest from Chicago to come to the settlement twice a month to celebrate Mass in his home. The area's first Roman Catholic church in Lake County — St. John the Evangelist — was erected on Hack's property between 1839 and 1842, according to historical records. Materials for that original frame building were donated by the Right Rev. Jacques-Maurice De Saint Palais, bishop of Vincennes, and laboriously hauled in by teams of oxen from Chicago.
In 1846, De Saint Palais officiated at the first confirmation ceremony in Lake County in that frame church building. As the congregation grew, a larger log church was constructed from materials used in the original building. Today, that log church stands on church property near St. John the Evangelist School along U.S. 41.
St. John the Evangelist School also traces its history to 1846, when the first school in the township was built there and 109 students attended classes. Today, St. John the Evangelist School provides spiritual and academic education for preschoolers, a full-day kindergarten and students in grades 1 through 8.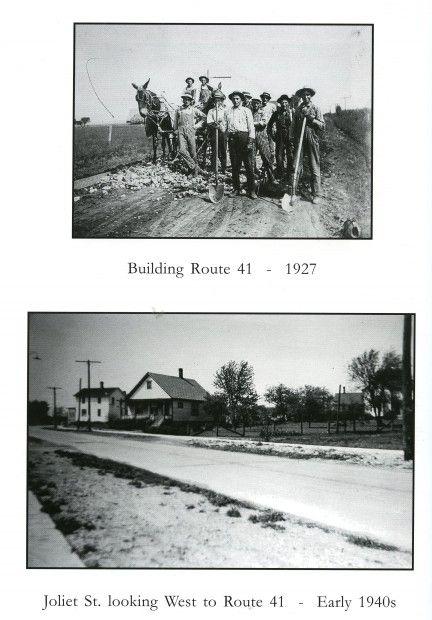 The arrival of the Monon railroad in 1881 spurred tremendous economic development throughout this area, and in 1927, the federal government began construction of U.S. 41 through St. John, spurring additional economic development.
That highway continues to be a major force in St. John's economic and residential development, according to town officials.
"One of the major things is the substantial amount of commercial development that starts along the U.S. 41 corridor and proceeds along 213th Street," said Steve Kil, town manager.
The town features many local specialty shops as well as larger retail stores, Kil said. New developments include a commercial center on Joliet Street, between U.S. 41 and the railroad tracks. This 21-acre site by Boyer Construction will feature 104,000 square feet of retail and restaurant space.
St. John officials have reached out to residents through surveys to determine what kind of commercial development is best for the town. For example, Dennis Meyer's 3.4 acre development at Lake Central Plaza will feature more restaurants, said Mike Forbes, president of the five-member Town Council that governs St. John.
"That is exactly what residents want. And that draws more commercial development because now there are places for employees (of other businesses) to go to eat. It piggybacks on each other," Forbes said.
Residential growth has taken place all over town, but is now primarily in St. John's southwest quadrant, Kil said, adding "These are primarily single-family homes being built. Multi-family homes are kept under 8 percent."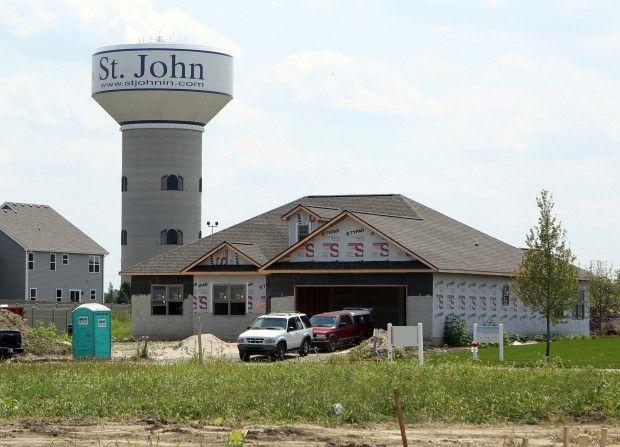 In the next 10 or more years, subdivisions ranging from eight homes to more than 400 are either under construction or planned, and will provide almost 1,000 new residences. For example, developer Andy James plans 170 lots on 160 acres in Kilkenny Estates in the town's far northwest corner. The first two phases have already been approved and construction started. These single-family homes will be in the $400,000 range and up.
Growth brings challenges, especially keeping the town's infrastructure up-to-date, the men said.
"There are three categories of infrastructure — water, sewer and roadways," Kil said. "We are trying to make these things run simultaneously — development with infrastructure."
With that in mind, the town already has impact fees for sewer and water, and officials are looking at a road impact fee, Forbes said. That fee would be assessed to developers to pay for improvements needed to accommodate increased traffic from either new subdivisions or other developments.
The planned expansion of the sewage lift station on U.S. 41 would triple its capacity and provide much-needed infrastructure for future development in town, Kil said. If development of the town's southwest quadrant continues as expected, a new well in that area may also be needed in the next 5 to 10 years, he said.