VALPARAISO — The story of the Memorial Opera House, which marks its 125th anniversary with a celebration and ribbon cutting Thursday, begins with a Civil War veteran's eloquent speech at a Grand Army of the Republic meeting.
County historian Kevin Pazour, who's also the executive director of the Porter County Museum next door, pointed Tuesday to J.R. Drapier's speech around 1893, as recounted by The Vidette-Messenger on March 25, 1960.
"The Chicago (World's) Fair is hatching a lot of queer ducks, all out to sell the citizens something in the name of the old soldiers, telling those citizens they must make heroes out of us. We don't want to be heroes," Drapier said.
"We want to do something for our home town rather than have the town do something for us," he continued.
That prompted Valparaiso's Chaplain Brown Post of the GAR to persuade the Indiana General Assembly to change state law to allow the $1,000 given each county for a Civil War moment to instead erect a building.
The Memorial Opera House is one of just a few Civil War monuments that continue to be used for their original purpose.
Getting ready to build
Just like when the original courthouse was built, in 1837, the new opera house was paid for through subscriptions. Residents were encouraged to pay for a brick in the new building.
That wasn't the only way the money was raised. Lectures were given with the ticket fees going to to the new building.
"Dinners, bake sales, anything you'd never amount to much, they did to raise the money," Pazour said.
Without the Woman's Relief Corps working to raise money, that building wouldn't have built, he said.
The Porter County Museum is remodeling the old City Hall, fire station and police station at 16 Indiana St. for a museum annex.
"I think we'd have to hold 100,000 bake sales to come anywhere near what we need," he said.
Memorial Hall, as it was first known, was designed by Charles Lembke, but built not by Lembke's brother, Christian Lembke, but by John D. Wilson & Sons, who constructed other government buildings in Valparaiso in that era, Pazour said.
Wilson's contract was for $9,950, according to the May 11, 1893, issue of The Messenger. That would be $275,505 in 2017 dollars according to Westegg's inflation calculator online.
By November, the building was finished.
Early days
The Memorial Opera House, originally dedicated to Porter County soldiers and sailors who died during the Civil War, eventually honored all veterans of that war, not just the war dead.
It was a popular spot for political rallies, concerts, lectures, plays and social events as well as a meeting place for the GAR. Later, when motion pictures came out, it became the first theater in Valparaiso to show them, Pazour said.
The original uses continue, although motion pictures rarely are shown because licensing fees are so high and attendance too low to make it profitable, Memorial Opera House Executive Director Scot "PJ" MacDonald said Tuesday.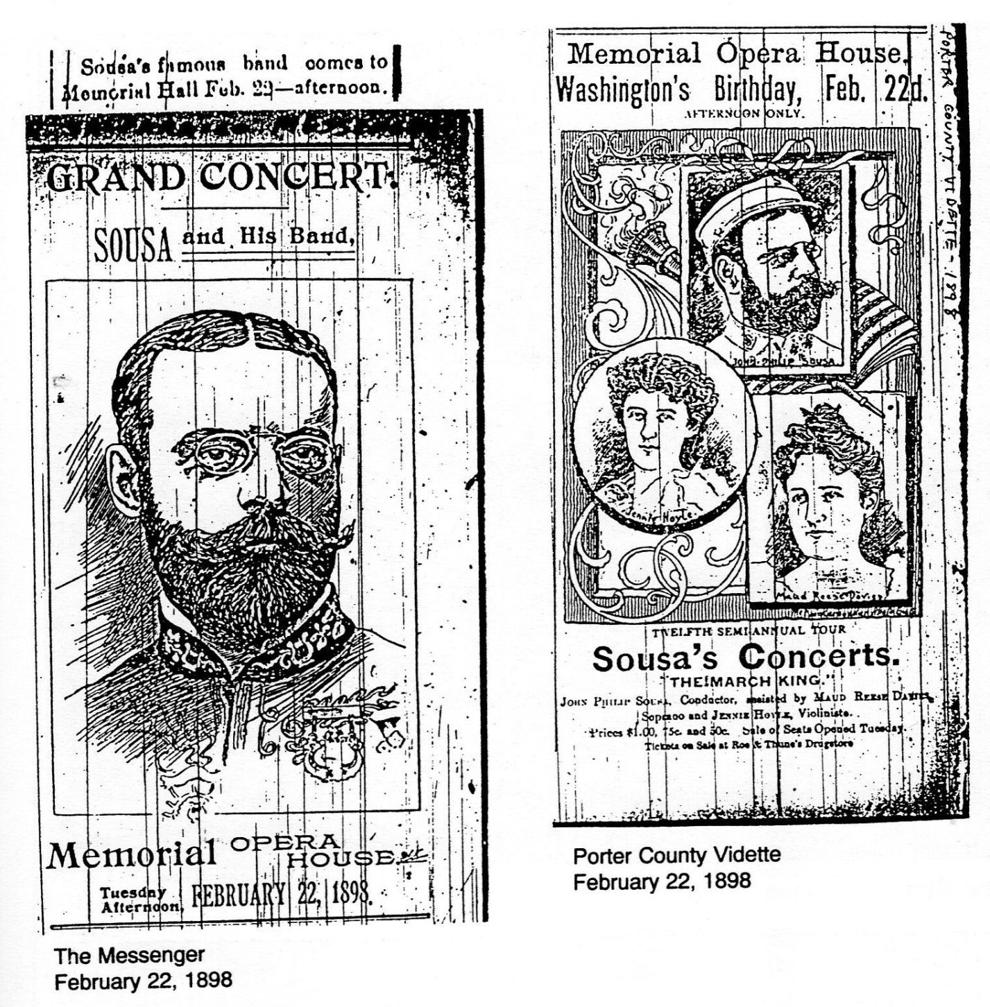 Many famous people appeared on that stage, including President Theodore Roosevelt, music composer and march king John Philip Sousa, the Marx Brothers, Valparaiso University graduate Lowell Thomas and an assortment of other performers — including Bronte, "the mathematical or mind reading dog," along with "Prof. Wm. M'Cormick, Whistling Imitator, Magician, Ventriloquist," whose Jan. 27, 1905, appearance was advertised in the Porter County Vidette.
Among the stars, though, was one who deserves special recognition. Beulah Bondy (1888-1981), a local girl, was given a rave review for the title role in "Little Lord Fauntleroy" when she was just 8 years old.
Bondy, who received her bachelor's and master's degrees from Valparaiso University, changed the spelling of her last name to Bondi when she went to seek fame and fortune — both of which she achieved — as an actress.
Bondi was one of the first five actresses nominated for the newly created Oscars category of "Best Supporting Actress" for her role in "The Gorgeous Hussy."
She also played Jimmy Stewart's mother in "It's a Wonderful Life," among other movies.
Bondi returned to Valparaiso periodically to visit family and old haunts, including the Memorial Opera House and Valparaiso University. She is credited with giving a "generous donation" in 1967 to the Memorial Opera House to help purchase new seating.
Those seats are only now being replaced by ones that had been used at the now-defunct Star Plaza Theatre in Merrillville, MacDonald said.
"That's a huge, huge savings for us," he said.
A few years ago, he got a price of $90,000 to replace the seats — nine times the original cost of the building — and that didn't include any repairs to the floors those seats would sit on.
"We're such a disposable society," MacDonald said, with new buildings not expected to stand nearly as long as the Memorial Opera House has.
"The building is in no structural danger or anything like that," MacDonald said.
The county commissioners and County Council have been attentive to the building's needs and deserve credit for preserving it, he said.
An Indiana Department of Natural Resources grant is helping pay for an architect to do a thorough study of the building to determine what needs to be done to continue to preserve it and help determine priorities for those needs.
The window treatments were recently replaced, as was the main curtain for the stage. The fabric from them will be sent to a company that will create purses and other items from it, MacDonald said.
The building has some surprises most visitors won't see, including the VIP room upstairs where the Sons of Union Veterans — descendants of the GAR members who saw to it that the Memorial Opera House was built — continue to meet.
Backstage, the tradition of painting the names and dates of theatrical productions dates back to the 1960s.
"It's just so cool," MacDonald said. "It's almost like carbon dating."