This year's influenza outbreak is severe. It has claimed more than 160 lives in Indiana alone, according to the State Board of Health. And as we cough, sneeze and seek treatment, we're seeing faint echoes of the 1918 flu pandemic that made history.
On Jan. 31, LaCrosse High School was closed for a day so the building could be thoroughly cleaned. More than 10 percent of the students had been sent home or called in sick the day before, school officials said.
The "passing of the peace" tradition is popular at many churches. Worshippers turn to their neighbors, shake their hands and express a wish for peace. But Salem United Church of Christ in Wanatah has abandoned that tradition for now as a way to fight the spread of influenza.
The United Church of Christ denomination sent out a memo to clergy about the flu epidemic that suggested "this might not be the time to pass the peace of Christ with vigorous handshaking," Pastor Victoria Ubben said.
"Other churches are doing the same thing," she said.
At its Ash Wednesday service, the church will offer individual pieces of bread and individual cups for Holy Communion, a break from its traditional practice of a single loaf of bread and common cup, Ubben said.
The church also is refraining from visits to nursing homes, another way to fight the flu.
Area hospitals are discouraging visits from friends and family members who might have been exposed to the flu. Visitors are encouraged to wear masks.
The pandemic of 1918 was much worse.
The Spanish flu, as it was called, claimed more American lives than German bullets and bombs during World War I. Tens of millions of people died worldwide.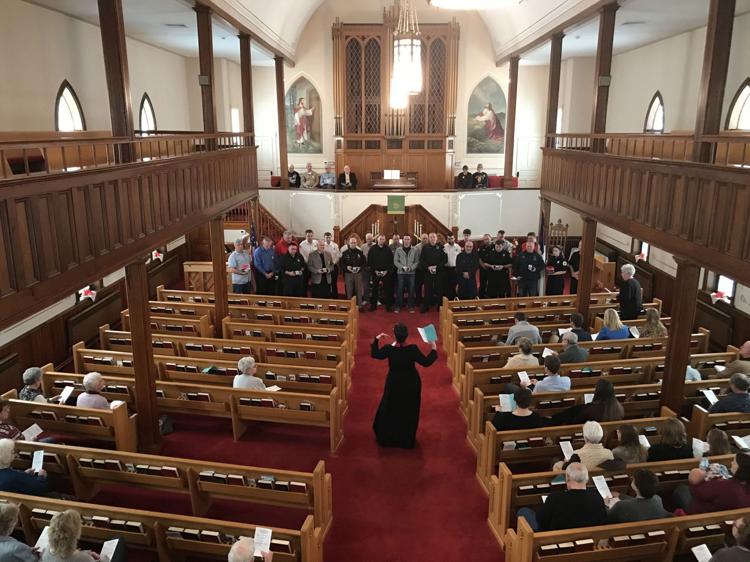 NWI death toll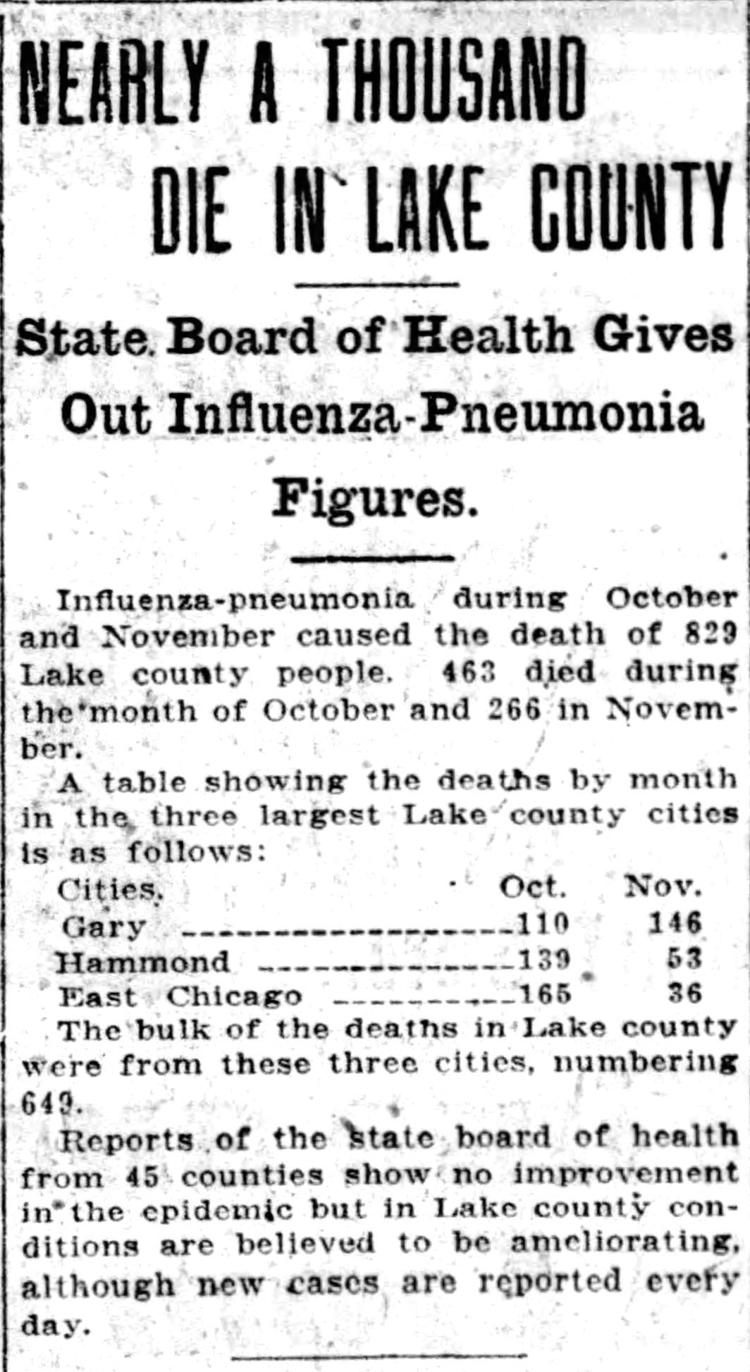 In October and November 1918, nearly 1,000 people died in Lake County alone because of influenza and pneumonia, according to a Dec. 11, 1918, story in The Lake County Times.
An Indiana State Department of Health report showed the death rate from influenza was 726.6 per 100,000 population, meaning more than 0.7 percent of people in Gary died of influenza — the highest rate, by far, of the 25 cities listed in that chart.
The number of deaths in East Chicago, Hammond, Michigan City and LaPorte also were high. Add the numbers up on that Indiana State Board of Health chart for just the five Region cities listed, and 676 died of pneumonia and 554 died of influenza.
The Centers for Disease Control and Prevention, which lists current flu-related deaths, adds a caveat that not all flu-related deaths are reported, even today.
Effect on families
John Van Til, 69, of Cedar Lake, recently found a Nov. 20, 1918, article in The Times' online archives that hit home. 
"Eleven Victims On Farm," the headline read. "Mother Dies Fighting Valiently to Save the Lives of Husband and Nine Children, Dreadfully Ill With Pneumonia."
"That was my dad's family," Van Til said. "He was the youngest of the nine kids. He was just a year old."
Lamke Van Til, 36, who died of influenza, was Van Til's grandmother.
What happened to Van Til's grandmother was not unusual. She wore herself out caring for sick members of her family, then was weakened and died of the disease.
She had even eaten sandwiches at night to try to keep her strength up, Van Til said.
Lamkin Van Til "fought death to the very last to wait on her sick babies," the article said. "The world will never know the heroic struggle she put up to save the lives of others, losing her own."
Her widower, Reinder Van Til, was a vegetable farmer in Highland, selling his produce in East Chicago, and found himself with more kids than he could care for at the time.
"What happened with all those kids, they had to farm them out. My grandfather could no longer take care of them," John Van Til said.
John Van Til's father, sent away to be raised by his own father's friends, "never had a mother until his father remarried years later. He was poor. There was just no getting around it," Van Til said.
Several years later, Reinder Van Til remarried and brought his children back home as well as having a few more.
"From what I hear, there wasn't hardly a family that wasn't touched by it, whether an aunt or uncle who died or whatever," John Van Til said.
"It was kind of like what you hear today, when you're sick one day and they're making arrangements the next."
Medical care
Today, medical care for influenza has become routine. Dr. Alex Stemer, a Munster-based expert on infectious diseases, urges people to get a flu shot each year.
The influenza virus mutates, so the vaccine formulated for that season might not prevent a patient from catching the flu. But repeated vaccinations, year after year, makes the virus weaker when a patient does catch the flu and make the patient stronger when it's time to fight the disease.
You have free articles remaining.
Keep reading for FREE!
Enjoy more articles by signing up or logging in. No credit card required.
During past flu seasons, according to the CDC, about 80 percent of flu-related deaths in children have occurred in those not vaccinated. The CDC said that seems to be true for the current flu season as well.
Patients who contract influenza now can be treated with antiviral drugs, and pneumonia can be treated with antibiotics, but that wasn't the case in 1918.
It wasn't until 1928, a decade later, that Alexander Fleming discovered penicillin, the first antibiotic. It took a few more decades before additional antibiotics were developed and their widespread use became common.
"There was no treatment" in 1918, Stemer said.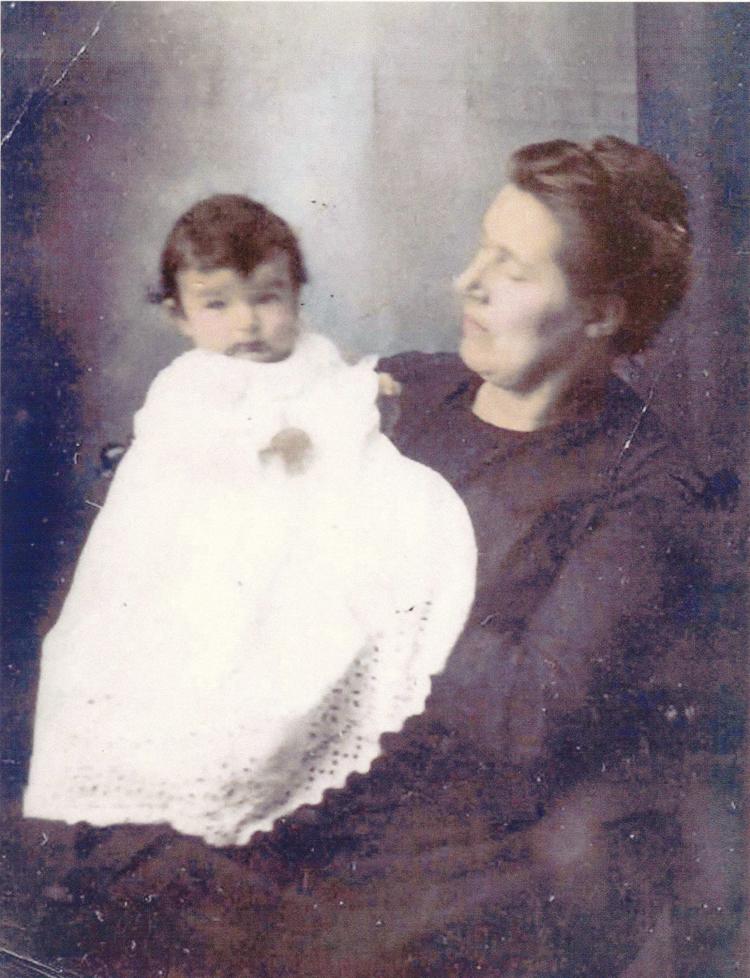 How it works
"The incubation period is very short," Stemer said. "You can be exposed on Monday and be sick Wednesday or even Thursday."
Getting the vaccine early in the season is best, he said.
"When you get the vaccine, your immune system is busy," he explained, building the anti-flu antibodies that will be needed when you're exposed to the disease.
"What kills you from influenza is you get pneumonia after that," Stemer said.
The bronchial tree, all the way down to your lungs, is lined with cilia, the cells that essentially beat the gunk off your lungs and throat and help you cough things up. Influenza attacks the cilia, so that material collects in your lungs and causes pneumonia.
Then vs. now
Today, we're generally healthier to start with. The vaccine, along with better nutrition and less crowding, has made us stronger and better able to fight the virus, Stemer said.
During World War I, the soldiers were hit hard by the virus because they were in crowded, dirty conditions in tents and trenches.
Stateside, civilians in crowded conditions — like immigrants and others in cramped housing — also were hit hard by the disease. That includes people in Gary, then a new city where inadequate housing and pollution from heavy industry already made people less healthy.
With no antiviral drugs to fight influenza and no antibiotics to treat pneumonia, the best public health approach at the time was to limit crowds.
Jill Weiss, historian with the Indiana Historical Bureau, did research on the 1918 influenza pandemic for the agency. She wrote about Fort Benjamin Harrison in Indianapolis being transformed from a training center to a 300-bed hospital that served more than 3,000 patients by the end of the influenza outbreak.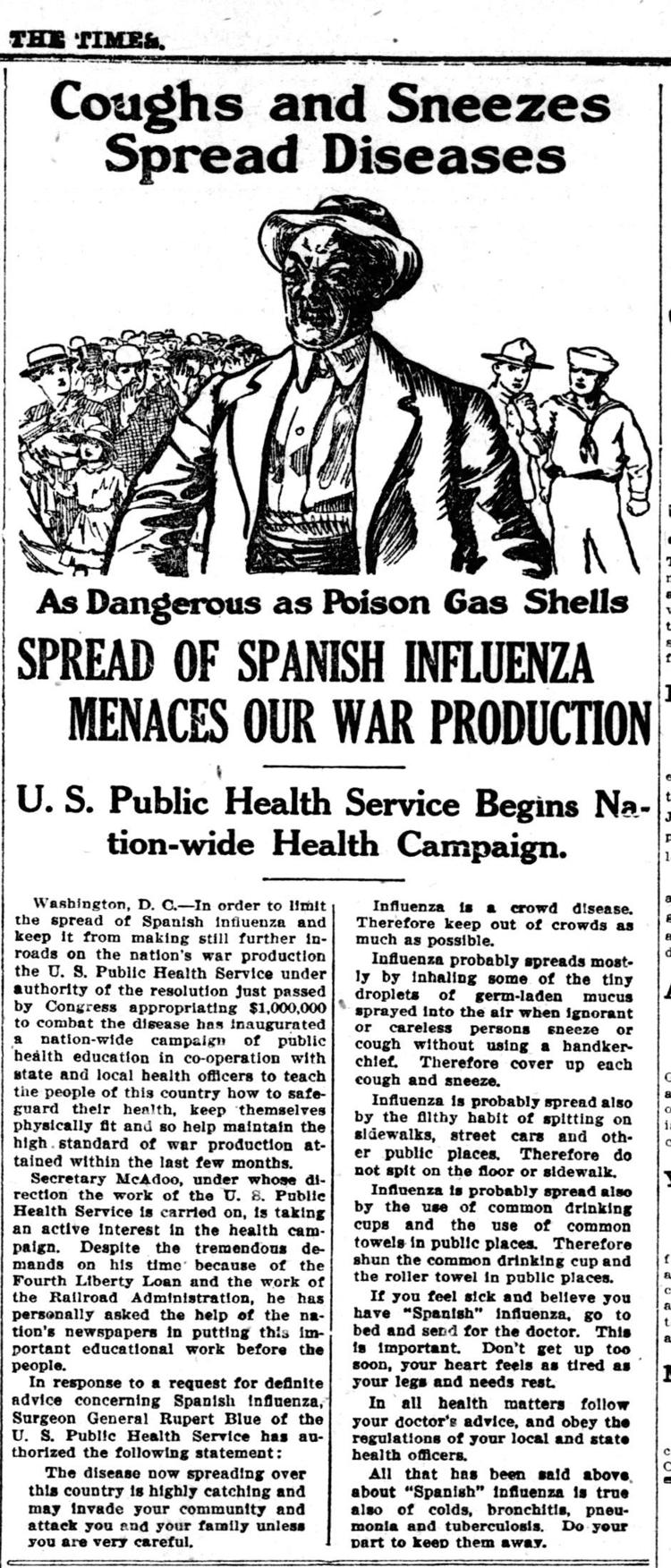 Also contributing to the spread of the disease was the mass migration that was happening globally at the time, as World War I shifted troops overseas and the war effort back home required Americans from the South and immigrants to work in factories like U.S. Steel's young Gary Works plant.
War preparations helped
Weiss said what struck her most about that influenza outbreak was the bravery of the doctors and nurses caring for patients.
"Nurses being trained by the Red Cross went right into the worst areas," she said.
Back then, the disease wasn't understood as well as it is now. They thought it was like germs floating around on dust, so they carefully cleaned surfaces to remove the dust. In doing so, they did a decent job of disinfecting those surfaces, Weiss said.
"Some of their instincts were spot-on."
In addition, state health officials ordered schools, churches, pool halls, dance halls and bars closed for a month to limit spread of the disease. Sporting events were canceled.
Whiting City Clerk Mike Kocazik was hauled into court Nov. 1, 1918, accused of spitting and smoking on the platform of a streetcar in defiance of Board of Health orders. Kocazik's case was thrown out because it was a Board of Health edict and not a city or state law.
Weiss said the mobilization for World War I meant business leaders, Red Cross, state and local officials and others already were communicating with each other, so it was easier to quickly develop a plan for the public health emergency and spread the news.

Global death tolls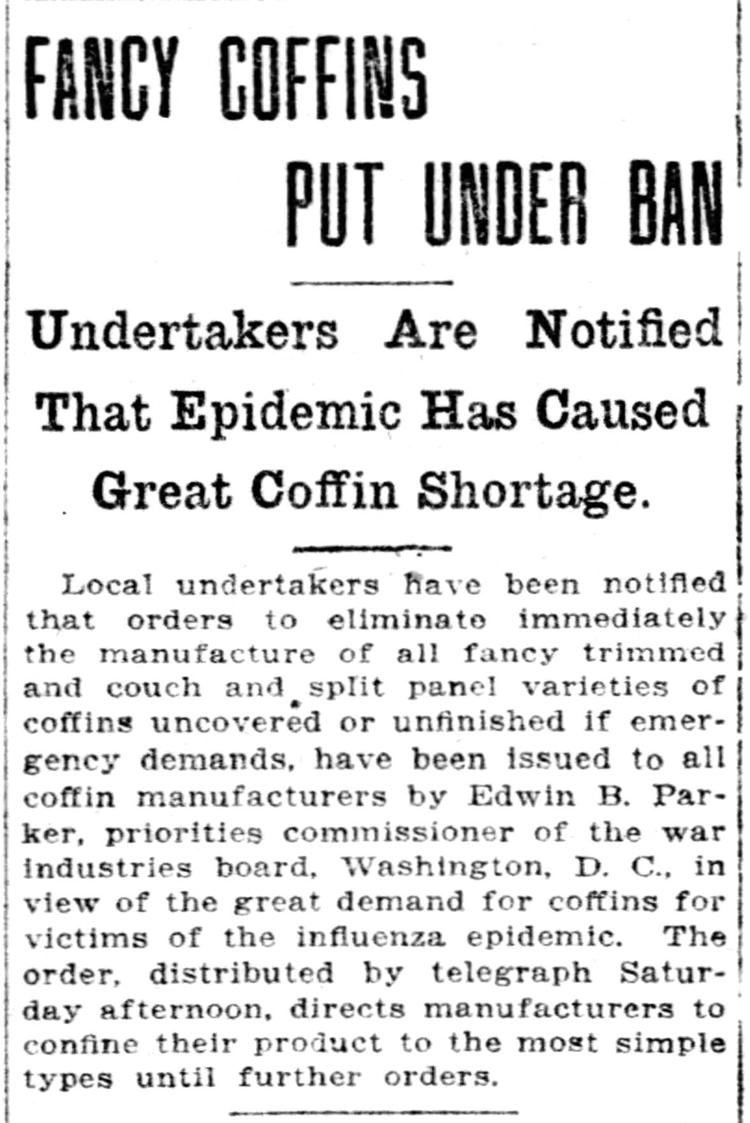 As bad as the situation was in Northwest Indiana, and the state generally, in 1918, it was worse elsewhere.
An Oct. 22, 1918, story in The Lake County Times said there was a ban on ordering fancy coffins because of the shortage of coffins. Casket makers could not work fast enough to meet demand.
Some scholars, Weiss noted, have compared the 1918 influenza pandemic to the black death in Europe in the Middle Ages. It's not difficult to find references to it as one of the most dramatic and destructive epidemics in human history.
Researchers Jeffery K. Taubenberger of the Armed Forces Institute of Pathology and David M. Morens of the National Institutes of Health co-authored a 2006 history of the 1918 influenza outbreak, calling it "the mother of all pandemics."
That 1918 pandemic, they said, infected one-third of the world's population and caused an estimated 50 million deaths worldwide.