Here are the top five stories you need to know about today.
East Chicago police seize $182K worth of pot during traffic stop in city's North Harbor section
EAST CHICAGO — A traffic stop in the city's North Harbor section yielded more than $182,000 worth of marijuana and the arrest of the driver Monday. 
A patrol officer stopped Darnell Anderson Jr., 25, of East Chicago, in his vehicle at about 3:30 p.m. in the 3500 block of Guthrie Street, according to East Chicago police Lt. Marguerite Wilder.  
Wilder said Anderson allegedly gave the officer permission to search his vehicle, revealing a "large quantity" of a green leafy substance that later tested positive for marijuana. 
A K-9 named Mitt was requested to the traffic location to conduct a "free air sniff" around a second parked vehicle Anderson was seen exiting prior to the traffic stop, Wilder said in an email.
The K-9 indicated the presence of illegal narcotics inside the vehicle, she said.
A search warrant resulted in the recovery of 215 pounds of suspected marijuana with an estimated street value of $182,000.
The marijuana was allegedly packaged in 73 air-sealed, zip-close freezer bags contained in eight boxes in the vehicle. 
Anderson was placed under arrest on preliminary charges of marijuana possession and transported to the East Chicago police station's detention area for further investigation.
In a news release, East Chicago Police Chief Frank Smith thanked the patrol officers involved "in a job well done."
Wilder said formal charges are pending.
VIDEO: Griffith Broad Street Gyros owner appears 'irate' on camera after cocaine winds up with wrong customer's order, police say
GRIFFITH — Police have released video surveillance that allegedly shows Broad Street Gyros business owner Carrie Demoff trying to sell cocaine out of her downtown business. 
A customer later found the bag of cocaine in her cheese sticks order — which was mistakenly provided to her instead of the intended buyer of the cocaine.
The Griffith Police Department released this nearly 47-minute surveillance video in its entirety.
Key segments are outlined below:
00:00 to 1:24 - Broad Street business owner Carrie Demoff is seen allegedly crossing a rear hallway and entering the business office, unlocking the door and disappearing from view before exiting and returning to the kitchen.
She then picks up a white Styrofoam container to "drop an object into it and then seal with a similar style lid," according to court documents. The item inside later tested positive for cocaine.
According to police, the Styrofoam cup was then taken to another prep station and remained in Demoff's possession until it was placed on the counter and then placed in a larger bag.
22:58 - A customer enters and pays for her order. She is mistakenly handed the food order that contains the cocaine, according to police. She later phones police.
29:56 - A male customer enters the business and bypasses the cashier to speak directly with Carrie Demoff. As he begins to count out cash, Demoff becomes visibly distraught and irate because she cannot locate the bag. She then begins frantically making phone calls in attempt to retrieve the cocaine.
Demoff has been charged with attempted dealing in cocaine, a level 4 felony, and possession of cocaine, a level 6 felony.
She was also charged with "maintaining a common nuisance — controlled substances" for "knowingly or intentionally" maintaining her business for unlawful use of manufacturing, selling and delivering controlled substances, records show.
TASTE TEST: Barton's Jumbo Stuffed Tater Kegs loaded with flavor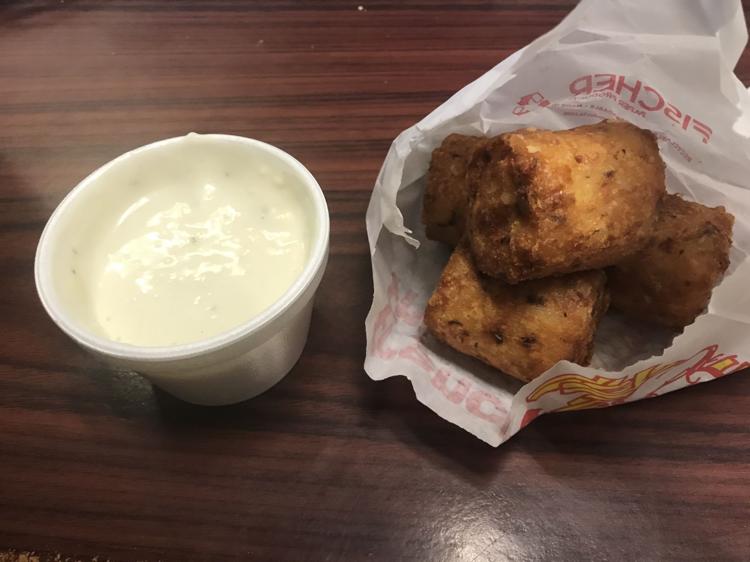 Barton's Pizzeria at 7201 Calumet Ave. in Hammond is a no-nonsense old-school joint where it slides pizzas fresh to order into a massive oven right behind the counter, and even sells it by the slice.
The only seating is for those waiting on their takeout orders. There's a few arcade games and a pinball machine to pass the time.
People have praised Barton's pizza as excellent, complimenting the dough and crust, saying it tastes the same as they remember it tasting decades ago. You can get your choice from a wide selection of toppings, and Neapolitan-style pizza or deep dish if you prefer.
It's got the standard array of appetizers. A standout is the Jumbo Stuffed Tater Kegs, which are so huge they carry a "warning" that's posted on the counter: "The flavor in a Jumbo Stuffed Tatter Keg has been known to cause a state of emotion so intense that some have been carried beyond rational thought and self-control."
That might — just might — be a salesman's hyperbole, but the oversized tots are pretty tasty. They're about the size of a golf ball and stuffed with cheddar cheese, bacon and chives.
Give them some time to cool down, and then dig in. You can get marinara or blue cheese to dip them in, but they're flavorful enough without any dip.
For more information, call 219-932-1300.
Man charged in Whiting robbery after victim recognizes him from Facebook
WHITING — A 29-year-old man was arrested on charges he robbed a Hammond man, who had been lured to a Whiting alley by the suspect's girlfriend, court records show.
Victor A. Espinoza, 29, of Munster, is accused of pushing a handgun into the victim's ribs and taking $113 and a cellphone from his pocket Monday in an alley in the 1500 block of Fischrupp Avenue in Whiting, according to Lake Criminal Court records.
Espinoza allegedly told the Hammond man to drive away after the robbery, and he drove directly to the Whiting police station.
The Hammond man told police he had received a text from a Whiting woman, whom he's known for many years. She asked the man to meet her in the alley on Fischrupp Avenue, a probable cause affidavit states.
When the Hammond man arrived in the alley, the woman got into his pickup truck and they talked. She told him she had received a text from her daughter, got out and walked to the rear of the truck, court records state.
A man, later identified as Espinoza, walked out from between houses carrying a semiautomatic handgun and robbed the Hammond man, according to the affidavit.
The victim told police he saw Espinoza and the woman walking away together between houses.
The Hammond man recognized the suspect as the woman's boyfriend in photos on her Facebook page, court records state. He later identified Espinoza in a photo lineup as the person who robbed him.
The investigation remains ongoing, Whiting Police Chief Steve Miller said.
A warrant has been issued for Espinoza's arrest, he said.
Portillo's in Merrillville now delivers
Every dog has his day, even fans of Portillo's hot dogs in Northwest Indiana.
The popular Chicago-style fast-casual dog house at 555 E. 81st Ave. in Merrillville is finally going to delivery its Chicago-style hot dogs, Maxwell Street Polishes, Italian beef sandwiches, chocolate cake and cake shakes directly to customers' doors for a $5 delivery fee. The Merrillville Portillo's will deliver within a 30-minute radius, which includes most of Lake County and Portage.
Portillo's started home delivery nationwide in November, but it didn't include the popular Merrillville location that lines of cars frequently wrap around. The DoorDash delivery platform didn't have a presence in Merrillville at the time, but now it does.
"Our new delivery offering continues the tradition of innovation set forward by our company's founder, Dick Portillo," CEO Keith Kinsey said. "From our unique ordering system, to our double drive-thru lanes staffed with outside employees, Portillo's has consistently innovated our systems to provide our guests with convenient ways to enjoy our iconic menu items."
People can go online to portillos.com to see if the Merrillville location will deliver to them. Online orders can be placed on both the Portillo's and DoorDash websites and apps, which can be downloaded from iTunes or Android.