5 important stories you need to know today: Lake sheriff's officer, K-9 hit by squad during chase; 2 suspects captured in Chicago. Lake Michigan cruise boat may sail out of Michigan City.
Here are the top 5 trending stories today. 
Lake sheriff's officer, K-9 hit by squad during chase; 2 suspects captured in Chicago
HANOVER TOWNSHIP — A Lake County police officer and his K-9 were injured Thursday in a bi-state police pursuit in which two men ran from a stolen Mercedes-Benz, police said.
Officer Doug Parker and his K-9 Rocky, a Dutch shepherd, were hit by another Lake County sheriff's squad car as they exited from the passenger side of the squad in which they were riding, police said. 
At an afternoon news conference, Lake County Sheriff Oscar Martinez Jr. said the chase began about 8:30 a.m. near 117th Street and Calumet Avenue in Cedar Lake after officers noticed a 2006 silver Mercedes-Benz with Ohio license plates. 
A check of the plates indicated the vehicle had been reported stolen out of Forest Park, Illinois, at about 3 a.m. Thursday, Martinez said.
A sheriff's officer attempted to stop the Mercedes in the area of West 133rd and Calumet avenues, but the suspects — a 26-year-old Markham man and a 25-year-old Homewood man — sped off, police said.
The suspect driver, at one point, entered a construction zone and nearly struck a construction worker as they fled eastbound on 133rd, Martinez said. 
The pursuit then proceeded northbound onto U.S. 41 through Cedar Lake and St. John to 109th, where the suspects then headed westbound to Calumet. 
At that time, officers requested Eagle 1, the Lake County Sheriff's Department's helicopter, and dispatch began communicating with Illinois agencies anticipating the suspects would soon cross the Indiana-Illinois border, Martinez said. 
Officers chased the vehicle to the area of 159th Street and Van Dam Road in South Holland, near Interstate 394, according to Illinois State Police. At that point, the suspects exited the vehicle and fled on foot, police said. Later, police found 13 catalytic converters and a sawzall in the Mercedes. 
The K-9 suffered a broken paw as a result of the collision, Martinez said. Parker, a 12-year veteran with the department, suffered minor scratches and bruises.
The K-9 was first stabilized at Glenwood Village Pet Hospital and then later taken by sheriff's helicopter to a veterinary specialist at Purdue University Lafayette. It's believed the dog will survive, Martinez said.
The suspects continued to run, entering Midwest Transit Equipment but were chased out by employees. They then went across the street to Goodyear, where they stole a Goodyear pickup truck. 
The chase continued through multiple communities. Illinois State Police and Chicago police officers located the pickup truck and chased it on Interstate 94 and Interstate 57, before the pursuit ended at 93rd and May streets in Chicago.
Two men were taken into custody after officers were able to box the car in at 93rd and May streets, authorities said. 
Throughout the chase, the Lake County sheriff's helicopter assisted in tracking the suspects, Martinez said.
The entire chase lasted about an hour and a half, reaching speeds up to about 80 miles per hour with Chicago police and other agencies blocking off intersections as the pursuit continued, Martinez said. 
"Every precaution was taken to keep the safety of the citizens in mind. At no time did we feel that any public citizen was in danger. Because we had the air unit airborne and had a constant eyeball on the suspects, we were able to back off a bit and monitor the pursuit. The air unit did a tremendous job ... keeping a constant, second-by-second location of the vehicle," Martinez said at the news conference. 
The injuries to the officer and K-9 will become a teaching moment for his department, Martinez said.
Martinez said at the news conference his deputies typically operate with a one-man patrol unit. During the chase, however, the squad car had a second officer and a K-9, as well, he said. That detail should have been communicated to the patrol shift at the time, he said. 
"The officer of the approaching squad didn't expect anyone to exit the passenger side of the vehicle," he said. "It took him by surprise. It's something we will be reviewing as a department."
Martinez said Illinois State Police is handling the Illinois side of the investigation and the review of the injuries suffered by the K-9 and the Lake County officer. 
It's unclear when Parker and his K-9 will be able to return to work. 
The suspects were being held by the Chicago Police Department, pending charges in Illinois and Indiana. Martinez and Illinois State Police said their identities would be released after booking by the Chicago Police Department.
No weapons were found despite initial reports the suspects may have been armed, Martinez said.
2 Crown Point men charged in October attempted armed robbery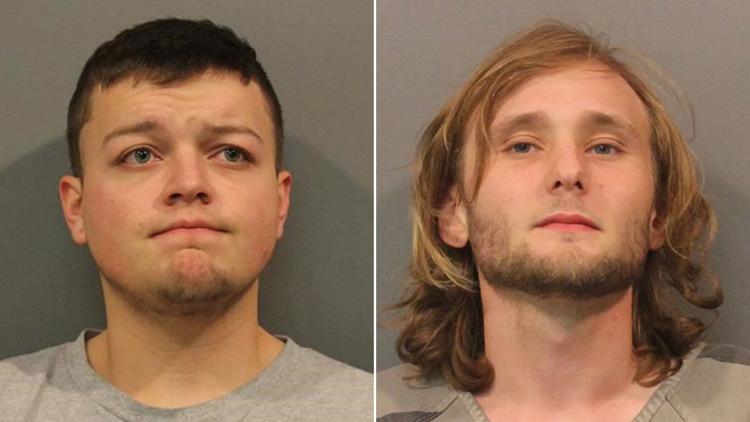 CROWN POINT — Two men have been charged in connection with an Oct. 18 attempted armed robbery. 
Joseph Dean Chalos, 24, and Leonardo Verduzco, 23, both of Crown Point, each face charges of attempted armed robbery, attempted armed robbery resulting in bodily injury and attempted robbery, according to an affidavit filed in Lake Criminal Court. 
The 21-year-old victim stabbed one of the suspects during an altercation before he fled the home in the 200 block of West Goldsborough Avenue and called 911 from a nearby gas station, Crown Point police said in a news release.  Both suspects were allegedly masked during the robbery.
Police were able to identify the individuals as Verduzco and Chalos. Verduzco is now incarcerated at Lake County jail. Chalos remains at large.
After the incident, investigators obtained a search warrant and raided the home Oct. 21 with assistance from Lake County's SWAT team.
The search led to the arrest of two 21-year-old men in the home on charges of marijuana possession and maintaining a common nuisance. 
"It's important for our citizens to know that this crime and victim were not random targets. We quickly became aware that most of those involved in this case either personally knew each other or were familiar with one another on some level," Chief Pete Land said in a news release. 
Lake Michigan cruise boat may sail out of Michigan City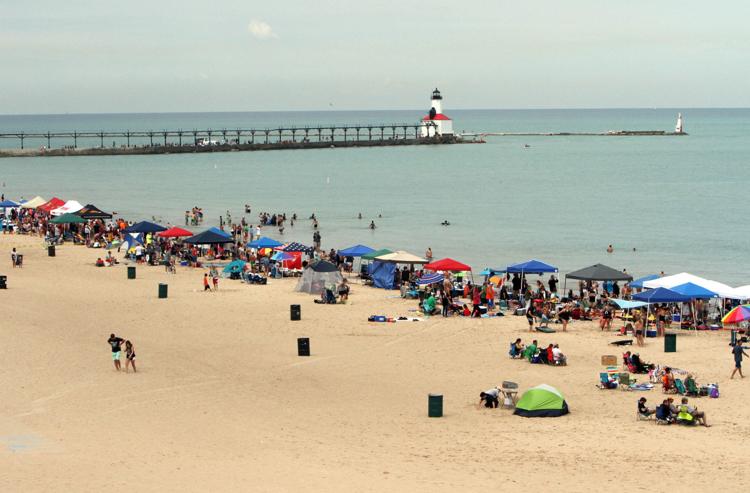 A Lake Michigan cruise boat could set sail out of Michigan City this summer, giving people the chance to sip wine while watching the sun set aboard a boat on the Great Lake.
The Michigan City Port Authority board voted to allow a tour boat — similar to those docked at Navy Pier — to operate out of the Washington Park Marina on the Lake Michigan shore. A 70-foot, 150-seat ship would take fun-seekers out on sightseeing tours along the Lake Michigan coastline, on dinner cruises and to destinations like New Buffalo, Michigan, according to Michigan City Port Authority Harbormaster Tim Frame.
The unidentified operator has the city's approval to move forward with the plan and went to Boston to look at a used cruise boat after the U.S. Coast Guard shot down his plan to buy one in Detroit, because it turned out to have been made in Canada, Frame said. The operator has not yet signed a contract but is hoping to be up and running by this summer.
If all goes as planned, the cruise ship should embark on its maiden voyage by Memorial Day and run through Oct. 31 when weather permits, Frame said. In addition to daily excursions, the boat also could be rented out for weddings and corporate functions.
"We're looking at this to bring in tourism, to give people something else to do on the lakefront," Frame said. "There will be wine and beer and dinner. He'll start with dinner cruises and sightseeing and expand from there."
Cruise boats commonly visited or moored in Michigan City as recently as the 1920s or 1930s, but none have operated out of the lakeside city in modern history, Frame said. It would also be a one-of-its-kind attraction in Northwest Indiana.
"It's a nice feature," Frame said. "It's been quite awhile since we've had anything like this."
Chicago's Navy Pier has the Spirit of Chicago, Odyssey Navy Pier Cruises, Mystic Blue and other vessels. The Lake Michigan coastline in Michigan is littered with recreational cruise boats like the Star of Saugatuck, the Holland Princess and Cat's Meow Cruises in South Haven. But most of the boats along Northwest Indiana's shoreline are private vessels or large industrial ships, like lake freighters hauling iron ore to the steel mills.
A cruise ship would help with Michigan City's ongoing efforts to make its lakefront an attraction, Mayor Ron Meer said. The city built the new North Pointe Pavillion at Washington Park and brought in the Fire & Water restaurant with a rooftop bar and sweeping views of the lake. It's also planning $5 million in additional improvements that will increase the parking and make it easier to navigate.
The cruise ship would be docked near the entrance of Washington Park, Meer said. It is expected to operate seven days a week during the spring, summer and fall. The boat would create an unknown number of jobs, including for a captain, crew and ticket takers.
"It's pretty exciting," Meer said. "It'll go to New Buffalo and Mount Baldy. It will offer sunset cruises and other special cruises. I think it will be a big draw to the lakefront, and we're going to market the heck out of it."
Broad Street Gyros owner facing felony charges after cocaine found in customer's cheese stick order
GRIFFITH — Two months after a Broad Street Gyros customer found cocaine in her cheese sticks order, police have secured felony charges against the business owner now accused of attempting to deal cocaine out of her restaurant. 
Griffith Police Cmdr. Keith Martin said charges were filed and a warrant issued Thursday for Carrie Demoff's arrest.
The 50-year-old Gary woman was taken into custody at a known associate's house in Calumet Township and is now at Lake County jail, Martin said. 
The business at 105 N. Broad St. in downtown Griffith — steps away from the town's police department — was first shuttered Nov. 22. The Town Council voted to allow the suspension to stand during the police department's investigation, records show. 
Police said this week that the business remains shut down and the license suspended. 
On surveillance footage, Demoff is seen entering the business office and returning to the kitchen prep line to pick up a white Styrofoam container and "drop an object into it and then seal with a similar style lid,"  the charging affidavit states. 
The styrofoam cup was then taken to another prep station and remained in Demoff's possession until it was placed on the counter and then placed in a larger bag.
The cheese sticks order remained in the camera view until a customer arrived and paid for her meal that "unknowingly (contained) the narcotics packaged by Demoff for another individual," the affidavit stated. 
At about 6:20 p.m. Nov. 21, police received a 911 call from a woman who explained she discovered drugs in her take-home order from Broad Street Gyros.
She told police when she came home, she immediately got a call from a female she believed to be the business owner, Demoff. Demoff asked if she received an order of cheese sticks by mistake, the affidavit said. 
When the customer said yes, the person on the other end requested she "bring it back," at which point the customer refused. The person on the phone pressed further, even asking for the customer's home address so they could personally pick it up.
Growing suspicious, the customer looked more closely at her food and discovered a white powdery substance in a container that later tested positive for cocaine, Martin said.
Officers were able to obtain a search warrant that night, executed at about 8:40 p.m., Martin said. A K-9 handler and his police dog, Gino, reportedly detected the presence of drugs in several locations. 
"The most prominent was in the business office," Martin said. 
Police records show the business owner was present at the time of the executed search warrant.
No drugs were located, but the owner allegedly admitted to police during the search that she had "partied before while at work," Martin said, referring to police records.
When the detective asked what "partied" meant, the woman replied she "did a line (of cocaine) and toked a few times," court records show. 
Demoff told police she realized she mistakenly packaged an order when two "younger men" came in upset they didn't receive their order of cheese sticks. 
When pressed about why she didn't simply make a fresh order, Demoff became hostile and upset with officers, the affidavit stated. 
Martin said Griffith police had been waiting on state police to extract information from surveillance footage seized from the business to pursue charges.
Video footage shows a man enter Broad Street Gyros that night, bypass the cashier to speak directly with Demoff, records show. 
"The male locates his wallet and begins to count out cash ... and Demoff (becomes) visibly distraught and irate since she cannot locate the bag, frantically making phone calls," the affidavit states.
Demoff has been charged with attempted dealing in cocaine, a level 4 felony, and possession of cocaine, a level 6 felony. 
She was also charged with "maintaining a common nuisance - controlled substances" for "knowingly or intentionally" maintaining her business for unlawful use of manufacturing, selling and delivering controlled substances, records show. 
Gary man arrested on drug, OWI charges after recklessly fleeing police, crashing three times on I-65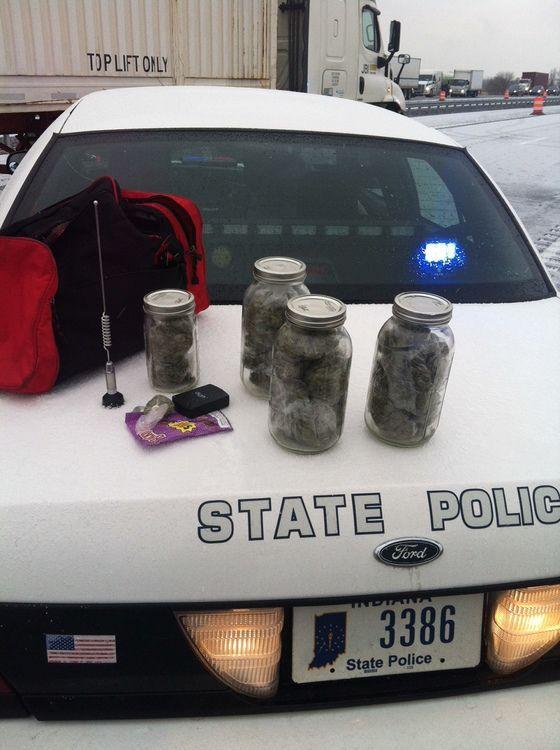 A Gary man crashed his Jeep three times and evaded police twice Wednesday morning on Interstate 65 before his arrest. 
Durell Rhymes, 42, of Gary, was apprehended at about 9 a.m. Wednesday and taken to Lake County jail — about five hours after he first came in contact with police on I-65 just north of DeMotte.
Dispatch received a call at 4:07 a.m. about a reckless driver on southbound I-65, according to a news release from Indiana State Police. When a Lake County sheriff's officer located the Jeep allegedly involved, the driver drove off with the county squad car in pursuit. 
Rhymes lost control and ended up northbound in the southbound lanes before crashing into the guard rail in the median. The officer lost sight of the Jeep after Rhymes drove off.
A little after 5 a.m., State Police First Sgt. Terrance Weems responded to a crash involving a Jeep and a semi-tractor trailer on northbound I-65 near the 233 mile marker, state police said. 
"It soon became clear the Jeep involved in this crash was the one that fled earlier from the county officer," state police said. 
While fleeing northbound in the southbound lanes, the Jeep hit the rear tandems of the trailer being pulled by a 2005 Freightliner, taking off the roof of the Jeep. 
"The brake lines on the semi were broken after being hit and the semi became disabled. The Jeep after hitting the semi fled south bound on I-65 without stopping," according to state police. 
About four hours later, a state trooper saw the Jeep in the left lane on I-65 about one mile south of the Crown Point exit. As the trooper approached the vehicle, Rhymes alleged attempted to put the Jeep in reverse and flee the area but could not due to heavy traffic in the area.  
Police uncovered about eight pounds of of marijuana after a search of Rhymes and the Jeep. They also found money, assorted pills, and an open container of alcohol, police said. 
Rhymes has been charged with resisting law enforcement with a vehicle, dealing and possession of marijuana, operating while intoxicated refusal, having an open container and leaving the scene of a crash. The Lake County Sheriff's Department may also have charges pending, state police said.